Traveling can be stressful when you are flying with little ones. Dealing with little kids could be challenging when you are traveling in a group. Managing an air journey with kids is no joke especially if you have an infant and a toddler.
Little kids have so many needs as nursing babies or toddlers who are in the training phase, you need to keep every single thing in mind while packing and thinking on top of your kids' needs.
These simple hacks will help you make your life easy with little ones while you are on the go.
Either you are traveling by plane or by car, you need to be thinking ahead of time to keep everything planned and smooth.
This post may contain affiliate links. Please read our disclaimer for more information.
Travel tips for families flying with kids
These simple hacks are for everyone not only just for moms traveling with kids.
Normally, sucking on hard candy or lollipop at the time of take-off will help passengers with ear discomforts. Also, don't forget to take a pack of gum, that is known to prevent discomfort in your ears during landings and take-offs.
2. Try to avoid taking small toys as they might keep falling and you have a hard time picking them up back and forth with a lap child. Also, Do not forget to take age-appropriate very few kid's toys or activities on the plane in order to keep them busy and entertained.
3. Also, feeding bottle to an infant or nurse newborn babies while taking off or landing would help to prevent air pressure in ears.
4. For small kids, it is essential to take their favorite toys along if you choose night flights. Also do not forget to take kids' blankets with you. In case, if your little one has a lovey, forget everything else, but your kid's lovey.
5. Use a portable bidet for kids who use the potty or teach them how to use flushable wipes.
6. For kids who are in the stage of crawling, for long flights you can have a blanket or a sheet to have them sit on the floor. If your kid is in the walking stage take plenty of pairs of socks or else use comfy shoes to have her walk around during a flight.
7. If you have a few months old baby who likes to crawl around or like to play lying on her back. It will be a good idea to take a spare sheet with you or you can request one from hotel staff to have your baby sit and lay down on the floor to play.
8. Moms who are traveling alone with kids and what if you have to go pee. Can you leave them alone? The answer is no.
If they are in the stroller have it parked outside your bathroom door. If they are 4 to 5-year-old boys, you can have them stand outside the bathroom door so you can keep an eye that they are around.
Otherwise, using the family restroom is the best option if you have little kids. there you can change baby's diapers, clothes, and you can freshen up yourself too.
9. Use zip-lock bags for diapers, disposable changing sheets, wipes and a diaper disposing sack. Every time you go for diaper change just have everything ready that you need and put it in a sack. And use the sack to dispose of diapers, wipes, and sheets.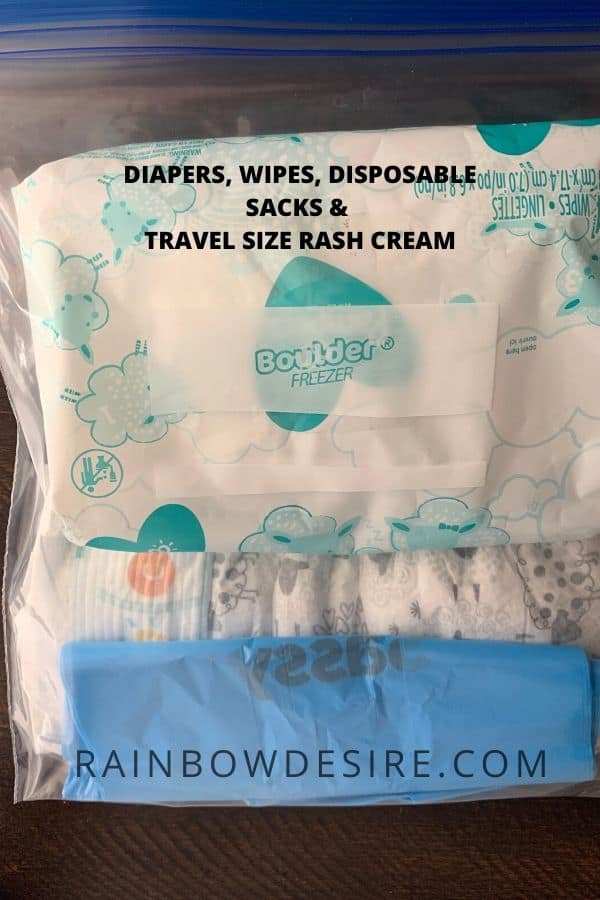 10. If you have a change of cloth, take it in a ziplock bag and bring the dirty clothes back.
11. For easy security checks, have medicines in the clear bag and take electronics out. If you have baby bottles or any sort of baby's liquid food, make sure you put it out in the tray for easy and time-saving security checks.
12. Make sure the formula milk for formula-fed babies has not gone bad. There is a high chance of a scanner alarm.
13. For kids and yourself, use easy slip-on shoes with socks for your flight. No laces shoe for the whole family. However, you still have to make sure, your shoe has enough wiggle room.
14. From booking luggage till you board on a plane, you need to have a passport and boarding passes ready. I would highly recommend you to have an easy access crossbody bag if you are traveling by yourself with kids.
15. If you have not already booked a stroller and a car seat with luggage, do not forget to take baggage tags for the stroller and car seats that you are supposed to get at the destination.
16. If this is your first time traveling with kids, you should know you will be given priority to board the plane right after business class passengers board. Families are given priority by most airlines.
17. Use noise minimizing headphones for kids for the flight.
18. For infants, you may want to use a portable noise machine for the plane so they can sleep better if you have a flight at night.
19. for infant feedings, use a disposable spoon pack with silicon bibs so you do not have to save messy bibs until you arrive home.
20. If you are staying at a hotel, you can take portable kettle for travel along and boil eggs as per your kids' preference.
21. Take cereal with you for kids' breakfast. Grab milk from a nearby grocery store. till you get somewhere for the REAL breakfast.
22. Do not forget to take a couple of disposable gloves with you if you have a newly potty trained boy. There is quite a chance, he may end up dropping his toy in the toilet.
Be prepared and get one pack of disposable gloves from the dollar store.
For long hours of road travel, if you can manage to put a travel potty in the trunk of a car. Although the facility of restrooms are pretty much at reasonable distance, still this highly depends on how you can manage stop hours, what is the expected drive time, how long this can be stretched, above all, this depends on your child skill on how he or she can hold onto pee or poop and for how long. I saw a similar thing done by a mom, who has a disposable diaper pant for easy cleanup.
Traveling with little kids is no easy task. It requires a lot of patience, perseverance and a very responsive mind.
Kids grow up fast and every stage has its own set of challenges that parents have to figure out. However, traveling with two or more kids is altogether different than traveling with one child.
I hope you find these tips helpful for your next trip.
Read more
Space-saving packing hacks for air travel.
Carry on essentials for moms who are traveling with kids.
Travel accessories you do not want to miss for your next flight.
How to fly stress-free when you have a toddler and an infant.