Nursing-friendly dresses are made for someone who breastfeeds and wants to look stylishly dressed in outfits that work well for them. Nursing-friendly options may include wrap dresses and anything with buttons, a V-neck, or a quarter-zip neckline that allows moms to breastfeed babies without pulling their dresses up.
This post may contain affiliate links. Please read our disclaimer for more information.
Nursing-friendly dresses for breastfeeding moms
Here are some great options for dresses that breastfeeding moms can wear when they go out and want to look stylish. Yet they can comfortably breastfeed their babies in a restaurant or park without pulling their dress up and showing their tummy to the world.
Patchwork Breastfeeding Dress
This patchwork breastfeeding dress is a stylish option for most occasions, shopping, working, casual daily, and lounging at home. Moreover, even when the baby is weaned, this dress can be your go-to dress.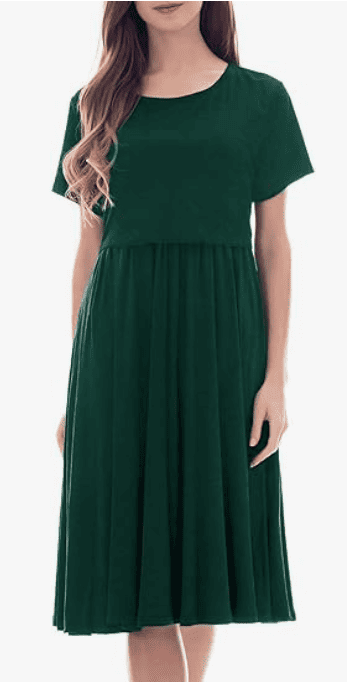 Floral breastfeeding dress
This elegant floral dress has a stretchy fabric that provides a flexible fit for pregnant and postpartum nursing moms.
You can see a discrete opening that lifts up the front layer for easy breastfeeding access. Not only is this dress great for nursing but for everyday wear. Whether it's a friends day out or running errands, you can dress it up or down according to the occasion.
Short sleeves breastfeeding dresses
Short Sleeves white dress for summer casual wear a nursing-friendly dress with two side pockets for carrying small items like phone or car keys.
The floral print dress with breathable fabric has side pockets for breastfeeding mamas. Stretchy fabric provides a flexible fit for pregnant and postpartum nursing women.
flowy Dress with V neckline for easy nursing
This gorgeous dress features a pretty butterfly sleeve and wraps v-neckline that can be used for easy breastfeeding access (maybe with a nursing cover-up if you prefer). Empire waist with an undetachable belt, wrap skirt with ruffle trimming.
This cute nursing dress features long sleeves and stylish decorative buttons. A solid color breastfeeding V-neck maternity dress that is made of soft and skin-friendly fabric, gives you comfort when you most need it.
With a discreetly hidden front panel, easy to dress up and down, breastfeed easily anywhere without having to cover. Besides, it's great for winter and fall when you can wear a nice coat on top. Dress it up with elegant jewelry for any occasion.
Long Sleeve Dresses perfect for breastfeeding
Lantern sleeve long dresses for women are designed with a classic v-neck and a hidden button at the neckline which show your sexy collarbone. A high waist design with a self-tie highlights the flattering waistline, making you more attractive.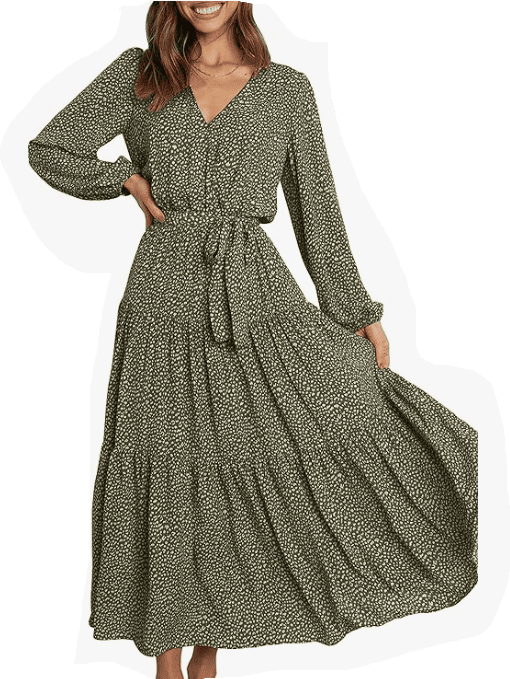 Simple short sleeve maternity dress featuring a wrap v-neckline, elastic cinching under the bust, drapes nicely, smooth look, with easy nursing access from the front.
Long Sleeves breastfeeding dresses
Moreover, moms who prefer to wear modest full length dresses with long sleeves but also want to look stylish and breastfeed the baby, this beautiful dress is perfect for nursing.
Black V neck long sleeve dress
A black V-neck long-sleeved dress is perfect for an evening out. Furthermore, you don't have to worry about breastfeeding since it has easy access.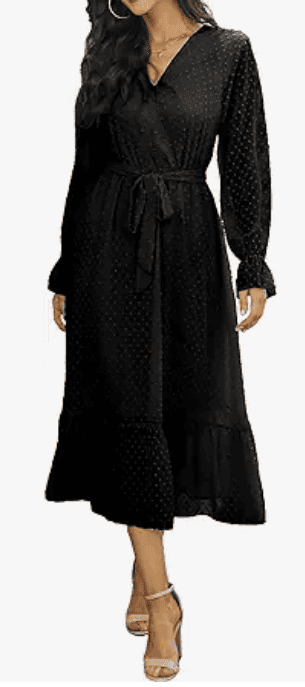 Floral long sleeve full-length dress with V-neckline
Long-sleeved floral dresses can be accesorized or dressed down. However, it is super easy to dress it up with a statement necklace and earrings. Also, you will rave enough about the sexy deep v-neck and empire waist. You can get this beautiful modest long-sleeve dress for yourself.