Are you looking for game day snacks ideas to entertain your family and guests?
Here the best recipes you can make for your super bowl party.
Superbowl or Game Day snacks ideas you will love
1. Triple caramelized onion dip
This triple caramelized onion dip is thick and creamy with a little bit of spicy. Made with slowly sautéed sweet onion, shallot, and scallion.
Get the recipe here at ontysplate.com
2. Keto Chicken Wings Recipe
These Parmesan Keto Chicken Wings are the perfect appetizer recipe! They're crispy, golden and cheesy, and they're even low carb! These delicious keto chicken wings are great for football season, holiday parties, and get-togethers. Recipe here at soreyfitness.com
3. Airfryer Chickpeas
These Air Fryer Chickpeas make a delicious snack or even a salad or soup topper! Plus, because they're air fried, they come out crispy using minimal oil and are ready in less than 15 minutes! Featuring 4 flavor variations – BBQ, Buffalo, Cheesy and Taco Fiesta, all of which are vegan and gluten-free.
Get the recipe here at watchleaneat.com.
4. Buffalo Chicken Dip
Use a small cast iron to bake and serve this easy buffalo chicken dip, it's sure to be a hit!
Get the recipe here at cravethegood.com
5. Healthy Buffalo chicken dip poppers
Perfectly Portion Controlled, these Healthy Buffalo Chicken Dip Stuffed Peppers are stuffed with your favorite dip…just made healthier
Get the recipe here at confessionsofafitfoodie.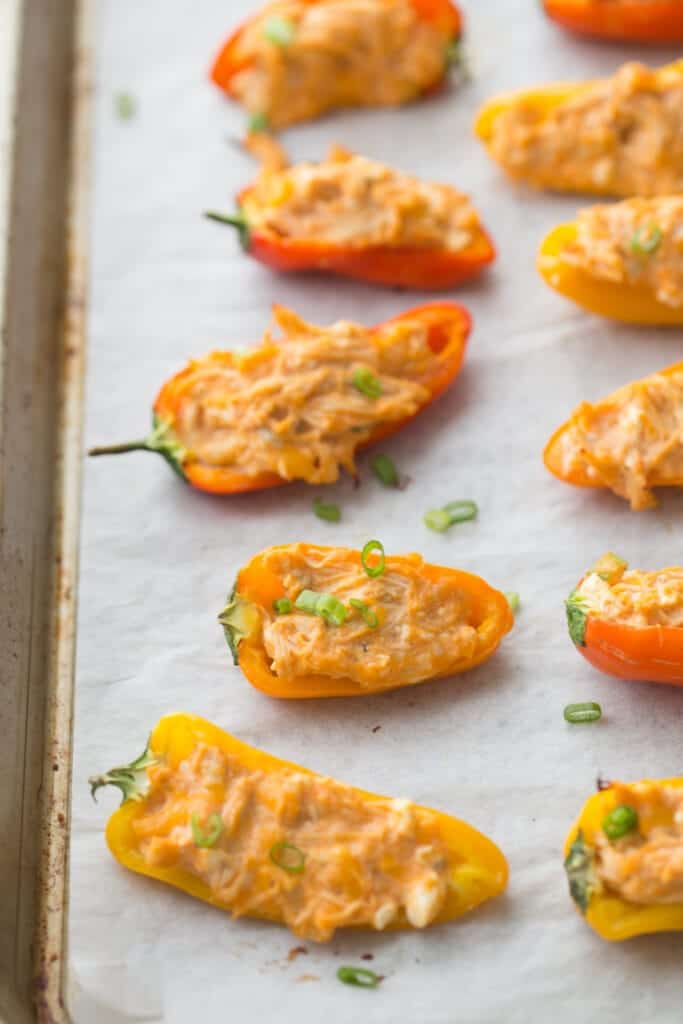 6. Fresh Tomato salsa
This easy homemade salsa recipe is made in minutes with fresh tomatoes, onion, green bell pepper, cilantro, and red pepper flakes! Serve with chips or with your next Mexican meal!
Get the recipe here at brooklynfarmgirl.
7. No Fry Tofu Buffalo Bites
Tofu buffalo bites are quick and easy to make when you cook them under the CrispLid. They are super crispy and they're totally kid-approved! Serve them at parties, game night, movie night, or snack time along with your favorite dipping sauce. They are irresistible!
Get the recipe here thebellyrulesthemind.
8. Honey Roasted Cajun Cashews
Honey Roasted Cajun Cashews. Quick easy recipe and the flavor combination works really well. Great for parties and game nights.
Recipe by lovefoodies.
9. Zesty Cream Cheese Stuffed Mini Peppers
These cream cheese stuffed mini peppers get a little extra zing with the addition of horseradish!
Get the recipe here at theliveinkitchen.
10. Sweet and Sticky Chicken Wings
Sweet & Sticky Chicken Wings made with a homemade sweet and sticky sauce, cooked in the Instant Pot, and made crispy in the oven.
Recipe here at themamaneedscake.
11. Buffalo Chicken Cresent Ring
Buffalo chicken is a game day staple. Serve it at your party, but in this fun form, with Drugstore Divas' Buffalo Chicken Crescent Ring.
Recipe by drugstoredivas.
12. Smoked Chex Mix
This sweet and spicy smoked Chex mix is a new household favorite! We've combined a sriracha caramel with a hint of smoke for an out of this world party mix.
Get the recipe here by cravethegood.
13. Airfryer Mozzarella sticks
Crunchy on the outside and gooey on the inside, these air fryer mozzarella sticks are a delicious appetizer for your next party. Prepare them ahead in the freezer, then pop them in the air fryer the serving day for a delicious treat everyone will love.
Recipe here onmykidsplate.
14. Air Fryer Sweet Chilli Wings
These Sweet Chili Chicken Wings are super crispy and prepared in the Ninja Foodi air fryer for easy cleanup. This game day appetizer will be gone before you know it (yeah these wings are that good)!
Recipe by erhardtseat.com.
15. Skinny Chicken Taco Pinwheel
These Skinny Chicken Taco Pinwheels are the perfect appetizer for any tailgating party! Make this lighter version for fewer calories with all the flavor!
Recipe by kindlyunspoken.
16. Crockpot Carrots
These Crockpot Carrots are simmered in tangy bbq sauce and are mouthwateringly delicious. They are perfect for holidays, game days, birthday parties, and even family dinners. Be forewarned, they're super addictive!
Recipe by eatplantbased.
17. Roasted Beetroot and Pistachio Dip
Give Game Day a Middle Eastern twist this year. This Beetroot & Pistachio Dip certainly is eye-catching and tastes delicious.
recipe by greedygourmet
18. Football shaped Bread bowl with spinach dip
Get the recipe by theolemom.
19. Pickle Thing dip
Pickle thing dip has all the taste of a classic pickle wrap with half the work! Salty, creamy, crunchy, and totally addictive, this dip just the thing to take to parties and potlucks!
Recipe by accidentalhappybaker.
20. Indian Samosas with Wonton Wrappers
Indian Samosas can be easy to make with the help of wonton wrappers. These can be baked, steamed, shallow fried or deep-fried. Dip these beauties into savory chutneys or eat them plain. Make these ahead of time and cook them later or freeze them.
recipe by fusioncraftiness.
21. Gluten-free Garlic Herb Crackers
Homemade crackers are great for healthier appetizers and snacks! Our Gluten-Free Garlic Herb Crackers are whole grain, dairy-free, and peanut-free too.
Recipe by thefitcookie.
22. Roast Beef Crostini
Recipe by Snacksandsips.
How to make Charcuterie Board
Learn how to make a gorgeous appetizer platter that'll impress everyone and disappear quickly at your next party. Prep & assemble the simple ingredients in about 30 minutes, and relax while everyone grazes and chats.
board instructions by therisingspoon.
23. Loaded Fnfetti Dessert Nachos
These dessert nachos have been fan favorites for years! They're crunchy funfetti cookies with a meringue dip, diced strawberries, and chocolate chips.
recipe by cupcakeproject.
24. Buffalo Cauliflower bites
Buffalo Cauliflower Bites – a meatless version of your favorite buffalo wings. No breading station required – these are so easy!
recipe by veggieinspired.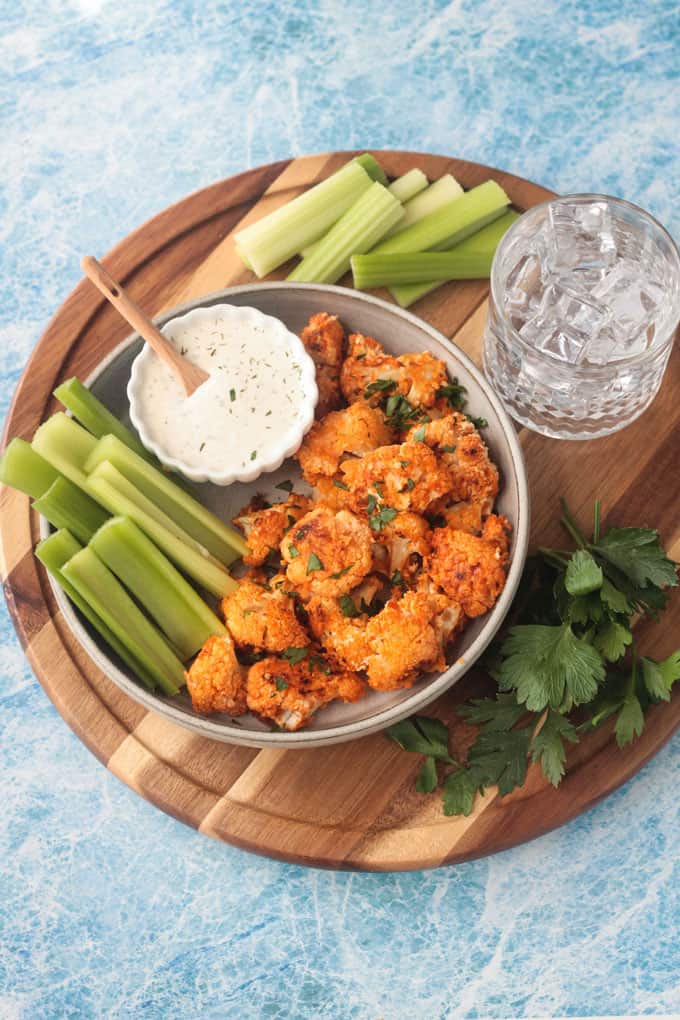 25. Italian potato croquettes
Your family and friends are going to love these Italian Potato Croquettes.
26. Easy garlic hummus recipe
Buying hummus for a crowd can get pricey fast. Use this easy recipe to make fresh hummus from dry chickpeas at home and don't go broke serving a crowd!
Recipe by creativegreenliving.
27. Dry rub spicy chicken wings
Recipe by ramshacklepantry.
28. Air fry vegetable kabab
These easy Air Fryer Vegetable Kabobs are the perfect appetizer, snack, game-day fare that is also perfectly healthy. Add a salad to upgrade them to a quick and healthy lunch or weeknight dinner.
recipe by recipesfromapantry.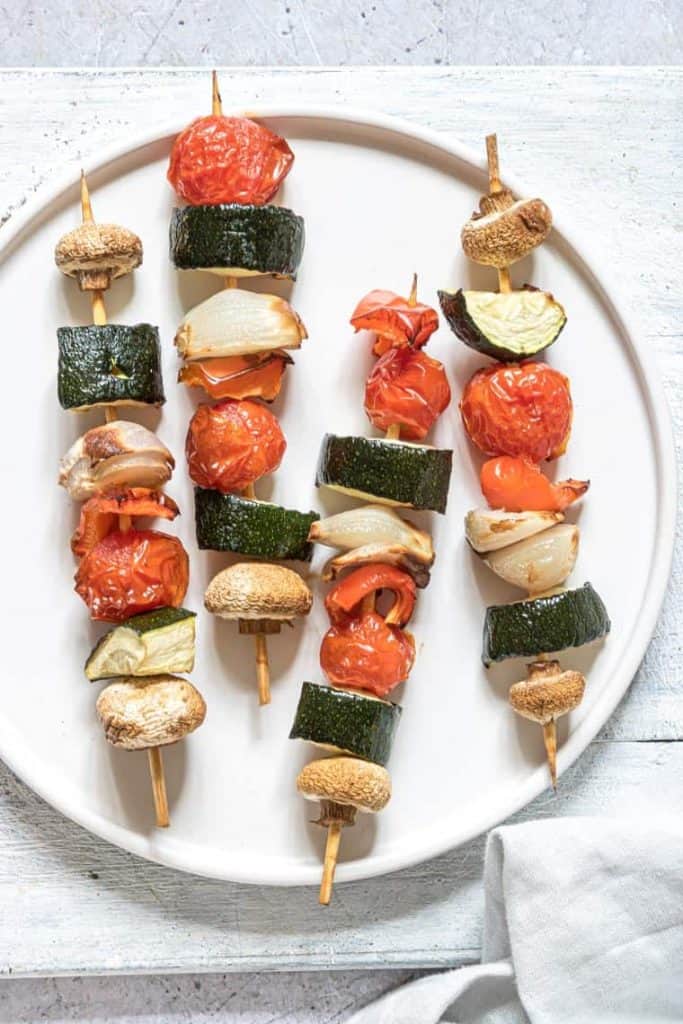 29. Beef nachos recipe
In this easy nachos recipe, seasoned ground beef is nestled between two layers of cheese and loaded with toppings like corn, beans, olives, tomatoes, onion, cilantro, sour cream, and avocados. It's the perfect game-day appetizer or easy weeknight meal that even picky eaters will devour!
recipe by joyfoodsunshine.
30. 2-minute sweet and salty snack mix
A no-bake sweet & salty snack mix made with popcorn, pretzels, raisins, chocolate, and peanuts. Served in DIY football cups, this easy snack mix is perfect for game day.
Recipe by crayonsandcravings.