Let's help the Gingerbread Man disguise from Santa this holiday season so he does not get eaten with some CRAFTY disguise as Grinch.
My son received a family project from school "Disguise The Gingerbread Man Cookie Project". After some ideas research as I'm not a craft mom, I came up with an idea to Disguise Gingerbreadman as Grinch dressed up in a Christmas scarf, mittens, and Santa hat.
You can try other gingerbread man disguises such as snowman, spiderman, batman, elf, Santa, etc and the options are unlimited.
All of this craft idea of disguising gingerbread man as Grinch came in handy – super easy, inexpensive, and perfect for the upcoming holiday season. All you need is a black and red marker and some construction paper.
This post may contain affiliate links. Please read our disclaimer for more information.
How to make disguise Gingerbread Man cookie as Grinch
If you do not have a cutout of the gingerbread man, you can get cutouts at Michaels, Walmart, Target, or a Dollar store.
I Received this Gingerbread print from school and I cut it out at home.
Since I'm planning to make Grinch as a disguise, So I took green color construction paper. You can use a light green color too for Grinch. I traced gingerbread cut out and cute out green same as Gingerbread man.
Now, I randomly draw a leaf shape on black construction paper for the eyes. I cut two pieces. Yellow construction paper for Grinch yellow eyes. For eyeballs, I used brown paper and cut in a smaller size than yellow ones.
Glue all three cutouts on Grinch's face.
In the next step, cut out neck scarves, mittens, and socks using white construction paper.
Glue everything as shown in the image.
Now create red and white stripes using a red marker and create scarf, mittens, and socks print.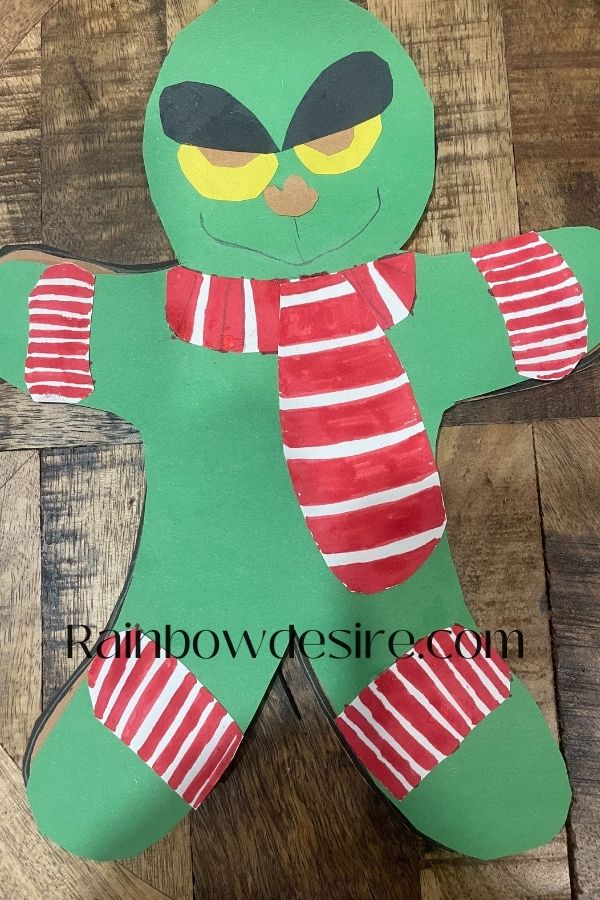 Now cut out Santa Hat using white construction paper. You can use red paper instead of white. At this point, you can create red and white stripes for the Grinch hat too.
Make Grinch lips and nose using a pen, sharpie, or construction paper.
Now paste the hat on Grinch Gingerbread head using glue.
Your disguise Gingerbread man project is ready now.
Happy holidays!
20+ Fun Activities for kids to try at home.
16 Cleaning hacks for keeping the mess contained with little ones.
18 Easy Organizing hacks for kids stuff
How to Declutter kids toys to simplify your life
Get free printable worksheets for kindergarten and preschoolers.