Are you in the struggle of organizing kids' stuff every other day?
Moms of little kids may find these tips helpful for organizing kids' stuff when clutter becomes overwhelming. Learn these simple and easy organizing hacks for baby's clothing, kids' jackets, shoes that need a designated place in your home, also, how moms can organize kids' toys and books depending on the space of your house.
You can get ideas on how you can maximize your limited space with multiple kids and their stuff for a fairly small space.
If you have too many kids' toys, the best thing is to declutter, and here is how you can do it.
This post may contain affiliate links. Please read our disclaimer for more information.
Easy Organizing hacks for kid(s) stuff
Regardless of how big or small your space is, having too many things around you may increase your stress level.
The best approach is to stay minimalist with your stuff; too many things mean too much clutter. Although when you have kids, you may need a bigger space or a separate room to accommodate your kid's stuff, still you need to be decluttering every two to four weeks to avoid the overwhelm and get rid of the stuff that your child has outgrown in a matter of few weeks.
When moms feel overwhelmed due to kids' toys, clothes everywhere, these simple things will help moms keep motherhood organized and less stressful. Most importantly, keep the configuration of your house in mind when you are organizing stuff.
1. Use Wall basket for Lost socks
Install wall baskets in your laundry room and outside the laundry room to track all your household lost socks.
2.Install Hooks on the entryway
Install basket or hooks for gloves and other winter wear on the entryway. This is the tree hall I have, and it caters to kids' shoes, jackets, school bags, and everything else. If you have space to optimize your entryway, then this is the hall tree you should get.
3. Wall hooks for hanging baby stuff
Ideally, you should install wall Hooks for hanging baby's bibs, toys, and other things that keep messing up your space.
4. Wall organizers for medicines
Babies are vulnerable to fall sick in the first year of their lives. It would be best to keep a designated spot in the kitchen cabinets for medicines or a medicine cabinet in the bathroom. Make sure the medicines are not in your kid(s) reach.
The best approach is to have a mesh bin or storage bin container to keep them contained in one place.
Tip – Always make sure the medicines are best to use and throw away expired ones.
Learn how to keep your house safe for babies.
5. Jewelry organizer for girls
You have to have jewelry organizers for little girls so that it is not getting lost every other day. Also, this will help girls to learn how to keep jewelry organized while they are still young.
Choose a practical and highly functional jewelry organizer that is age-appropriate and easy to use for little girls. Using this one can save you a lot of space on the dresser.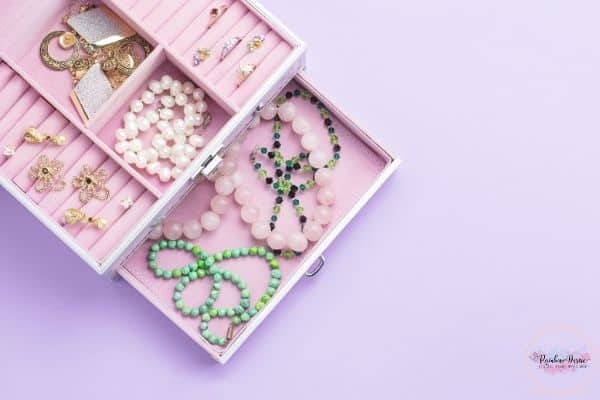 6. Wall hanging organizer
You can use a wall hanging organizer for multi-purpose in your kids' rooms.
For instance, you can use a wall organizer for baby receiving blankets, baby's shoes, bibs, onesies, pj's, bodysuits, baby's diaper essentials. Small space rooms can save up a lot of space by using these organizers, depending on your room configuration.
Moreover, a wall or hanging door organizer can be used for random toy accessories for little girls. These wall organizers are super functional for barbie dolls and tons of small toys.
Related: how to organize a baby nursery in a small space.
7. Space-saving bins
Space-saving bins for kids' books or toys.
As kids grow older, the best practice is to purge what you find unnecessary for your kids. Space-saving bins are your best friend when it comes to organizing kids' rooms, especially boys' rooms, that have the ultimate car selection.
Over the door hanging storage organizer for baby's toys and every day use random stuff.
Related: Simplify your kid's toys by decluttering strategically.
8. Storing clothes for next season or for the sibling
9. Need to store clothes for the next season for siblings or expected baby, these fabric storage bags are a game changer.
9. Bedside caddy to organize bed clutter
Do you do late-night feedings or do not have a nightstand on either side of your bed, use this night caddy for easy access for the stuff you may need at night.
Bedside caddy can be used in kids' dorm rooms, in their own rooms, or even if they are sharing a room with siblings.
You can use a bedside caddy in kids' rooms to keep bedtime books and other essentials organized.
10. Drawer organizers for small clothing items like onesies
This drawer organizer can be used as an onesie organizer. Since onesies are the best and the comfiest clothing essential for newborns and most likely your baby has tons of onesies. Keeping all sorted in your drawers when you do not have hanging space in your closet is a brilliant way to keep clothes organized.
11. Closet wall foldable drying rack
Are you aware of having multiple throw-ups and poop stains? well, sometimes you cannot just put everything in the washer right away. You gotta have this when it comes to air dry a few items.
Install this foldable drying rack in your laundry wall to keep air dry clothes that you need every day.
12. Mesh bags for washing smallest clothing piece
You cannot go wrong by using mess bags for the tinniest socks that misplace every wash. Lost socks are a problem of every household from infant to adult. Solve this issue by using these mesh bags.
Fill this mesh bag up for laundry so once your load is done, you have full pairs of socks safe in one place.
13. Storing kids art and crafts
do you seem to do crafts with kids and no place to keep it safe and reminding? These clear bins with lids can help keep everything organized and clutter-free.
14. Wall shelves
The moving wall shelves can be used to organize kids' books in the reading section. You can also utilize wall shelves to organize kids' other stuff like small cars that can be stored vertically. This can save up a lot of space and clutter.
You can get this wall shelf for kids' room to have their book organizer in a space-saving manner.
15. Use a bench with drawers or bins underneath.
While you are setting up your kid's room if you want to have a sitting bench or table for a sofa make sure it has storage to put away toys to have a better-organized room.
You can get this practical and super functional storage bench for your entryway or living room to organize and make your house clutter-free.
16. Keeping bags safe in one place
Instead of shoving your bags or girls' bags under the bed storage, the best thing is to get these bags hanging storage to keep them safe to retain their shape and stay scratch-free for a long time.
17. Bath toys organizers
Do your kids play with toys while they take shower or bathe? You might want to get these bath toys organizer. This will help you avoid any moldy toys by keeping them dry.
18. Organizing Board Games
While kids are growing up, things keep piling up with new stuff. Some kids are fond of board games like monopoly. If you have a relatively small space, the best thing is to get a closet hanging organizer or cubby organizer to safely organize and store board games.
This over the door organizer can be used for anything that needs to be organized in a space-saving manner.
Read more
Tips and ideas on how to organize baby's nursery when you have a small space.
16 cleaning hacks for moms to have mess-free motherhood.