Traveling with small kids is overwhelming for new moms especially those who are traveling alone with one kid for the first time or more than one kid, newborn baby, a lap child, toddler, or a teenager – no matter what age they are at – packing smart for kids is very important to ensure a smooth hassle-free flight.
When you have big kids more than 5 years of age they can carry their own backpacks and toys, or pack basic travel essentials for their flight. However, if you have little ones under 4 years of age and you are traveling all by yourself then pack everything essential in carry-on luggage.
Deciding on your basic essentials for a lap child, infant or grown-ups is a little tricky, regardless of what your destination.
Most importantly, keep in mind how long your trip is going to be, and your flight time, whether you are traveling internationally or flying domestic, you definitely need basic essentials in your hand-luggage bag, not neglecting the time of your flight and things you might need at arrival.
In the US, airlines charge for a carry-on bag for domestic flights unless you are a privileged member of an airline. Whereas, international flights allow you to carry two check-in bags and one carry-on hand luggage along with a laptop bag or a handbag.
If you are flying alone with kids, then you need to be very specific about the stuff that you have to take on the plane since you do not want to overpack – with kids traveling light is extremely important. Because, at the end of the day, you are the one who is going to carry everything.
Traveling during this pandemic seems quite daunting at so many levels. If you are planning your trip with kids, make sure you take the right measures. Most of the people stayed home and didn't go out because of the virus, consequently, the immunity we develop every day (under normal circumstances), has gone too low. Lack of immunity means more chances to fall sick.
Sanity Saving Travel tips when you are traveling with an infant and a toddler.
This post may contain affiliate links. Please read our disclaimer for more information.
Carry-on bag Essentials for moms flying with babies and toddlers
When you have to travel you cannot skip anything that is essential while on the plane. Also, you need to have a minimalist approach as you do not want to pack on everything that you have to carry all by yourself – everywhere you go.
This post is typically to help moms with two kids under 2 years of age or traveling with a lap child and a toddler.
1. Backpack or a small strolling suitcase
First thing first, you need a Backpack – light, sturdy, and spacious. As kids' stuff is a lot to adjust in one backpack, It shouldn't be heavy, and it should be sturdy to handle all the extra weight.
Get an airline-approved backpack for moms.
2. Ziplock bags for quick security scan
Another must-have item is TSA-approved clear travel bags you need to put stuff for easy recognition or staying organized for easy access.
Your packing has to be super organized and easily accessible so you can enjoy traveling with your family, without having any delays for the TSA security scan.
Using Ziploc bags instead is another way to keep things organized in your bag. Just make sure they are sealed properly, so things don't fall out in your bag.
3. Organize diapers and wipes in a separate Ziploc bag for easy excess in a hand luggage
Diapers – Decide on diapers based on your own judgment. Keep a couple of extra diapers if you are on a very long flight, or sometimes kids get diarrhea if they pick anything from the floor and eat it or put toys in their mouths.
Pull-ups for toddlers who are in a potty training phase. Sometimes potty regression hits while traveling, it's better to be prepared, especially for long duration or international flights.
Wipes – You do not need a full pack of wipes for flight. Keep it light and use a travel pack based on your judgment on how much you are going to need. However, do not forget to keep separate wipes for your trip in your luggage.
Diaper changing sheets either Disposable or regular changing sheet
Diaper disposing sacks – keep about 15 to 20 bags or more in your carry-on for diaper disposal or soiled clothes.
travel size diaper balm.
Hand and face wipe because with kids you need them.
Organize all of these changing station essentials in a freezer-size Ziploc and put it in your backpack.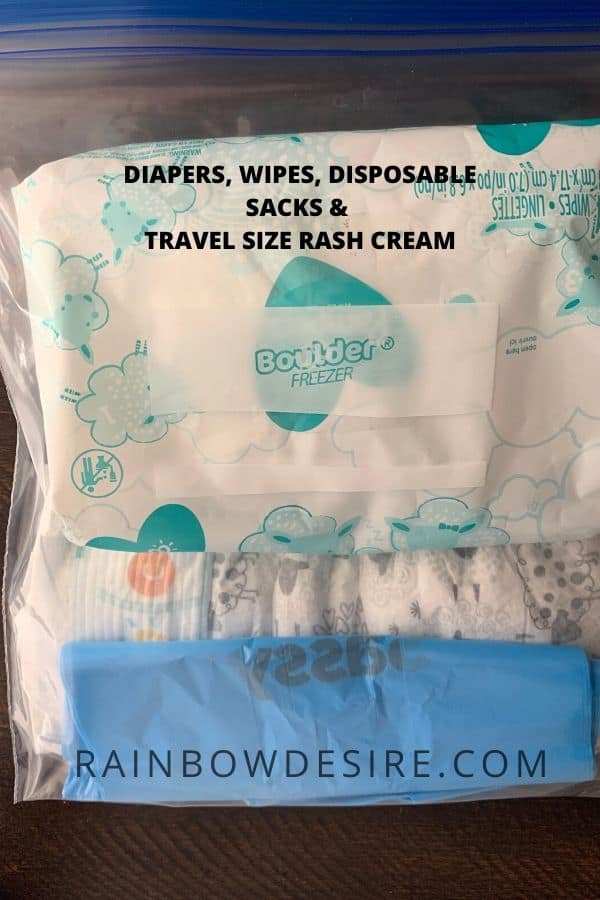 Update: I just had a long vacation with kids and we had to take about 5 flights in about 15 days. It was crazy, yet fun! I had experienced a few TSA security delays. Every time it was something different.
Let me tell you what were those delays all about.
In order to avoid delays, do not forget to take out baby wipes and put them in the tray.
One more thing that was different this time was diaper rash cream. In a couple of security scans, diaper rash cream was concerning for them.
Finally, if you have kids' snacks, baby food, or packaged yogurt, make sure you take it out and put it in the tray to save time and easy scan.
Laptops, tablets, and iPads should be out of cover for serious scans such as for the US if you are traveling from any other country. Most international flights depend on where you are heading.
Space-saving packing Tips for moms traveling alone or with a family.
4. An Extra outfit for mom and the baby
An extra outfit for your baby and an extra shirt for yourself. If you have long flight hours like international flights then you might want to keep a full extra outfit for yourself too.
Staying comfy in your clothes is the best you can do for yourself and your kids while on the plane.
Just a gentle reminder: If you are going to wear a backpack or hold a baby on a flight, do not wear too many layers. You might get too exhausted or uncomfortable with so many layers on.
Space-saving Tips for packing your luggage.
5. Feeding essentials for a lap-child, or infant
You need to have baby feeding bottles, either ready to use (for newborn babies) or formula bottles. You have to make sure all ready-to-use bottles have to be sealed.
Although airlines do not allow carrying liquids on a plane of more than 100ml, still you can take baby formula milk and get everything scanned.
For breastfeeding newborns, just feed on demand especially around the take-of and landing time to prevent ear popping due to air pressure.
Pacifiers are essential for newborns and babies who take them. Take a couple of extra, once it falls down on a plane floor, do not use it again. Using a pacifier clip may help.
Get Water after a security check
You can get on the plane. You can get water from the airport after a security check. Even if you need warm water, you can always check from Starbucks or any food near your gate at the airport.
Kids' food on a flight
If you have kids aged more than 2 years, it depends on what they eat while on the plane, depending on their preferences.
You can take chips, cookies, or sandwiches with you on a domestic flight.
For international flights, you can order kids' meals. Check with your airline and see what they offer for kids. Some kids do not prefer airplane meals. So pack some of their favorite snacks.
Packing Baby food for air travel
For toddlers or babies more than 6 months you can have packaged baby food – applesauce and yogurt, etc with you.
In order to keep kids entertained the whole time, you must keep a variety of candies and snacks like lollypops, goldfish, gummy bears, sour patch gummies, fruit loops, etc. with you.
Have your kids' food packed in a Ziploc bag, and once the security scan starts, do not forget to take everything out. There is quite a chance they might have to dig through all of your food to make sure it is not concerning in any way for air travel.
If you have a whole milk bottle for the baby, make sure it is not in the packaged bottle as it is not going to be okay if there is a plastic layer on the bottle. Although it doesn't really matter, it is just a milk bottle, it will be much easier if you know what to do when you have to save time and stress.
Ideally, it will be much easier if you have milk in a baby's milk bottle instead of a packaged one.
Helpful tips for moms traveling with an infant and a toddler.
6. Kids' medicines
Kids' medicines are a must for a flight, whether it is a short or long-duration flight. Carrying the essential medicines on a plane while flying is important.
Saline drops to deal with a dry nose for babies and toddlers.
Motion sickness medicine for kids – Dramamine
Benadryl for nausea as advised by pediatrician. or Zyrtec for allergies.
You must discuss every medicine for your kids with your child's pediatrician.
Update: Do not forget to take medicines out of your bag before security scans for more convenient TSA checks.
7. Face Masks for traveling
We all know how essential is a face mask for us during this pandemic. When you are traveling with kids or alone, you must carry a face mask with you. However, CDC does not recommend a facial covering for kids younger than 2-year-old as they may not be able to remove it without assistance. While you are traveling with kids, make sure you take the right measures and sanitize everything responsibly.
If you are traveling with an infant, a car seat cover is a good alternative to protect your child from getting sick. Also, you can use it as a nursing cover.
8. Plane-friendly toys or activities for kids
You have to carry some easy, lightweight, and fun toys for kids to keep them engaged. Make sure you visit the dollar store a couple of days before your flight and grab whatever you think your kids gonna enjoy while on the flight. Do not take too many, just a few, and give your child one at a time.
My son loves cars and he loves to play with 4 to 5 small cars at a time. For travel, a hot wheel car pack or matchbox car pack does the trick every time. Do not forget to keep a sanitizing spray to keep toys clean.
How to keep kids busy during the flight – travel toys you need for kids.
For domestic flights, you might have to carry a travel pillow with you and a blanket for your baby.
For international flights, I highly recommend Qatar Airways. I had a very comfortable flight with my kids. The airline is going to provide you with everything.
9. Blankets for long domestic flights
For long domestic flights, and during cold weather, the best thing is to take kids' blankets in your carry-on essentials. Although it highly depends on the kids' age still if you have two kids under 3 years of age, you need to take everything two in number. One for each.
Even though international flights may offer blankets during the flight, so you do not need to carry an extra blanket in carry-on bags. However, if you still want to, you may carry kids' lovey blankets with you.
Check out this space-saving blanket perfect for air travel.
No matter whether you are going to use everything for kids or not, you still have to carry their essentials with you, regardless.
Happy traveling.
Keep children well-behaved in their seats with age-appropriate airplane activities that will keep them busy and happily engaged during a flight. Read more
Read more
How to protect your newborn during a pandemic.
21 travel tips for parents flying with kids for the first time.
18 Space-Saving Packing hacks for moms air-traveling with kids.
22 Travel Accessories you do not want to miss for your next flight.
Get the carry-on luggage flight packing essentials printable now