The year 2020 had an unfortunate beginning due to an amid breakout of COVID-19. During this time, everyone is struggling to stay safe and healthy due to a rapid increase in the number of people tested positive.
New moms and expectant moms are worried more than ever now. Doctors are not seeing pregnant women in their clinics, rather most of them are having video appointments keeping safety and health into consideration for both mom and the baby
Keeping your newborn safe during this time is your top priority. If babies are exposed to sick people (or asymptomatic people) it is very likely for them to catch the virus. So for that reason, if you have a newborn at hand, please do not leave home unnecessary.
The government is on reopening the country now. Gradually, everything is going to open, and as a mom, you have to think about your kids' safety.
We all are frustrated sitting at home, kids are cranky, but the truth is, this is not over yet. Every step matters, so try to make wise choices for your family.
Once the country reopens, it's reasonably wise to avoid going to restaurants, malls, and anything crowded for now if you have kids at home. I completely understand the frustration of not being able to go out. Even if you do choose to go out for recreational purposes, take essential precautionary measures.
It is nearly impossible for a mom with little kids, to isolate from her kids if anyone falls sick. Unfortunately, this coronavirus situation is rough, as it is going to be our "new normal." We have to take serious measures that we have never thought of doing it in the past.
In this post, we talk about how new moms can protect their newborns if they have to go outside, and you have no choice but to take their newborns with them.
This post may contain affiliate links. Please read our disclaimer for more information.
Tips for mom to keep newborns (infant) safe during a pandemic
When you are living alone – independently, no family or you are a single mom – and you have to go get groceries. As a mom what are the precautions you need to do to protect your infant and other kids?
Protect yourself first
I always wondered why every time you board on an aircraft and the aircrew would tell you to put on your oxygen mask first and then on a child next to you.
A Mother in every mother would want to protect her child first.
Besides what is going on all around the world, you have to make sure, you are taking the right measures to protect yourself, even you are going out or not.
Read CDC Guidelines on how you can protect yourself and others.
Steps you have to take to minimize the risk
Wear a mask at all times while you are outside. Make sure it is clean and washable – if you do not have disposable ones. I have sewn masks for my family after watching the video on Youtube I could make masks super quick.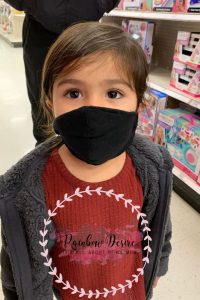 2. Keep a sanitizer in your car. If you do not have a sanitizer, keep a hand wash and fill up a gallon of water for frequent and better handwashing.
3. Weather is getting a little warmer in several weeks, so it would be better to wear flip flops and wash them when you get home or leave your shoe outside. As per CDC guidelines, the virus does transfer on shoe soles. So why take a risk even.
4. I would not suggest you wearing gloves, because in my opinion, when you are wearing gloves, you would never feel what surface you touched the last time. For that reason, you would not feel the need to wash your hands. Nevertheless, the best defense for this virus is frequent handwashing.
Newborn protection when going out
Well, as a matter of fact, we cannot have newborns wear the mask due to a risk of SIDS. However, you still have to protect your baby from inhaling anything that is dangerous.
You need a car seat cover to keep anything from inhaling.
You can also use a muslin Blanket to cover baby's carseat so it would not slip away.
When you cover baby's car seat or baby's face while sitting in the stroller, you have to make sure there is enough breathing room for the baby.
This pandemic is going to take several months to even slow down, thus, protection and safety are essential during this time to keep your household safe. Days are going to be hot and if you have covered stroller or car seat with a blanket, be vigilant of the temperature inside the cover.
You must know that a temperature under the blanket or cover or inside the car (Closed windows) is several degrees higher than outside.
Never leave your baby in the car alone, even you have to leave for 5 minutes. Nope, not at all. It's not worth it!
How to protect your newborns when you are going out in normal circumstances.
Breastfeeding helps immune support for babies
Nursing moms are aware of the benefits breastmilk has. It has antibodies that protect babies from getting sick and it makes immune system strong.
If you are pregnant and do not have any other health condition that could keep you from breastfeeding, you must choose to breastfeed for the better health and safety for your baby.
If you are breastfeeding already, amp up your game of nursing and feed your baby on demand as much as you can.
40+ Breastfeeding tips for new moms.
Do not quit breastfeeding at this point
Breastfeeding gets hard and painful sometimes and you do not want to continue anymore. Right now that's not what is needed. Nurse for a little longer if you can.
Common breastfeeding discomforts and how you can ease.
But if you want to wean off your toddler from breastfeeding, I would say wait for a couple more months and keep nursing for baby's health and safety.
Be mindful of how you soothe your crying baby
While you are outside, you have to be super vigilant when and how you are soothing a crying baby.
The moment your newborn gets hungry, she is going to suck on her hands. Try not to touch baby's hands once you are out of the house, only if it is to clean baby's hands.
Sanitize your hands before you pick up your baby.
Do not take baby toys along for a short visit to grocery store.
When you hold your baby, you need to make sure, it would not have any consequences.
Take baby inside only if you have no other choice to leave baby at home with a caretaker (a family member).
You can also have someone watch your baby in the car while you can run errands.
Baby clothing & Accessories
When all the stores are closed nationwide during these times of pandemic, chances are, you have to order baby items online if you are expecting anytime soon or have a growing child with growing. Wash baby's clothes before you have your baby wear them, regardless.
Either clothes are hand-me-downs or brand new, try to wash them.
In case you are wondering what clothes you need for your newborn, here are the essential must-haves for the baby.
How to protect your toddler and other kids
Teach your toddler how to wear a mask while you go outside. You can make some fun masks for your little ones, using their outgrown character shirts, flannel blankets, etc.
Focus on kids immune support.
Once your toddler turns two, start giving your child supplements as a part of her diet (if she does not have any health concerns).
Elderberry fruit supplements are known to be effective for protecting kids from influenza-like viruses. Always discuss with your pediatrician before you start multivitamins for your kids.
Multivitamins would help to improve the immune support system. Also, it would help your body fighting common cold and flu and other diseases, so your chances to fall sick get slim. and if you do in the worst case, you recover fast.
What to do when country re-opens
Moms and dads with little kids need to be extra cautious once county re-opens, regardless of where you are living.
We all are frustrated and depressed because of the lockdown, financial stress is taking toll on everyone's mental health. Experts say people may get infected more once the county reopens. For that reason, we have to strive for not being a reason for infecting others in any way.
Practice Social Distancing – Hard it may sound, but that's the only way we can pull ourselves out of this pandemic safe. Thanks to our health workers who are working 24/7 around the clock for us.
Practice hand-washing inside and outside of the house. Again, I would say keep a gallon of water (make sure you can cap it well, so it doesn't spill) and hand- soap in the trunk of your car.
If you are going for a long drive, try not to stop at rest areas public restrooms for handwashing if you have little kids with you. Also, instead of using hand sanitizer (which is rarely available in stores now) kids and you can wash hands with soap and water.
Avoid using public bathrooms and rest areas as much as you can while you are at the beach or at a restaurant.
Wash your clothes regularly.
Wear a mask while we are outside, and we might have to wear it for at least a year since we still do not know if it comes back in a second wave.
Stay safe, be prepared and protect your family and yourself.
Read more
Healthy choices you should make to keep your family safe and healthy.
Tips for moms for going out with a newborn