Potty training girls is slightly different than training boys. Girls can be stubborn and headstrong when it comes to potty training. Staying consistent on your toilet training schedule is the key while you train and see progress.
If you are suspecting resistance and stubbornness from your toddler girl, these potty training tips can help you.
In the process of toilet training my daughter, I see her making progress every single day. She goes to the bathroom and manages everything so well, all by herself, and it's not been a week.
Wait! did I tell you she is not even 3 yet?
Depending on your girl's age, behavior, and how fast she could learn new things – it will make potty training easy and quick.
This post may contain affiliate links. Please read our disclaimer for more information.
What are the signs if your toddler is ready to potty train
Before you start potty training your little girl, make sure she is showing at least some of the significant signs of readiness, if not all.
Your child is noticing about pee and poop, and asks you to change diaper once she is done with a business.
Time interval between two successive pee episodes increases.
Your child immediately changes location the moment she is about to pee (even in diaper).
At night, you may notice no frequent peeing in diaper, just a massive one in the morning.
Child is not scared of sitting on toilet seat anymore.
She cries or get scared after peeing her pants.
She imitates using the potty like a sibling or an adult.
Wakes up to a dry diaper/nappy after a nap.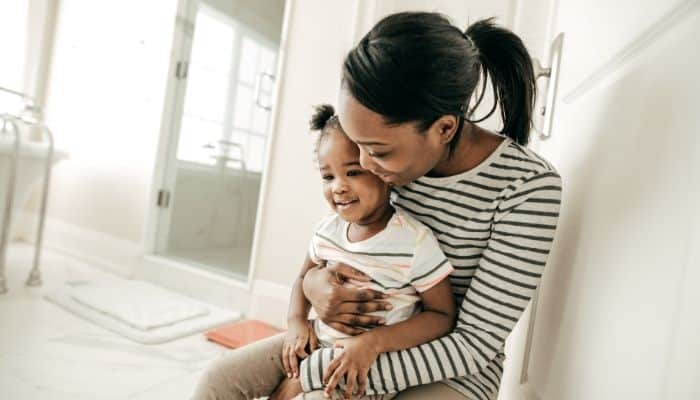 How to prepare yourself and your child to start potty training
Once you start noticing signs of readiness to potty train your girl, I would encourage you to go diaper-free and observe your child, once or twice, before you actually start over with an intention.
This process will help you understand the level of patience required with one particular child – Every child is different, some may learn faster than others.
Secondly, it will give your child a little bit of an idea of what to expect when she is in the process of toilet training. And I guarantee you, she will do much better – and you too will.
Third – These diaper-free random days will help you immensely on how to have good control over accidents and how well you can adjust with your potty training schedule.
I would suggest trying once or twice to see where your child stands in the potty training journey. If you think it is something beyond your patience at this point, give your child some more time.
When you start, pee or poop accidents are super effective to help your child understand what she is supposed to do in the toilet. With diapers, it's all wet and dry. Thus, in order to have successful training, a couple of accidents are helpful.
At the moment, do not stress and postpone for a while. Start over again after a few more weeks or a couple more months.
What is the right age to potty train your toddler girl
Starting early means more stress, and more accidents, but fewer diapers. Waiting for another couple of weeks makes a ton of difference in how easily your toddler gets potty trained.
In my opinion, the best age to potty train your child is 2.5 to 3 years. Using potty independently is a skill that toddlers learn when they are ready. Training your toddler early means, it may take her longer to learn.
Tried and tested tips for potty training
If you want to train your toddler in 2 to 3 days, these tips could help you achieve your goal. Potty training requires a lot of effort as a family. You have to be one-on-one with one child and the rest of the things are on the back burner.
Well, you cannot spend days after days on futile potty training with no strategy and timeline.
This step-by-step guide will help you understand how you can get the results in less than three days of potty training your toddler.
Read more tips for potty training boys.
Ditch diapers altogether
I would encourage you to ditch diapers depending on your child's age. At 33 months of age, I totally abandoned diapers for my daughter because I knew she is smart, and she would have an idea that a diaper is still an option.
Well, for my son, I did not ditch diapers during the night for a week while I was training him, but I would remove them first thing in the morning.
However, for my daughter, no diapers or pull-ups. Only a dozen of underwear for effective training.
When you start training your girl for sure, tell her firmly that no more diapers from now onwards.
Since you know your family better, you can decide according to your circumstances. You can use training underwear to contain the mess, and pull-ups depending on the pace.
Using diapers or pull-ups, if you fear a pee or poop accident, may delay the process of potty training.
Once your child is out of diapers, and you see the progress, do not switch back to diapers after trying for 2 to 3 days.
Time wee-wee and follow intervals for the first few days
You can potty train your toddler in about 2 to 3 days with this simple tip, but you have to be consistent and attentive all the time.
This is probably the most important tip that can give you results within a couple of days.
Time your bathroom trips; you have to take your toddler girl to the toilet every 15 to 20 minutes. Have her sit on a toilet seat and let her figure out how-to pee etc.
In the beginning, most likely she would be clueless about how to pee or poop. Like I said earlier, having a couple of accidents would help a lot in getting the results faster.
At this point, do not expect her to tell you that she needs to go to the toilet. YOU have to take her every time, with equal intervals, and gradually stretch the time between intervals.
More liquid intake means more bathroom trips.
Control liquid intake
Increase or limit fluids as per your circumstances. I would limit water or other liquids intake during the late hours around bedtime or after dinner.
Go out for short trips – walk or by car
Depending on how your child is making progress, I would encourage you to go out to the park, or a shopping mall. Keep your trip short and quick.
Leave only if your child just pees in the toilet and is good for an hour at least.
Going out gradually helps your child learn how to hold the pee while outside.
Do not slack
While you are in the process of toilet training your girl, try not to slack or get lazy. Expect an infinite amount of bathroom trips in the beginning – that might be unnecessary. Eventually, your child gets a hang of the skill, bladder control, and would only ask you when needed.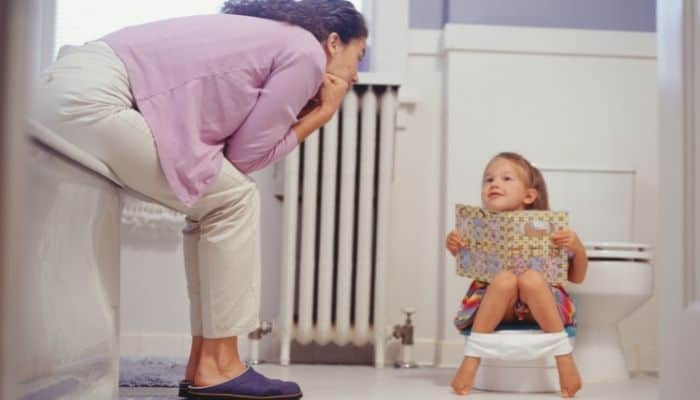 Night-time potty training
Limiting liquid intake at night time for at least a few days is very important. You can resume once your child gets adjusted to the wee schedule for nights.
After three to four hours into the sleep cycle, take her to the bathroom for a pee in the middle of the night and you might have to do that for several weeks.
Once your child develops bladder control as she grows, she may not need to wake up in the night.
In order to protect your mattress or kids' mattress – I advise you to use mattress pads and waterproof kids mats to protect sheets too.
Read more
Co-sleeping to toddler bed, tips for easy transition.
Reaction is everything
While observing your toddler girl's moves and expressions, YOUR reaction to your child's pee or poop accident makes a lot of difference.
Dealing with messy accidents in a polite way is very important. Also, have her understand that peeing her pants is not something that she should be doing. Never get mad, as it may backfire all your efforts.
At some point, you may feel frustrated, but trust me, kids are smart. They understand everything fast – and who likes to stay in diapers!
If your child is still not having reasonable bladder control and you are dealing with multiple accidents three to four weeks into training, try adding sesame seeds to your toddler's diet for bladder control.
18 Toddler Parenting Hacks you must know.
What to Expect when you are potty training
A lot of exploration adventures.
Learning a new skill takes time.
Bladder control takes longer as your child ages a little more.
Expect her just sitting on the toilet for hours without peeing.
Expect too many bathroom trips.
Bathroom trips for fun in public restrooms.
More tips on how to prevent leaks at night.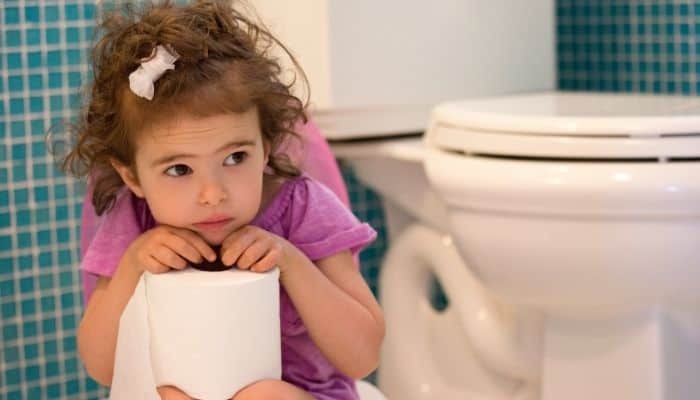 Products you might need for potty training
Mattress pads: I highly recommend having Mattress pads for your beds, sofas, and car seat.
2. No-slip inconsistence pad where your toddler sleeps.
3. Training Underwear or regular underwear. You need plenty of girl's underwear for every day now.
4. Pull-ups only if your toddler gets stubborn sometimes or you may get busy.
5. Potty training books .
6. Potty training step ladder for tall toilet seats.
7. Training potty to have your child get comfortable with the process.
9. You can offer rewards – every time your toddler uses a potty.
10. Instead of toilet paper, you can use a bidet or watering can for cleaning the pee area. Also, moms can use, postpartum spray bottles.
Not to mention, successful potty training depends on the child's age, development, and interest. Do not stress and do not rush. The timeline may vary for every child but once she is fully potty trained, it's all worth it in the end.
Learn more tips on how to potty train boys.
What to do if your potty trained child is having frequent urination?