When it comes to moving your child to his independent sleeping space, it gets a little challenging for parents, as not every child responds the same way to the transition from a crib to a toddler bed or big kid bed. Every child is different and as a parent, encouraging independent sleeping for your baby is really essential from the beginning, especially if you are a working parent.
Co-sleeping is a great option for parents if their newborns are not sleeping in their crib or bassinets. Also, some kids, if not all, may end up co-sleeping after a few months of sleeping in a crib.
Keeping these things in mind, moving your kid from one bed to another or transition from co-sleeping to a big kid bed becomes overwhelming for parents. You still have to go through the transition process and be super consistent about following a rock-solid routine to put kids on independent sleep.
This post may contain affiliate links. Please read our disclaimer for more information.
Tips on how to Make Transition easy from Co-sleeping to Toddler Bed
These tips will help your transition make it easy for your kids from crib to toddler big bed or co-sleeping to their own independent sleep space.
1. Keep your room and house configuration in mind
Well, as a matter of fact, having a crib for infants is a tricky decision for every parent; what kind, what size, all those questions have to be considered. Keeping all that excitement and eagerness for a new baby aside, some decision needs to be realistic than emotional as a parent. Your take on setting up a nursery for your baby is so much relatable for every parent; however, in some cases, we have to question ourselves that "Do we even need this?"
You can't be 100% sure if something will work for your baby, but you really have to consider the configuration of your house. For instance, you cannot have a newborn sleep on a different level of your house while you cannot be around for most of the day.
2. Encourage independent sleep from day 1
Try your best to have your baby sleep in his own crib to establish better sleep habits. Some babies, if not all, never sleep by themselves. They want to be held up or be on your chest for a cozy sleep.
Even in that case, do not stress if you have a tough newborn who wants mommy 24/7. Trust me; your newborn is going to grow out of this phase before you even know it.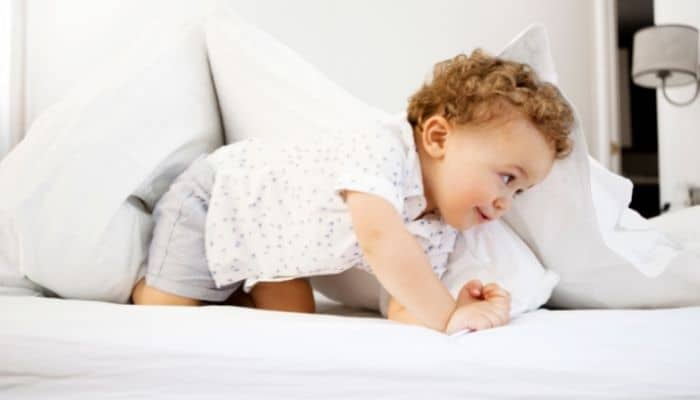 3. Co-sleep if your baby does not seem to like sleeping in the crib
Some babies tend to hate sleeping in the crib; they happen to sleep so much better, staying closer to mom and dad. The best thing to do with them is to co-sleep.
Co-sleeping works best for breastfeeding moms; who follow feeding on demand. Although nights get rough for moms when you are co-sleeping, that is the best way to get your fair share of night sleep when you are sleep-deprived for the longest time.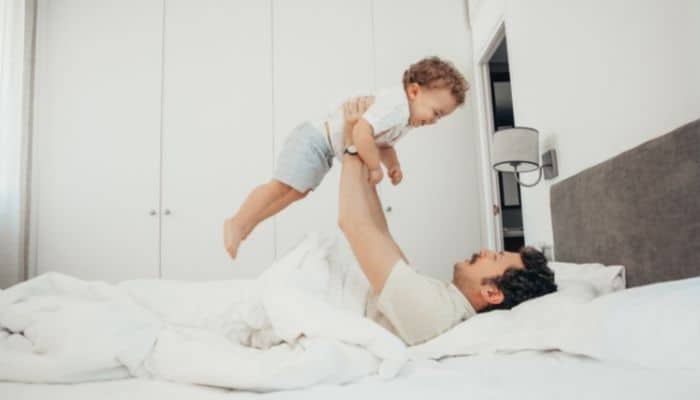 Read More
Sleep mistakes you need to avoid from the very beginning.
4. Getting the right bed for every stage
Well, if you have started with a bassinet or crib, it can be either standard or mini crib depends on your room space.
Choosing the right bed for every age is essential. Most of the mini cribs do not convert to toddler beds or day beds. However, the standard size crib does convert, and your child may end up sleeping in his independent space.
5. Choose Convertible beds for kids
Most of the cribs are convertible to twin beds; to have those set up later, you would have to order rails and twin mattresses for a twin bed. Please keep a crib manual safe somewhere in your house for future reference.
Most of the standard cribs convert to toddler beds or day beds; this depends on how you are using your standard crib. Consider all possible options before making a purchase.
If you have an attached changing table, then there is quite a chance that you cannot use it as a toddler bed in a small space as you cannot detach them depending on crib settings.
You can still transform it into a twin bed in a bigger space. But if you have a small space, you need to make your purchases wisely.
6. Purchase a separate mattress for toddler beds
You have to get a mattress separately. You can see what type and size of crib mattress you need for your crib. Always read the dimensions while you order the crib, and you should also know the dimension of the room where you want to put a mini or standard crib.
I got a toddler bed for my son that is compatible with a standard crib mattress, which works perfectly.
7. Bed Transition at the right age and right time when your child seems ready
When you move your newborn from a bassinet to a crib or co-sleeping, you need to decide when to move your kid in her independent space. Either it is a room sharing on a separate bed or a separate room for your little one.
Regardless, you have to transition when you think your child is adaptive enough to cope with these changes well. I moved my co-sleeping child since birth was his own toddler bed (room sharing) when he was 2.5 years old.
8. Make sure crib or bed is sturdy
Toddlers love to jump; you have to make sure the bed is sturdy and handles weight as your child grows.
Childproofing your home? Find out what safety measures you need to take.
9. Make sure the mattress is firm and there should be no crumpling sounds
It would be best if you used a firm mattress with a mattress cover in the crib or a big kid bed, regardless of age, to avoid any crumpling sounds.
10. Make him excited for his new bed
If your child is at the age when he understands well, try to involve him in choosing the toddler bed that will keep him excited about it as it makes a lot of difference for kids to feel happy about good changes.
11. Choose Fun characters bed sheets or pillows
When it's a new bed, it should be all fun with favorite character bedsheets and blankets to make it more exciting for them. Once you feel your kid is ready to use pillows and does not pose the risk of SIDS anymore, you can choose your kid's favorite character sheets, pillows, blankets, etc.
Check out these toddler bed comforter set and by Rookie Humans. I loved comforters sets, these are absolutely gorgeous and give such a neat look to the kids' room.
12. Have your child sleep in your bed and then shift him in his own bed while he is still asleep
If your child has been co-sleeping, there is quite a chance your kid likes his new bed for a day or two, and after that, he seems to be coming back to co-sleeping. Well, you cannot expect him to be sleeping in his bed right away. Obviously, he is going to have his highs and lows in this transition.
You may need to have him sleep in your bed and shift him to his own (new) bed once he falls asleep. He might wake up if he is a light sleeper, but consistency is the key. With time things do get better.
13. Do not turn your child away if he comes to you in the middle of the night
Some nights all they want is a little snug, do not turn your child away if he wants to sleep in your bed and comes to you in the middle of the night.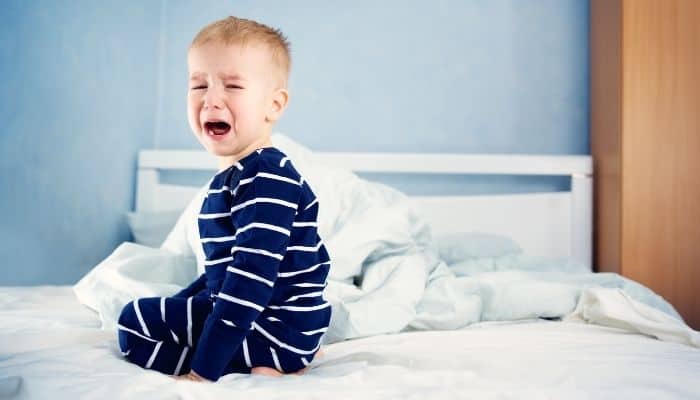 14. Do not be too rigid but stay consistent about sleeping in his own bed
While you are training your toddler to be independently sleeping in his own bed, you cannot be losing the ground. Stay consistent in practicing the same routine every night. However, do not try to be inflexible when your child needs the comfort of his parents.
Do not stress and do not overthink that you will spoil them for life if you let them sleep with you once.
15. During bed Transition – skip nap time or reduce nap hour time
If your child sleeps well at night, during the transition from crib to a toddler bed, or co-sleeping to a toddler bed, the best thing is to skip his nap altogether. Till he gets ready for bedtime at night, he will be so tired that he would not even bother which bed it is.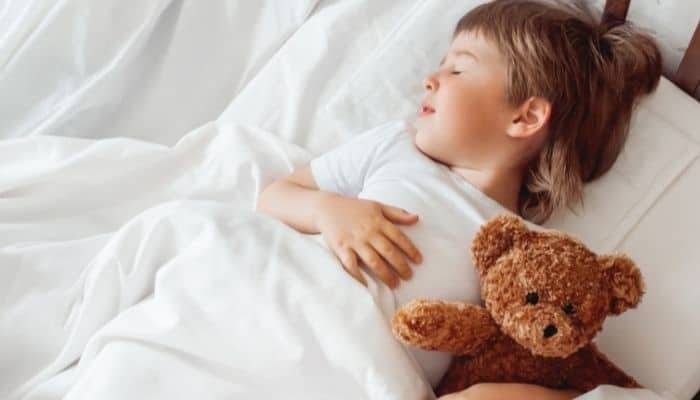 16. Assurance of being there for your kids
Parents who are struggling with the transition from co-sleeping to a toddler bed, in my honest opinion, you have to be there for a while until your child falls asleep. This you might have to do for the longest time until he learns to be sleeping on his own. Again, that varies from one child to another. Your child needs assurance that you are there for them.
17. Have waterproof mattress pads for toddler beds
Moreover, it would help if you also get waterproof covers for the crib mattress. They are must-haves because you never know when you have those pee and poop accidents. It would help if you also had fitted crib sheets as per the mattress size.
How you can prevent diaper leaks for your toddlers in the middle of the night.
18. Do not allow kids toys in sleeping space
I absolutely do not encourage my kids to bring toys in the room when it is bedtime. Toys tend to divert kids' attention, and they might end up sleeping later than bedtime. Also, it may interrupt sleep when they wake up seeing toys all around in their room.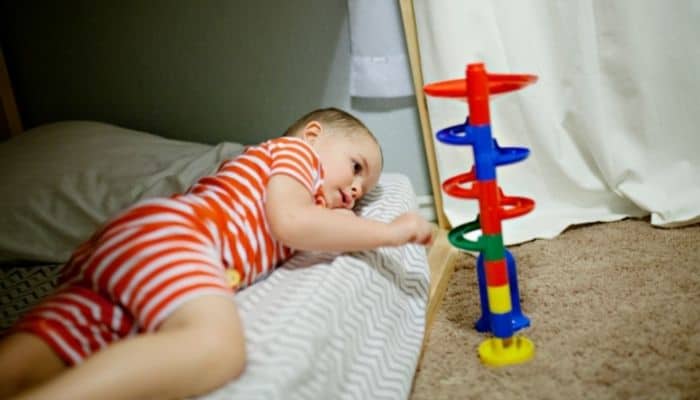 Are you struggling with potty training a stubborn toddler boy? here are some helpful tips to make it easy for you.
19. Toddler bed for smaller rooms
This is the toddler bed I have got for my son and it is perfect for fairly small spaces.
I preferred this toddler bed as it is neither too high nor too low. This one is just 3 inches off the ground and perfect for kids to hop on by themselves.
It does not have sharp edges, and also, I was a little apprehensive about bumping into the side rails. But it wasn't like that. It is safe to use, and it can handle toddlers jumping too.
Secondly, it fits the standard crib mattress. If you are looking for a toddler bed, then this is a great bed for which you can use a standard crib mattress.
My son has been using this toddler bed for almost 2 years now, and it is working just fine. I highly recommend it.
While placing a bassinet, crib, or toddler bed, be mindful of vents in the room. Sometimes direct hot or cold air does interrupt with baby's sleep.
Let me know in the comments about your struggles or concerns with your kids' transition process.
Read more
5 Tips on How to prevent diaper leaks at night.
Tips on How to declutter kids' toys.
Inexpensive kids playing ideas out of your closet.
Does your 4 or 5-year-old kid go to pee for too many times? Find out the causes and symptoms?