Whether your child is starting school or going back to school after a long summer break, you can expect a lot of excitement and a little bit of anxiety. Separation anxiety might kick in when your child thinks about school or new teachers, or new friends. Since the days before starting school again are always busy preparing for school supplies, meal prep, and getting organized – it is important to stay on top of it. Plan everything ahead of time because when school begins, you religiously have to follow a schedule for a better learning environment.
Although after a school break, be it a summer break, winter, or spring break, going back to school is a much-awaited time for parents too. Kids are excited to have new school supplies, new clothes, backpacks, and lunch boxes every year.
Despite the grade your kid is going this year, moms need to be more organized during the school year to make sure there is less chaos and more stuff gets done in a little time.
This post may contain affiliate links. Please read our disclaimer for more information.
Back to school tips and ideas for moms to stay organized
Back to school time is the most exciting time of the year as kids get new clothes, shoes, bags, notebooks, and much more. Staying organized may get overwhelming for moms. Also, keeping up with kids' schedules for school academics, extracurricular activities, homework, and meal preparations, along with household chores, is a lot of work for moms.
Knowing these few tips and tricks could help moms stay organized and more focused for this coming year.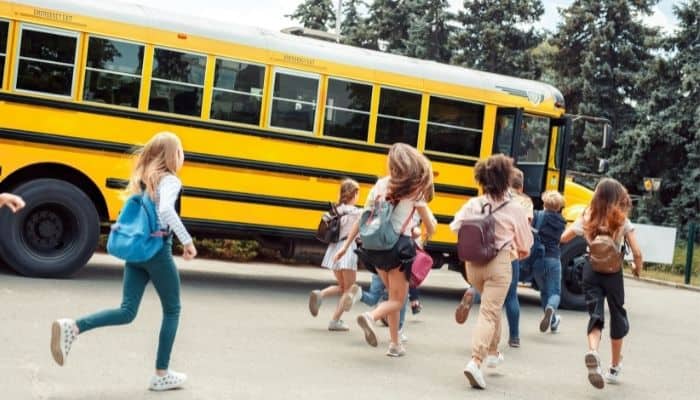 1. What you need for the Back to School Supplies kit
Every school provides the school supplies list during the summer break depending on the grade your child is going to.
Since early school years are filled with more art and craft activities so typically, for arts and crafts, you need crayons, markers, scissors, colored pencils, and dry and erase markers for preschoolers or pre-K kids. That way you can practice art activities at home too.
Whereas, for higher grade classes from Kindergarten to K12 your child needs a school supplies kit that includes writing supplies such as composition books, pencils, pencil grips, erasers, folders, pencils, sharpeners, binders, etc.
More tips:
Here is what you need for a back-to-School shopping list.
Choose any backpack and you also want it to be durable to last a year or two. A backpack that can fit in a school binder that comes with homework and classwork and a lunch box along with a water bottle.
2. Make a designated spot for backpacks and shoes etc
Additionally, you need to have an assigned place for the bags and school shoes, paperwork, etc. A lot of artwork, class worksheets and homework are going to come home and you need a designated spot to keep everything in place and organized.
Try to maximize space every 6 months by decluttering more often so you don't have to worry about hiding kids' school work.
3. An extra outfit in the school bag
For little kids as kindergartners and grade 1 kids, you have to send in a season-appropriate extra outfit change-of-clothes in a school bag that teachers can keep at school in case any accident happens such as diarrhea or vomit.
Pro-tip: make sure you don't send in the newest outfit to school (extra outfit) as your child might grow out before he even gets a chance to wear it. Choose an outfit that is in a good condition or fits perfectly according to the hot or cold weather.
4. Decide whether your child is going to be a bus rider or a car rider
Depending on parents' schedule, whether they are working parents, at home, or at the field, decide what's your child's mode of transportation during the school year. Your child's school administration is going to discuss each option with parents before school begins.
5. Magnetic planners
Moms have to keep up with so much that they tend to forget most of the important stuff. In order to stay on top of your schedule and important dates, these magnetic planners are amazing. They are easy to stick on your fridge that may help you keep updated with everything you need to know, every single day.
Also, you can have this weekly magnetic planner to stick on your fridge.
6. How to have school paperwork organized
I would highly recommend getting storage boxes or drawers to have a clutter-free look around the house or study area.
This rolling cart is perfect for a homework station. Crayons, markers, pencils, and everything stationery that needs to stay in one place.
A rolling cart with drawers is an absolutely perfect solution to save worksheets that come from school, homework, emergent, and library books. The best way is to assign one spot, so your child would know what to follow and where to look for.
You can also have a space-saving wall organizer to keep all the paperwork organized seven days a week.
A Pencil case organizer would help to keep pencils and markers staying super organizer and not leaving stains in your kid's bag.
Moreover, Sticky notes with color categorization can help you prioritize your tasks for the school year and remember important tasks for the whole week. Setting reminders for colored days of the week, spirit week, pajama days, etc. is important.
Check out the detailed shopping list of what you going to need for the whole school year.
7. Kids' clothes organizer
In advance for the whole week, you may want to plan ahead for what they have to wear at school. This closet organizer would help you keep clothes assigned for each day from Monday to Friday.
However, if your kids are big enough to get ready by themselves, they will know what they must wear daily.
Check out this cute day of the week free printable sticker or stick-on with glue for keeping their days organized at home.
8. Late days Bin
Some days, it is very likely to run late for school, and you need basic essentials in the car. For instance, a hairbrush, gel, hand lotion, a snack bars. In that case, they would manage some last-minute business while you drive them to school.
Having a car organizer bin to keep all the last minutes and essentials organized for late days is a smart way to deal with such situations.
Moms need a car trunk organizer to keep kids' school activities essentials like shoes, a pair of clothing, basketball or football, diapering essentials, and, a towel for smaller kids.
A hanging trunk organizer like this will save you so much space in your trunk.
9. Where to put stuff when they get back home
Depending on your house configuration, try to assign a spot for kids' bags and jackets, etc. Installing a wall mount can be used to hang jackets during the winter and rainy seasons.
Use self-adhesive wall hooks for lightweight bags for pre-K kids. you can also use heavy-duty hooks for bags.
If you have a space in an entryway, I highly recommend getting a tree hall that has hooks, a bench, and a shoe rack. This is a super functional tree hall bench I have in my entryway. You can use hooks to hang jackets, keys, umbrellas, bags, and organize shoes on the rack.
Read More
18 Easy Organizing Hacks for kids
10. Scheduling meals for each day in advance
What to cook is the most complicated decision you make every single day, especially when you are a stay-at-home mom. Staying proactive is key. When the school year starts, moms need to plan everything ahead. Try to plan outfits for the whole week on Sunday. Prepare lunch the night before and plan meals, breakfast, lunch, and dinner in advance.
Preparing freezer meals in advance could save you a ton of time during the week.
That way you can save time and energy for the whole week.
Check out the best healthy and filling after-school snack ideas for kids.
11. Lunch Ideas
Some of the lunch ideas that you can make in advance and freeze are:
Meatballs
Potato cutlets
Chicken or veggie puff patties, just bake them the night before and use food jars to keep food warm.
Chicken nuggets
Noodles
hashbrown patties
Veggie fritters
You can make egg or chicken sandwiches the night before for lunch and put them in the fridge. These leak-proof lunch boxes for kids' school lunches are super awesome. For warm lunches like noodles, pasta, nuggets, rice, etc, use thermos small lunch containers for kids who like to eat warm food.
Check out the lunch ideas for kids' lunch boxes.
Is your child a picky eater? here are the tips you can try to help your picky eater eat.
Exciting and different Meal ideas for picky eaters
12. Let the teacher know when there is no lunch from home
Although schools in the US provide breakfast and lunch for kids. Either you can send in home-cooked lunch with your child every day. If you forget to give them lunch, let their teacher know so they can get lunch from the school cafeteria.
Moreover, when you have some unexpected late days, keeping emergency cash in your child's bag for school lunch would save you from mommy guilt.
13. Make snack-size bags in ziplock bags
Whether you send in a lunch with your child or not, you must send a snack from home. Pack a snack that your child gets to eat at school as a mid-time snack before lunch to keep them energized in school.
Make small-size snack packs using ziplock bags that would help you save money if you buy in bulk. You can use reusable storage bags that can save you a few more dollars. These bags can be used for snacks, sandwiches, fruits, veggies, etc.
14. After-school snacks
You must have a snack storage bin so that your kids can choose what snacks they want after school.
If you have a long drive from home to school or expect some delays due to a rush hour – you may need to make some quick and easy snacks like sandwiches or wraps with you, so kids can eat in the car.
Here is a list of healthy after-school snacks for kids.
15. Lunch box notes for kids
Starting school during these unprecedented times is challenging for all of us.
Putting an inspirational or motivational note for your little ones in their lunchboxes every day is a way to encourage little minds. Even just a love note can inspire your little one. You can use sticky notes to leave them a nice note for school or you can get these 60 cute and motivational notes for kids' lunch boxes.
16. Thermometer
Do you know what is different about on-campus learning from the previous year?
Parents need to check kids' temperature every day, before leaving for school. For that, you need a digital thermometer. Make sure your child is not sick before he goes to school to avoid panic. For minor allergies and sick days keep them home until they are fever-free for at least 24 hours without using fever-reducing medication.
For stomach flu, that is the best way to quickly resolve stomach bug issues.
However, if your child is sick or vulnerable to seasonal allergies, here is what you need to do about allergies.
17. Face Mask and sanitizers
Wearing a mask or facial covering is not mandatory anymore after having a tough year during a pandemic. However, it is still advised to follow proper sanitization and wear masks if necessary to stay healthy and safe regardless of their vaccination status.
Kids will be kids. They are born social genius. It is hard for them to distance themselves socially. Clearly, wearing a mask is the only way to protect yourself and others around you during on-campus learning.
If your child feels sick, do not send them to school or at least not without a mask. That way you can protect others too from getting sick.
18. Encourage a proper bedtime routine
Early to bed and early to rise is the right approach for back to school routine. Follow a rigid schedule on weekdays making weekends an exception. So your kids would know they must hit the bed on time to get a full restful sleep at night.
More tips for moms to stay organized.
19. Multivitamins for kids
As moms, we need to amp up a little more effort on kids' immunity. Taking kids multivitamins make a world of difference in their health and immunity to fight viruses.
Elderberry fruit vitamins are ideal for kids.
Kids, young minds, should not configure isolation, in my opinion. This could leave a lifetime impact on their personalities. We have to make them cautious and brave at the same time. Not to mention, we have to encourage them to follow the rules as well.
20. Back-to-school bracelets
Separation anxiety is real and many kids experience it when they return to school after a long break. In order to combat anxiety for you and your child wear these cute bracelets to make your heart feel better and connected with your child.
Read more
Healthy choices you need to make for your kids.
21. Talk to your child's teachers about Faith preferences or allergies
If your child belongs to a particular faith, talk to the teachers about certain faith preferences that you are concerned about. Such as eating Halal or non-halal, kosher foods at the school cafeteria. Foods, candies, or whatever you think are not suitable for your child, should be highlighted. If your child has an allergy to a certain type of food, you have to discuss it with your child's teacher.
Wishing you all a very happy, smooth, and healthy school year.
How to homeschool preschool at home.
Kids' summer break activities.
What to pack – Healthy Lunch ideas for kids