A mother is naturally capable of nurturing tiny little beings to grown-ups. For that, she practically needs encouragement and appreciation on so many different levels of her motherhood journey. Showering a mom with a thoughtful gift out of sheer love regardless of the occasion is the best way to acknowledge her efforts and passion for her family.
Gifts are a thoughtful expression of your love for someone. It does not necessarily have to be expensive.
A small basket filled with a couple of everyday essentials is a beautiful and practical gift for a mom – worth the time and money.
This post may contain affiliate links. Please read our disclaimer for more information.
Unique Gift Ideas for moms
Choosing a perfect gift for a woman who has almost everything get a little tricky. Here is a thoughtfully curated list of things every woman would love to have in her life.
1. Moms who love reading
Moms who like to read can now read without a lamp in the room and enjoy the feel of a real book with a kindle book reader.
For new moms, it is absolutely a postpartum essential for a mom to enjoy her time with the baby while she is nursing or for her "Me time."
You can even browse Facebook, watch shows on Netflix, and so much more. If you have Amazon Prime, you can get access to thousands of books, movies, music, etc.
2. Mom who loves listening to music & podcasts
Another great option for a mom could be Echo Dot by Amazon. It's really helpful as Alexa is going to tell you about the weather outside, set alarms, listening podcasts, and new recipes. Not only this, but you can actually set up a timer for kids' tasks in a more convenient way or set up reminders about important events, meetings, appointments and so much more.
3. Moms who love cooking and Baking
Kitchen appliances are woman's best friends. If your mom does not already have a kitchen aid mixer, now is the time to get her one. It's one of the best kitchen essentials that makes life so much easier and for the better of course.
Get this absolute chic tangerine color Kitchen aid mixer your mom will love.
4. Moms who love HOME decor
Table decor for moms who love to put unique luxury pieces around the house.
5. Moms who love kitchen accessories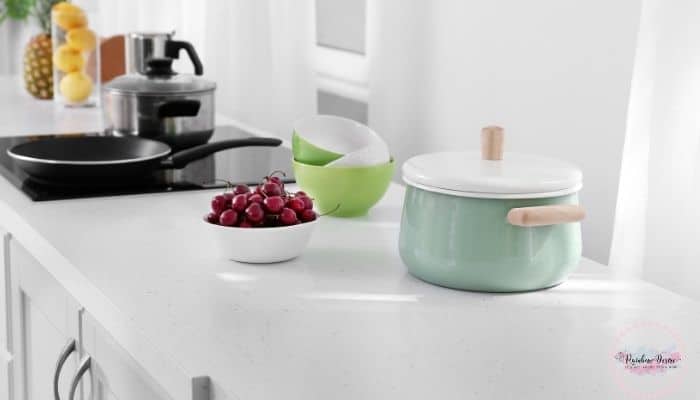 Does your mom love to cook?
Calphalon space-saving Cookware set is something she is going to love. Calphalon is by far the best cookware available on the market.
You can never go wrong by giving cookware or kitchen essentials as a gift to a woman. If she doesn't use it, she can definitely use cute-looking cookware for decor purposes.
Check out this gorgeous white casserole cooking dish.
6. Moms who love plant decor
Buy now these elegant decor plants to spice up home decor.
7. Moms who love cheese boards
It is no surprise that cheeseboards and charcuterie boards are trending these days. Boards are used for kitchen decor purposes as they look super gorgeous sitting on the white countertops.
Check out these beautiful European vintage cheese boards.
Related: Check out budget-friendly gift ideas for homemakers.
8. Instant Pot for busy moms
For those moms who love and enjoy cooking and some moms who have to cook no matter what are going to find this gift very useful. Since, after having kids they don't have so much time to cook anyway and watch everything going on when you have to be there for your newborns as well.
For that reason, instant pot could be a sanity saver. set a timer, do chores and a lot will be done in a very little amount of time.
If your mom already has it, upgrade her instant pot with an instant pot Duo with an in-built air fryer.
9. Moms who love to have home Facial treatments
At-home facial treatment for moms is an awesome gift. A lot of women are already swearing by this awesome product. If you are looking for something that would be an effective addition to your mom's beauty routine, get a dermabrasion kit.
10. A coffee mug
You can never go wrong with adding a cute mug with an inspiring quote written on it.
Check out some really cute coffee mugs you can gift your mom.
11. Decorative Pillows for Moms
A pillow with a mother's day love note is a great gift for moms who are fond of home decor.
Get this chic Ayesha curry decorative Pillow from Macy's.
12. water bottle
A water bottle is an awesome gift for moms who love to stay healthy and active. An inviting water bottle can get you to drink more water and stay healthy.
Get this chic Society6 woman water bottle.
13. Hand lotion set
Self-care essentials go a long way for moms as they hardly get time to schedule spa visits.
Get hand wash & hand lotion set
14. Stress relief bath set
Moms are vulnerable to get stressed out quickly. If you want to send something thoughtful during these times of the year, the stress relief bath set is considered a thoughtful gift for a mom.
Buy an all-natural spa set for a woman who likes no chemicals.
15. Moms who love Wearing a watch
You can never go wrong by gifting an elegant watch to a lady. In my honest opinion, gifting a unique watch can go a long way.
Your mom friend is going to love this minimalist watch.
16. moms who love handbags
Check out this super functional handbag that every woman loves to have. It's super compact, lightweight, and great for holding a camera and a wallet with a few essentials.
This bag is an amazing choice for women who like to carry bulky bags or they have to carry kids' essentials as well.
If you are looking for a bag for a working woman or a woman who needs to carry a laptop for work, this is the bag you need.
17. Moms who love to stay comfy
Nothing can be as good as staying in a robe when you want to relax. Check out this comfortable plush robe.
18. Printable Greeting cards for Mother's day
Even if you do not want to spend much, a greeting card can still serve the purpose and transfer the message of love and warmth.
You can give a gift to a new mom on her birthday, on her baby's birth, mother's day, baby shower, Christmas, festivals, etc. Moms need to be appreciated for what they are doing and capable of doing despite any specific occasion.
Related: Check out some budget-friendly gift ideas for homemaker moms.