Toddlers are adorable and eager to learn new things every day. But dealing with toddlers at some point gets challenging for parents. As kids grow, they become headstrong, stubborn, picky, talkback, and ask infinite questions in a day.
From terrible twos to threenagers, parents need a lot of patience and perseverance, to help their kids learn new things as they grow up.
Every stage in a child's development and growth brings its own set of joys and stresses, but in the end, it's all worth being a parent to healthy and happy kids.
These toddler hacks will help new parents raise stronger and independent kids.
This post may contain affiliate links. Please read our disclaimer for more information.
Parenting Hacks for making life easier with Toddlers
Simple tips that you can follow to make things easy with a toddler; while at home or outside the house.
1. Have a designated accessible drawer
Have a designated drawer for kids' bottles, bowls, spoons that are safely reachable. Your toddler can grab it from the kitchen without having you do it. Don't worry about the extra plates and bottles on the floor, and your child would eventually learn.
While you are baby-proofing every corner of your house, you have to make sure you are setting up everything to train your kids to be more independent as they grow up.
Read : More childproofing tips for your home.
2. Keep safe cleaning supplies reachable
Kids do learn how to clean up and you need to teach them. Try to keep wipes or napkins in your toddler's reach, –not too many though. You will be surprised how well your toddler can clean up.
Read: Cleaning tips for moms to minimize mess.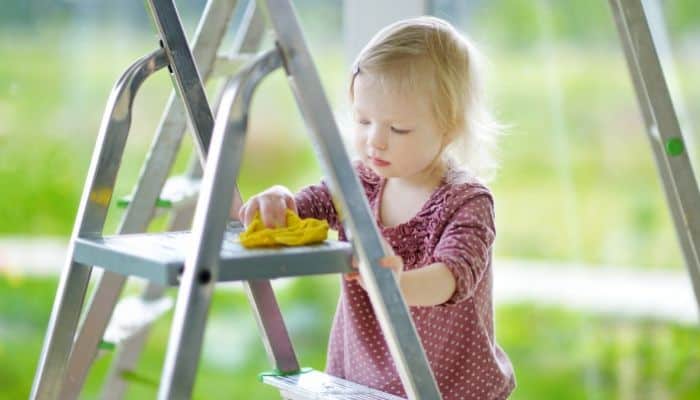 3. Step stool for washing
Now when we are washing hands more than normal, make it easy for your toddler to have a step stool in your bathroom and one for kitchen as well.
Having a step stool in the kitchen makes dishwashing fun and more convenient for your toddler. The best part is, your tot is going to be a great help in the future.
Check out this step stool for toddlers with safety side rails.
4. Is your toddler having gas? Fennel seeds
If your child is having painful gas or bloating issues, using fennel seeds for gas is the best remedy for babies, kids, and adults.
Have your child chew on a teaspoon of fennel seeds and gas pain will be gone in a matter of minutes.
Read more: How to treat stomach flu in toddlers.
5. Heavy wetter toddler
You can use diaper booster pads for heavy wetter toddlers at night or during the day. Also, if your toddler leaks from the sides of his back, this pee cover works amazingly.
Read more: how to deal with diaper leaks at night.
6. Play-doh is a must
Play-doh is your go-to thingy when you have kids. The best engaging activity for them is to have a play-doh or slime. You must have it at home most of the time.
It may get messy, but you can have them clean up soon after they finish playing. Also, the best way is to use a bin to keep the mess contained or have a designated spot for messy activities.
Check out some Play-doh play sets for kids.
When play-doh gets dry, you can repurpose it by adding a few drops of water and let it sit overnight.
More : Kids activities at home.
7. Let it go
When Your child is having a meltdown over something, do not make it a parent-child power struggle and let it go. It's not worth making a power struggle unless your child is putting his life in danger.
Either you want to ignore the unnecessary crying or try to listen if there is anything worth bawling. Kids only cry if there is an audience around, you wont see a toddler throwing a tantrum in an empty room.
In my experience, sometimes inconsolable crying results into a huge throw-up, especially for those who had reflux issues during infancy.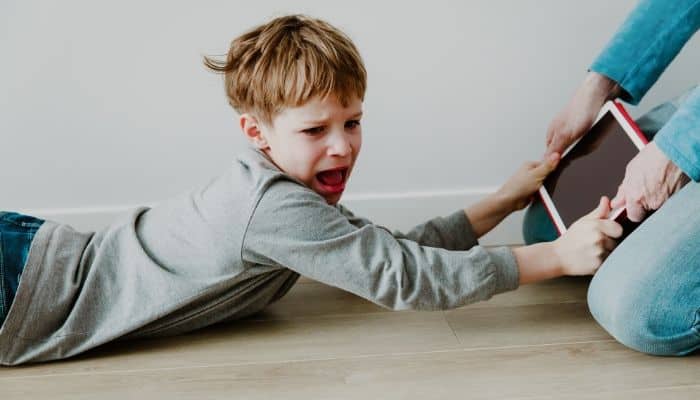 8. Distract
The best hack to deal with a crying toddler or tamper tantrums – distract. Immediately try to divert his attention over something else as soon as you foresee a melt-down.
Remind him of his favorite thing.
Offer candy or a lollipop.
9. For light sleepers, no toys in bed
Either you are training a toddler to sleep in his own bed, or sleep training at some point, in both cases I would suggest, do not allow toys in the bed. This may be distracting or it could keep your child from going back to sleep if he wakes up in the middle of the night.
Read more: Bed transition tips for toddlers.
10. Scribbling stationary in reach
Have notebooks, papers, pencils or markers or pen around the house. Try to do a writing session with your toddler every other day. Let your child scribble – not on the walls, of course! – and for that, you have to keep easel, papers, notebooks in your child's reach.
I learned this hack when my second born was about to turn two. And trust me, it makes a lot of difference. She is not even three, and she can write a few letters.
Lately, I have seen this idea on Pinterest to have your child scribble on the big empty package boxes. Indeed it is going to be a great learning experience for kids.
Check this incredible art and craft table for kids, you can set up at home.
Make sure every marker, paints, and pencils are washable.
Grab this bundle of 30 printable coloring pages for toddlers – you can print one at a time each day – that way your child thoroughly enjoys coloring activity without getting distracted.
Read more: Early Learning books you need for preschoolers.
11. Not playing with toys? Declutter
When you see, your toddler is not showing interest in toys anymore, it's time to declutter.
You can use a toy rotation method to give your child a break from the toys he has been having for a while. Later, you can reintroduce them after a couple of months.
Keep toys simple and minimalist, so your child would actually enjoy playing with them.
Read more: how to declutter kids' toys.
12. Encourage Self-feeding in your toddlers
Teach your child how to self-feed and make your life easy. It is very essential for your child to learn how to hand pick food from his plate. Start soon and let your child explore different types of food.
Do not get scared if your child gags, however, you have to pay close attention while your child is eating or learning to eat.
Cut food in super small bites.
Skip the sippy cup at home altogether, and teach your tot how to drink water from a water cup. However, you can use a sippy cup on the go.
Related: How to win your battle with a picky eater at mealtime.
13. Potty seat in a car
When you are potty training or even after that, for long drives, you must have a potty seat in the car trunk.
Now during these times of pandemic, it would not be a good idea to stop frequently at public restrooms for pee breaks. Have a gallon of water for hand-washing, wet wipes, and soap in your car.
Get a portable potty seat here.
Read: For more tips on potty training boys.
10 best tips you need on potty training girls.
14. Pillow on the bed to keep your toddler from falling
Once kids start rolling over while sleeping, they tend to fall from the bed.
You can roll a soft towel or blanket and put it under the crib sheet to prevent babies from falling.
I have been using a pillow on the bed to keep my kids from falling as they both have co-slept. You have to make sure, you are monitoring your baby while sleeping and the baby is safe.
Related: How to childproof your home without restricting your little explorer.
15. Toddler gets sick due to seasonal allergies
If you notice that your child gets sick due to a change in weather or pollen, the best way to prevent seasonal allergies is, include kids' multivitamins in their diet after discussing with the pediatrician.
As a parent, you know better what affects your child's health. Before seasonal allergies make your child sick, you may want to give your child non-drowsy anti-allergy medication like Claritin or Zyrtec, for prevention.
As a precautionary measure, my kids' pediatrician advised to give them anti-allergy once the season starts changing.
read more: How to fight seasonal allergies in children.
On-the-go Hacks for toddlers
16. Candy Necklace or Cereal necklace
You can make a candy or cheerio necklace for toddlers to keep them busy during a flight, wait time at the airport, or on a road trip.
Snack Catcher is the best way you can keep the mess contained while snacking in the car.
17. Busy box for restaurants or on-the-Go
You can make small busy bags or boxes for toddlers for doctor's appointments, restaurants, stroller rides in a mall, etc.
You can include anything that is according to the interest of your child and her age. For toddler boys, you can never go wrong with a couple of cars.
Some of the entertaining toys you can pick:
Small toys in a bag
18. Carseat poncho
During winter, using a car seat poncho is a better way to keep kids warm, instead of having them wear bulky winter wear under the seatbelt.
Toddlerhood can be challenging for new parents and we all learn the hard way. The only key to deal with a toddler is to keep him busy learning new stuff every day. Try to be more present to your kids, both mentally and physically.
Check out these Alphabets printables for finger painting, pom-pom painting, and much more to keep your child busy at home.
Learn more about how to preschool your toddler at home.