Nursery organization in a limited space gets challenging as you want to keep it functional and space-saving for the baby's essential gear.
Trying to manage an extra space in your house to set up the baby's nursery before her arrival is stressful. If you share your room and closet with a baby, even though you have one closet to share, the baby's stuff will take over all the space.
Babies need everything (essentials at least) related to feeding, bathing, sleeping, playing, and whatnot. And for that, you need to maximize space in your home with proper storage ideas.
Proper nursery organizing can help you utilize your small space for easy and clutter-free closet organization.
This post may contain affiliate links. Please read our disclaimer for more information.
Tips for Organizing baby nursery in a Small space
If you have limited space in your home, you need to get rid of the unnecessary stuff hanging around the house and in your closets. These ideas will help you get rid of the unnecessary stuff and maximize your space in the house, so you can store and make space for the stuff you actually need.
Stay Minimalist – Do not buy everything for the baby all at once:
Try not to pile up stuff for the next two years. Buy what you need for your baby in the next four months. Later you can purchase as you see something needed; for instance, an eating chair will only be necessary when your baby starts sitting up and learning to eat on her own.
Read more
What you are going to need for your baby in the coming months and years to come.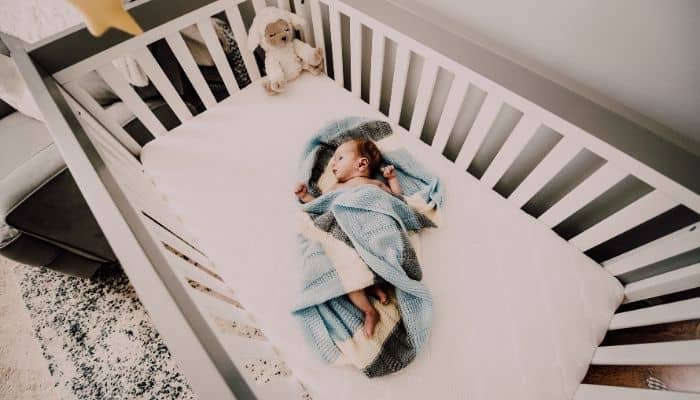 Declutter regularly
When you buy less, you have to declutter less.
Trash what you don't need and try not to be a hoarder.
Donate whatever is in good condition (stuff you don't need anymore) while someone else might be interested in having that.
Pack your favorite clothes that do not fit anymore. It's okay if you do not want to give away due to emotional attachment or want to keep it for the next baby. Just make sure you have enough storage. It is important to realize that decluttering regularly will help you make more space in your closet.
Last but not least, you can sell gently used (nonessential) items that are sitting there, sucking up valuable space in your closet.
Remember, this kind of stuff you need to do before your baby arrives. Once the baby is here, you cannot think anything but baby all the time.
Newborns have a ton of stuff, and they outgrow it before you even know. To stay on top of your decluttering schedule, you need to purge regularly and free up more space every two months.
Utilize space under the crib
Utilize under the crib space for storage purposes by using under the bed storage or the crib storage for baby.
Utilize existing tables or chest drawers for changing table
Use existing dressers or chest drawers in your home for the baby instead of getting new ones. Tweak a little bit here and there with new paint and utilize without making big purchases.
Choose space-saving Crib
If you have a small room, you can never go wrong with getting a mini crib for the baby's first year.
Set up a small Nursery corner in case you have very limited space for the baby
Set up a small nursery corner in YOUR room for baby's essentials like clothing, diapers, and for the stuff, you can hardly have enough space for. This way, you do not need to occupy a separate space in your house for the baby.
Related: 10 Nursery decor accessories and unique color ideas for boys.
Install wall Rods for extra hanging space
You can also install Rods on the wall if you do not have enough space to hang stuff for the baby. You can make it look less messy by using these space-saving hangers. These work great for super small spaces.
Storage bins are the best
Moreover, you can get cube storage to put baby stuff. The best part is you can adjust storage cubes both ways, vertically and horizontally. The vertical configuration will save you more space. Cube storage is an excellent way to keep everything sorted, easily accessible, and space-saving.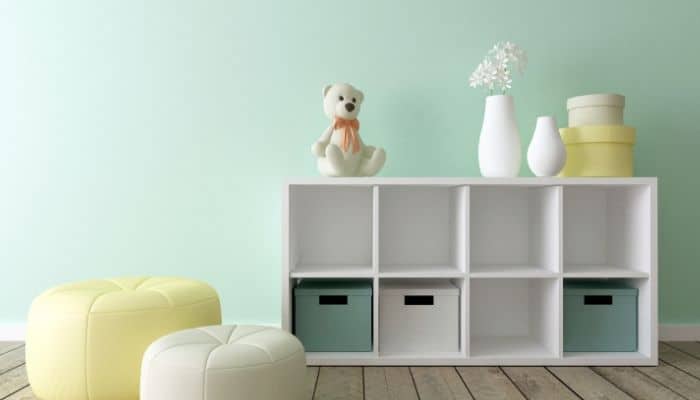 Making space for baby play area
Just a gentle reminder, even though newborns are tiny, they have an army of stuff they bring along. Typically, you need to accommodate a baby bouncer, baby jumpers, baby high chair, playmats, etc. Such baby gears are staples, and you cannot function without them when you have to look after your home and work, especially if you do not have enough help.
Buy as you go
Do not overspend, even if you have a HUGE space. For now, get the essentials if you have limited space in your house. Gradually you may have to make more space as your baby grows by disposing of some stuff or selling a couple of baby gear that you do not need anymore.
Utilize a closet – install another rod inside the closet for the baby clothes
You have to stay focused on organizing it adequately with limited space, so it does not look like a mess.
A closet can be used to hang in baby's outfits, onesies, etc. You can also have a separate drawer or cubby storage for bibs, burp cloths, socks, shoes, blankets, swaddles, hats, etc.
You can also have a separate caddy or shelf assigned to baby's toiletries, towels, bath essentials, baby medicines like gas drops, baby's health essentials like Windi, nose Frida aspirator, etc.
Read more
Clothing and accessories essentials for baby's first year.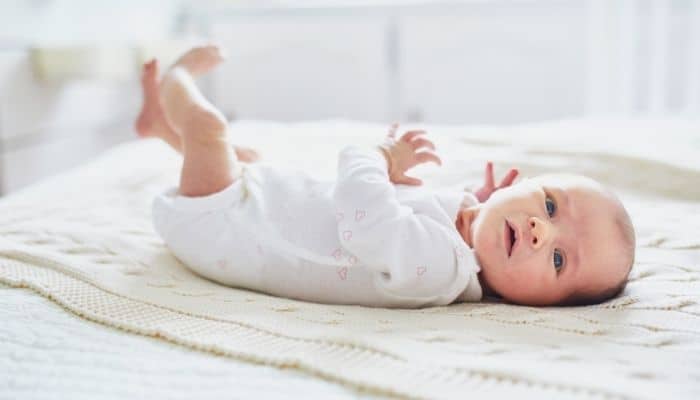 Products you need to organize baby's stuff for the nursery
Either you are setting up a nursery, or your baby will share a room with you; you need to organize your and baby stuff before the baby arrives.
12 things to do before your baby arrives.
1. Drawers organizers
Storage drawers or cubby bins should work just fine when you have to sort different clothing and accessories.
Label bin and drawers with tags for easy access and sorting.
Check out some drawers organizers like these for easy access and better organization.
2. Hanging Organizer
Tip: Hang your baby's new clothes (unworn) in the closet, whereas the worn ones can be sorted in the bins. A hanging organizer works great for organizing receiving blankets, shoes, and onesies.
Newborns tend to have A LOT of stuff, and they will grow out of it before you even know it. The interesting part is, you cannot even skip buying.
Do not overspend on newborn sizes. (I completely understand all that excitement). The baby is going to grow out of it within 3 to 4 weeks.
3. Use your space vertically instead of going horizontal
Storage cube organizers work just fine. Choose vertical ones if you have small space; however, you can choose horizontal ones for bigger space.
Use closet door hanging racks for receiving blankets, towels, burp cloths.
4. use storage Shelves for slim space
If you have minimal space between room furniture, these slim space-saving shelves with adjustable shelves could give you space.
You can also use a portable slim storage cart and place it wherever you find a perfect fit.
5. Using a wall shelf
Ideally, the best thing is to use the wall shelf for baby bathing products on top of the diaper changing table. This wall shelf comes with hooks on which you can hang baby's bibs, towels, toys, teether, or anything that could save you clutter and make more space.
Related: Nursery decor and design ideas for baby girls.
6. Declutter and purge the extra stuff
When you have a newborn, you do not want to think about anything other than your baby. A new mom does not want to think about laundry, folding, sorting for at least 3 to 4 months. You have to find time to eat, drink and most of all, sleep for yourself.
Decluttering or organizing and being pro in folding hanging baby's clothes with every load of laundry without considerable help seems close to impossible for the post-birth period.
Realistically, if your baby is crying at the top of her lungs and you need to grab something quickly, maybe a burp cloth, a onesie, or a bib – choose easy access bins.
Later you can use them to sort your baby's toys. Storage bins are never a waste.
Once your baby turns a month old and you can see she has grown out of so much stuff, just put in it the lid bins for later use (maybe another baby or donate). You can save baby's clothes for baby # 2 or baby # 3 like this for easy sorting.
The cheap hack is, you can use big package boxes (mailboxes) for clothes storage in your basement, etc.
Since newborns have too many diaper blowouts, it would not be good to keep or donate stained clothes. You can get rid of them however you like.
7. Set up a changing table with drawers for extra storage
A changing table with drawers is a must-have.
One of the best things I have had for my baby was a changing station with drawers, although I have never used the crib attached as my babies never slept in the crib. Nevertheless, I am still using the changing station and love the convenience it has.
For your sanity, invest in a sturdy changing station. That has a lot of space to keep stuff handy like diapers, wipes, rash cream, baby clothes, bibs, etc. Another most significant advantage of using a changing table is, your back will thank you, big time!
You can have a wall-mounted baby changing station for extra small space, just like we have at public restrooms.
Moreover, you need to have this diaper caddy portable around the house, so you do not have to rush all the way to the nursery.
8. Install Hooks around the house
Installing a few hooks on the walls here and there can save you so much clutter of baby bibs, jackets, beanies, etc.
I highly recommend installing a small basket with hooks for the lost socks as you may end up buying more and more socks due to mismatched pairs.
10. Nursery set-up
Setting up a baby nursery gets challenging when you want to do extraordinary for your bundle of joy – at the same time, you are out of ideas, and it gets hard to make decisions. Keep a few points in mind, and you are good to go.
Select Baby safe and sturdy crib.
Keep it minimal and don't forget a comfortable chair and a footrest for nursing time.
10 nursery decor and color theme ideas for baby boys.
Nursery decor ideas for girls.
Download free nursery animals and other cute prints of wall art.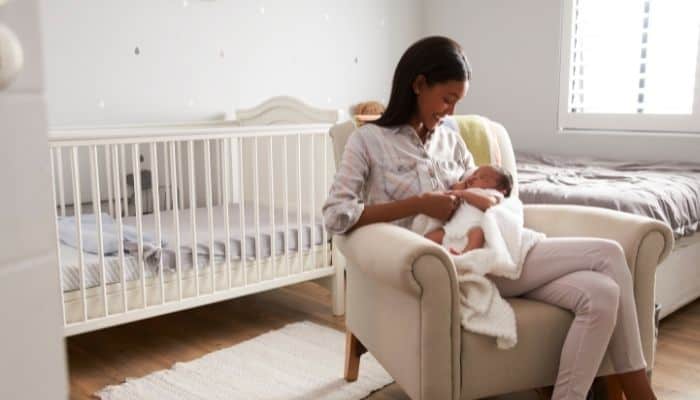 How to declutter when you have a toddler at home
Organizing your chaos before the baby's arrival should be the first thing on your list. It is very likely to have a ton of toys if you have a toddler. Having so many toys brings overwhelm.
Again declutter as much as you can and give away toys in which your toddler does not seem interested anymore.
Trash all of your child's broken or mismatched toys as it is just another add-on to your stress levels.
Donate- Toys that are in good condition, and your child is not going to use them. Keep those that would be of any interest to your little one in the future.
Minimalism is the best approach to have in your home – Declutter and store your kids' messy toys in the storage bins (you can get big ones from Target or Walmart).
Tip – More toys, more mess. Keep it minimal for at least three to four months with a newborn.
Encourage the quiet bin play in your older kids. Teach them to keep the mess contained in the boxes. This would help you save so much stress of cleanups.
Make a separate bin for a few toys, which you can use for "toy rotation."
Read more
How to declutter kids' toys without feeling overwhelmed.
Great organizing ideas from other moms
You can get ideas about setting up a nursery by iheart Organizing
Setting up amazing drawers of storage ideas if you have nursery drawers by Two twenty-one.
You can set up a closet by yourself. Here is a great way shared by a mom on The Avid Appetite
What are your hacks for baby stuff organizing with small or big space? Leave your comment below.
Related: Nursery decor and design ideas for baby girls.
43 Newborn baby hacks for new moms.
16 cleaning hacks when you have little ones at home.
Free nursery wall art prints that you can download right now.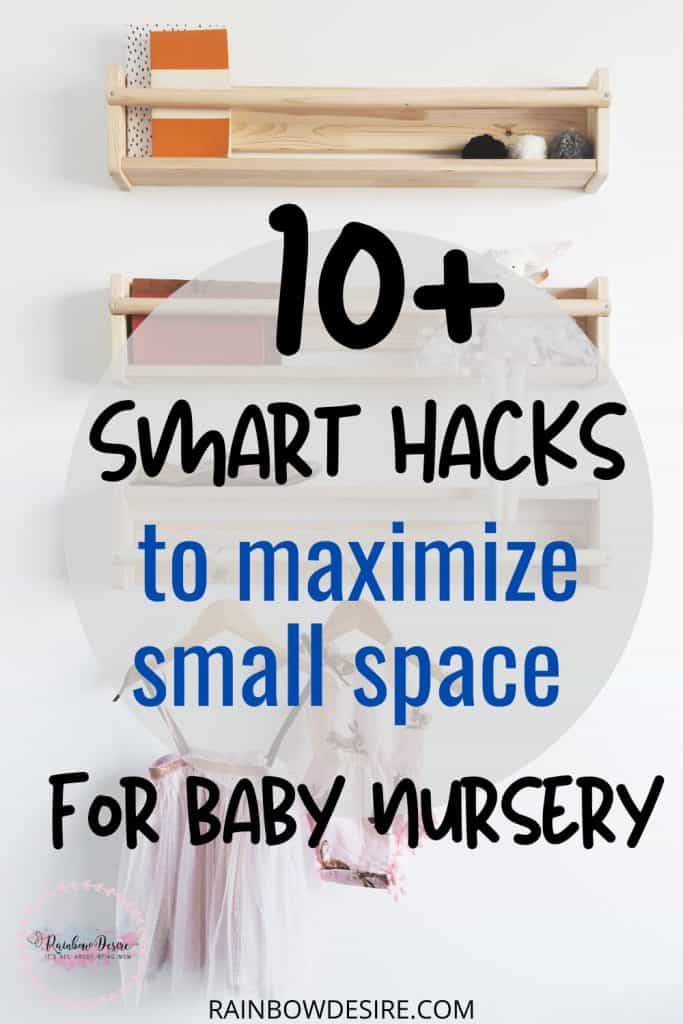 .