Planning to welcome a baby girl is such a special time in any expectant parent's life. But as soon as you start to gather inspiration for your baby girl's space decor, you may feel that there are way too many creative ideas for a baby girl's nursery.
There are just so many styles to consider when setting up a baby girl's nursery. Girls' rooms can become more fun and classy depending on your taste and preference. From boho style to minimalist designs – there are infinite color schemes you can choose from. Be it pink nurseries or white with a touch of any feminine color – you can go all classy and modern.
There is gorgeous nursery decor for girls, perfect for every taste!
I have curated a list of my favorite decor items for setting up a perfect baby girl room using cute and beautiful nursery accessories. Besides keeping it minimal and elegant, you have to make sure the room is fully functional for you too, as you will spend most of your nighttime sitting there.
This post may contain affiliate links. Please read our disclaimer for more information.
Beautiful nursery decor ideas for baby girls
Once you find out your dream baby girl nursery ideas, don't forget to come back for unique baby girl names and their meanings.
Choose the color for your girl's nursery
Although times have changed to pick the only traditional colors, such as pink, for a girl's nursery, many new parents still love and prefer them. However, a lot of cool and elegant colors can also be incorporated in setting up a girl's nursery if you do not want pink to opt out.
Here are a few stunning colors you can pick for a girl's nursery in various combinations. You can either paint the desired color for your girls' room or paint only one wall to blend different colors. Additionally, you can decorate it with different color accessories to stay in between your chosen theme and preferred tones.
White is your go-to color if you choose a minimalist design. You can also make it pop with a touch of black, pink, or any other feminine colored accessories.
The traditional light pink and white
Dark pink and light pink with a touch of white
Black and white with fuschia pink
Dark green and light yellow
Polka dots with white, black and purple
purple and orange with a dash of aqua
These color combinations highly depend on what tone you want to pick for your baby girls' room. You may choose any color with or without combination for your girl's room.
Add a textured wall to baby girl nursery
Keeping all walls white, except one (by making it different than the rest), is a unique feature for the baby nursery room. You may want to paint one wall the darkest of all to let it stand out and being the focal point of the room; depending on how you like it. Also, you can have wallpaper on one wall or all four sides as you prefer.
Create a rustic wood element in your baby's room; for example, by adding a wood wall that looks amazing and trendy. Otherwise, you can keep it simple and minimalist by adding rustic wood art.
Creating murals is another fun way to give your baby's room a perfect nursery feel. If you love to paint, you can DIY walls by stencil painting, or do an art project like mountains, trees, animals, etc, as you like.
Last and not least, don't underestimate the power of the ceiling. You can do a lot of fun stuff with the ceiling, and keep the rest of the walls light-colored. Adding a decal wall-art on the ceiling, or a wallpaper gives a whole new, modern, and trendy look to your baby's room.
Check out this beautiful floral wallpaper for the girls' nursery.
Add a gallery wall to your girl's room
If you choose to set up a gallery wall, it would become the focal point of your baby's nursery. You may either put family portraits or baby's first-day pictures up on the wall. The animal decor is a fun trend for both boys' and girls' nurseries. You can also choose unicorns, flamingos, butterflies, or floral art themes specifically designed for girls' nurseries.
Watercolor art posters would look absolutely beautiful in your baby's room. This amazing art comes in prints only. You can choose frames depending on your baby's nursery theme.
Get beautiful quotes printable for your baby's nursery.
Download free Nursery animal wall art prints.
Choose a wall for themed or DIY decal stickers
You can go as much creative as you want with your girl's room decorations. Be it a unicorn theme or rainbow walls, go above and beyond with your exquisite creative juices making the nursery stand out.
Girls Nursery Wall stickers
These pretty customizable flamingo wall stickers would be a game-changer for your girl's room decor. I suggest choosing elegant wall stickers for the baby girl's nursery, so it doesn't get too overwhelming at any point – even if it does get out of fashion, you can always update your child's room decor.
Check out these easy peep gold dots for a modern nursery room.
Girls' room Wallflower decorations will make your nursery look unique stylish and trendy.
Using cherry blossom decal wall art in your girl's room will make its wall and color stand out.
Dream Catcher wall hanging
Hanging an exquisite piece of boho art in the room enhances the feeling altogether. You can add a couple of wall hangings for boho decor to make it look trendy and unique.
Check out this gorgeous warm peach and mauve Boho decor for the girl's room.
Beautiful unicorn Lamp for girls room
Pick a unique end table that goes with your nursery color palette and add a lamp that would elevate the warmth and coziness of the room.
Check out more amazing lamps for girls' rooms.
Baby nursery Blackout Curtains
Here is a million-dollar tip for first-time parents. If you are setting up a separate room for the baby, you have to make sure the curtains are darkening so the room does not get bright around 4 am waking her up. That being said, putting up blackout curtains is essential to establish a perfect sleep schedule right from the start.
Get room darkening curtains in pink color
Crib tent for baby nursery
Setting up a crib tent is a new trend. This will help keep mosquitoes away and give your girl's room a unique touch.
Check out the nursery crib tent.
Area Rugs for baby Nursery
Choosing the right rug for your space gets tricky sometimes. For girls, you can choose white, pink, purple, yellow, green, and any other color you like, depending on the color and theme of your baby's room.
Girls nursery Crib Bedding set
While you choose your baby's bedding, make sure it is soft, comfy, and goes with the theme of your baby's room to make it look more cohesive.
Check out some more girls' crib bedding sets.
Unique wall hangings for baby girls nursery
Clearly, wall hanging quickly enhances the feel of a room in a very significant way. It would be best if you do not leave walls empty; rather, put some nice and elegant wall hangings to have a warm and cozy feel in the room.
Customized Name Decal wall art
You can put up a personalized name sign for your baby's girl nursery; that looks absolutely gorgeous. You can choose to have decal name wall art or personalized name wall hanging.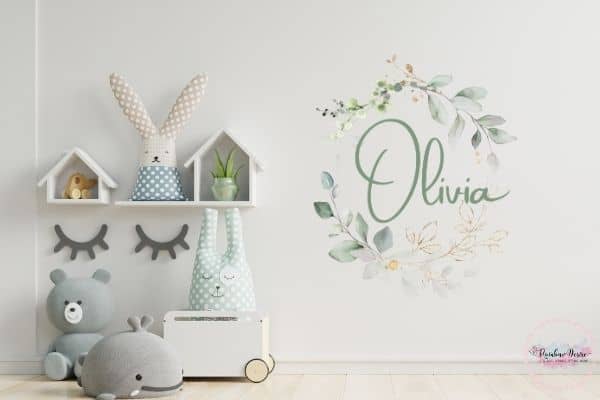 You can also get printable names or alphabets for nursery wall art that will complement the theme of your room, further enhancing the feel of your girl's room.
Check out gorgeous printable name signs on Etsy
Wall floating shelves for baby books and toys
In my experience, wall shelves can be a game-changer when it comes to the functionality of the room and using the vertical space most efficiently. Later on, when your child is a few months old, or a few years later, you may need higher spots to keep things out of reach of your child.
This is an amazingly functional wall shelf that can be used for a long time.
Choose a mirror in a unique shape
Adding a mirror breaks the monotony of the room and helps make it look bigger and chic. Choose a unique shape of the mirror to put on the wall.
Check out this hexagon-shaped hanging wall mirror.
Read more
Choose a unique name for your baby Girl.
How to maximize space for baby nursery.
Check out some more Baby Boys' nursery decor ideas