Winters are here and everyone is looking forward to the holidays. This soup recipe is perfect for the holiday season. In this cold weather, we all need something warm and cozy to eat. What could be the best option other than soup?
I love winters, and as soon as I felt a little cold I just had the first soup of this season.
This Chicken corn soup is mine and my family's absolute favorite. Everyone absolutely loves this soup.
Today I am going to share a recipe of this chicken corn soup which so easy to make. Just a few ingredients and a little bit of effort but absolutely worth it.
What you need
Chicken Stock – 2 liters (about 9 cups)
Boneless chicken – 1 lb (Black meat or white meat, It is absolutely your choice. I personally like leg and thigh boneless).
Canned sweet kernel corns – 1 small can
Cornstarch for thickening – about ¾ of a cup
Salt to taste
Black pepper – 1 tsp
White pepper– 1 tsp
Eggs – 2
Vegetable oil – about 3 tbsp.
Soy sauce – 3 tbsp.
Vinegar – 2 tbsp.
Oyster sauce – 2 tbsp. (optional)
Chinese salt (optional – to taste)
Green jalapeno peppers
Preparation
Prepare chicken stock. Take a few chicken bones and add about 3 liters of water in a big pot. Add 2 cloves of garlic and let it boil and simmer on medium heat until you are left with just 2 liters of chicken stock. It will take at least an hour until you get a nice chicken stock.
If you have a ready-made chicken stock that should work too. I have never used a ready-made chicken stock myself.
Cut chicken boneless into smallest pieces. You can hammer it too. Put it into a bowl.
Add a teaspoon of vinegar, a teaspoon of soy sauce, salt, black pepper, white pepper, and a pinch of crushed red peppers (optional). I like it a little spicy so I add red peppers. It is totally fine to skip if you don't eat too much spicy food. Add a teaspoon of cornstarch and a teaspoon of oil. Mix everything in the chicken and let it sit for at least 30 minutes.
Now the rest of the process is pretty quick.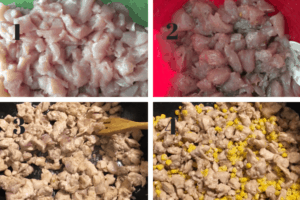 Stir-fry chicken in 2 to 3 tbsp. of vegetable oil. When chicken is done in about 5 to 7 minutes, add corns (I drain corns can water- you can add water if you like or else you can blend it a little and then add. It is totally a personal preference).
Stir fry a little more and add chicken stock thoroughly drained. Add whole green jalapeno peppers without any cut. Add all spices, salt and peppers, vinegar, soy sauce, and oyster sauce. Let it come to boil.
Now add cornstarch mixed in water. Make sure there are no lumps in the mixture. Gradually add in a soup pot and stir continuously. Soup pot should be on medium flame (heat). Stir cautiously so the soup does not become lumpy. Adjust soup thickness as per your taste.
Now add two beaten eggs (you can skip egg yolks if you prefer to avoid yolks because of health concerns).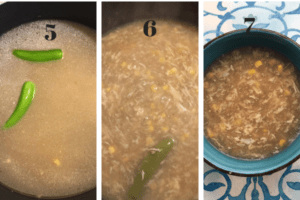 Constantly mix egg mixture while pouring down in the soup pot with the help of a fork. So that eggs are spread evenly.
Let everything cooks well and serve hot.
Preparation time is 30 mins excluding chicken stock preparation and marinade time. You can prepare stock and marination ahead of time. This quantity is going to serve about 9 people.
This is my favorite soup. Comment and let me know if you like the recipe. Hope you enjoy this soup as much as I do.