The flat head syndrome is called plagiocephaly in medical terms. It is a condition that may develop in infants a few months in age. In this condition, a flat spot develops on the back or side of a baby's head. The head of the infant appears uneven due to this condition.
The skull bones of babies are soft and they take up to a few months after birth to harden and fuse. These soft bones allow easy passage through the birth canal during vaginal delivery. However, this also means that baby's head can change its shape and this is most commonly caused by sleeping or laying in one position regularly.
This post may contain affiliate links. Please read our disclaimer for more information.
How to identify Flat Head Syndrome in babies
Normally, there are 2 types of flat head syndrome in babies, but positional is the most common. It is more of a cosmetic deformation.
Positional
It is also termed deformational plagiocephaly, and it is the more common of the two. As the name suggests, it occurs due to positional consistency. American Academy of Family Physicians suggests that 50% of babies are affected by this condition. Most commonly, it is caused by lying in one position for a long time.
Congenital
It is a rare congenital disability, and a few babies are born with this condition. In this condition, the fibrous space between the skull bones closes prematurely, resulting in an abnormally shaped head. This condition occurs in 1 out of 2000/2500 births.
Symptoms of flat head in babies
The symptoms of flat head syndrome do not appear overnight. They develop with time and can be observed by parents, or people who are close to infants. The most common identification of flat head syndrome is the asymmetrical shape of the baby's head.
The head may have a flat spot on one side or the back, or it may also be pointy. In some cases, the head may appear like a parallelogram. You can always check the symptoms during bathtime because that's when the head's shape is visible. Some other identification points or symptoms include
A flattened area on one side or back of the head. When the head, seems slanted in any area.
Uneven ears are one of the symptoms you may notice in the first few months after birth. Flathead syndrome can cause the ears to appear improperly aligned.
A bald spot is caused by continuous lying in one position, so not just the head gets flattened, but hair stops growing in that area too.
A soft spot on the head, also known as fontanel, is missing in babies that develop plagiocephaly.
Bony ridges may appear on the skull.
In severe cases, a forehead bulge might appear on the opposite side of the flat spot.
In cases of torticollis, the shape of the jaw, neck, and face might also appear uneven.
This syndrome can be a cause of concern due to the maligned appearance of the body. However, babies exhibiting these symptoms do not have learning disabilities or other health effects.
What causes flat spots on your baby's head
Babies' heads are very soft, so any activity or thing that puts pressure on their heads can cause flat head syndrome. The most common causes of the flat head syndrome are as follows
1. Sleeping position
Putting a baby to sleep in one position is the most common cause of this syndrome. If you constantly lay your baby on its back on one side, it can cause consistent pressure on that side, resulting in a flat spot. The first four months after birth is when babies have the most chances to develop flat head syndrome.
2. Premature Birth
Premature babies are at high risk of the syndrome because they have softer skulls than full-term babies. They also spend the most time on their back in NICU due to fragility; hence premature birth is one of the leading causes.
3. Multiple Birth
Twins or multiple borns can have positional plagiocephaly because they share the womb of their mother for the gestational period, and generally, babies exert pressure on each other due to reduced space.
4. Forcep or Vacuum Delivery
These tools used during complicated deliveries can affect the shape of the baby's head. These tools are too hard for the soft skull bones and usually result in flat head syndrome.
5. Torticollis
In this condition, the neck muscles of a baby become stiff within the mother's womb. It s most commonly caused by breach position or reduced space. This makes it hard for the baby to move or twist its neck inside the uterus. So one side is pressurized, resulting in flat head syndrome or some other skull deformity.
How to prevent flat head syndrome in babies
It is not possible to prevent all incidents that lead to a flat head syndrome, however, most of the causes can be prevented so your kid does not develop flat head syndrome. Some of the practices you can uptake to prevent the flatness of the head include
Constantly changing your baby's sleep position. Lay them on their left side, then on their right side the next day, and on their back the other day. Keep changing their laying position according to the pediatrician's recommendation.
Give your baby supervised tummy time, so the back of its head is free at times. You can start with a few minutes of putting them on their tummy and work up to 40-60 minutes per day.
Check out this popular and entertaining Playmat for babies. PlayGyms are ideal for tummy time and they significantly help babies not developing flat head syndrome.
Buy Lovevery PlayGym for babies.
Check out the Infant Tummy time mat you must try once your baby's umbilical cord is removed.
Give them some time of holding upright in your hands instead of putting them in the crib or car seats or swings all the time.
Change the position of their favorite crib toys. This encourages them to rotate their head.
Check out these entertaining crib toys.
Change feeding positions as well like feed them in an upright position rather than laying down.
If you notice that your baby keeps his head in one position while sleeping, it is very likely for the baby to develop flat spots on one side of the head. To prevent a flat spot on one side of the head, I recommend using a lounger like this, so the baby does not always keep his head in one position.
Here are a few recommended ways that you can add in an infant's routine to prevent the formation of flat spots.
How to Treat Flat Head Syndrome
Once a baby has developed the flat head syndrome, there is no need to panic. You can still cure it through certain practices, and there is no need to rush to a doctor right away. However, It is good to consult a doctor so they can rule out any other complications. Below are some therapies you can perform at home before seeking professional advice.
Counter Position Therapy
Try to position the baby to the opposite of the flattened side to relieve the pressure on one side.
Exercises
Many exercises help your baby to stretch their neck and rotate their head. These are most effective in cases of torticollis so the baby regains movement in neck muscles.
Helmets, headbands, and Mattresses
Specially designed helmets or headbands have proven effective in shaping babies' heads as they grow. They can pressure the bulging part and relieve the pressure from the flattened areas turning the head more symmetrical. Some curved mattresses are also available to apply pressure evenly to the whole head. However, make sure to consult a doctor before using any of these helmets and headbands.
Globally certified organic cotton Baby Pillow provides support to the neck and head and keeps the pressure even on all head sides.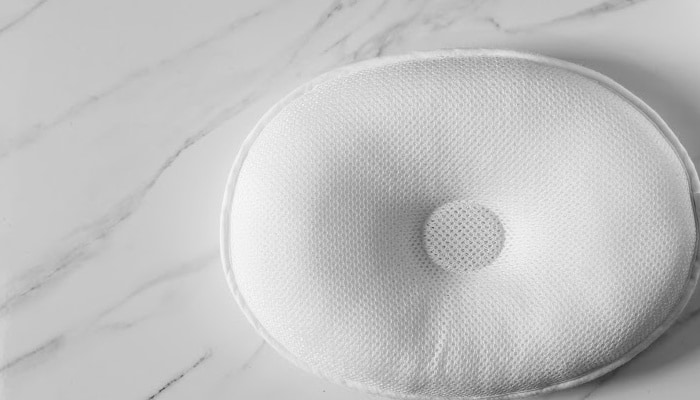 Surgery
It is not necessary in routine cases and may be useful in severe cases of congenital plagiocephaly.
Conclusion
The flat head syndrome is quite common in babies and is not considered a severe health hazard. It can disrupt the shape of the head and alignment of ears for some time, but it can easily be prevented and treated. The syndrome may last for a limited time with minimal effects that too can resolve as the baby ages. It does not affect brain development, and in many cases, it does not require any medical intervention and gets better on its own.
Read more
Baby head handling, everything about eyes, skin, and soft spot.
How to get rid of cradle cap fast.
13 not-so-common first-time mom's mistakes with babies.