Choosing gifts for expecting parents-to-be can be tricky; gifts that both new parents can enjoy and flaunt about being mom and dad.
You can choose some funny gifts for both parents, or you can go another route by picking stuff that is useful for the whole pregnancy period or stuff that mom and dad can use after having the baby to make their life easier post-birth.
Some of the best gifts for new parents-to-be will be a meal subscription, a ticket to a movie night, or a shopping spree. This will allow them to take some time out for themselves amidst all other pregnancy duties which will only increase with time.
But if you are looking for pregnancy announcement gifts for first-time parents-to-be who just found out about their pregnancy or are celebrating a gender reveal party, this post is for you. The gift ideas are a mix of cute as well as useful gifts for expecting parents. Because why not?
You can also arrange a gift basket for expecting parents using any of the items mentioned below:
This post may contain affiliate links. Please read our disclaimer for more information.
Pregnancy congratulatory gifts for expecting parents
Mommy and daddy tumblers
What is a better gift than a pair of mommy and daddy tumblers for expecting parents to celebrate the news. You can choose mom and dad tumblers or sippy cups for expecting parents. They can be used at home, taken to work or while travelling too.
Mommy and Daddy sippy cups can be a cute reminder of the new journey for parents-to-be.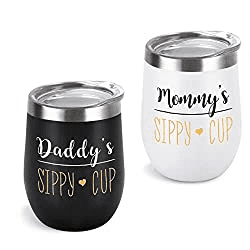 Mug set for mom and dad
How cute are these mugs for expecting parents as the perfect gift choice? You can place them in a gift basket along with other customized items for both the parents and the baby.
Baseball hat mom and dad
We all need caps while going out and what is better to protect one's self from the heat of the sun than a pair of mom and dad baseball hats for new parents.
Gift box for mom, dad, and baby
A customised gift box can be arranged with different products for expecting parents as well as the baby.
Decision coin for mom and dad
This is a cute gift to add in your gift box or gift basket for new parents.
Fancy Mug set for mom and dad
This is a classic gift choice for new parents. They can enjoy their evening coffee in this pair of matching mug set.
T-shirt for mom dad and baby
Matching family T-shirts are the cutest clothing item which can be worn even after the baby is born. They can serve as an outfit for a family outing or vacation.
Glass set for mom and dad
A set of mom and dad glasses can be used everyday at home.
Hand and foot picture frame
We all love to get newborn photoshoots done but hand and foot picture frame is an innovative idea to preserve memories to look back on years later.
Couple and baby hand painted sculpture
A hand-painted sculpture is a cute decoration item which can adorn the shelves in the house even before the baby arrives.
Sonogram frame for each trimester
Tracing the pregnancy journey for your loved ones in the form of a sonogrm frame for each trimester is a thoughtful gift to help parents relive this beautiful journey.
Keepsake Sonogram frame
Another item to decorate the shelves in your house is a sonogram frame for a lovely reminder every time you look at it.
Gift ideas for the first-time mom
What to put in Expectant moms' gift baskets