Pregnancy can be a beautiful phase for any expecting parent, and it becomes even more pleasing when somebody pampers you with gift hampers or makes you feel special with their kind little gestures through your new journey. You are doing it right if you wish to create a special pregnancy care package for your mom-to-be gifts. What to get your pregnant friend depends on the occasion and how far along your bestie is in her pregnancy.
Looking for a gift for a friend who is closer to her due date and already preparing to go for delivery? Or you just got to hear the good news of your friend expecting their first? We got you all covered. A gift basket is a wonderful pregnancy congratulations gift for the first-trimester moms-to-be. And if your pregnant friend is celebrating her birthday or Christmas around her third trimester then why not customize a gift basket for her deepening on how far along she is – something she actually needs.
These gift ideas are perfect for your pregnant sister, pregnant friend, pregnant daughter, or daughter-in-law for celebrating mother's day. You just have to make sure the gifts you buy are safe to use during pregnancy and after pregnancy- in addition to that, they should be safe for nursing moms too.
Getting gifts that are for moms only when you are celebrating a pregnant woman in a family makes all the difference. No matter if it is a pregnancy announcement, a baby shower celebration, or a gender reveal, creating a beautiful basket for a new mom friend is a perfect way to lift her up.
The maternity period is not very long, but a pregnant woman may need everything new, like maternity outfits, comfy shoes (thanks to pregnancy hormones), and some new pregnancy gear that would make her life easier.
Considering a practical gift, like maternity clothing or gear for pregnant friends, is always the best approach, depending on how far along they are.
Best gifts for a pregnant friend
Whether you are looking for a gift for congratulating a new mom-to-be who has just announced her pregnancy, or a mom who is entering her final trimester, these thoughtful gifts are well worth your money.
Create a customized tea basket
Pamper a new mom-to-be with a customized tea basket. Shower her with so many different teas that she is going to enjoy and are absolutely safe to consume during pregnancy.
EarthMama Organics has the best teas for pregnant women and new moms.
1. Organic third-trimester tea
Organic Third Trimester Tea is a hearty blend of stinging nettles, soothing chamomile, rosehips, oat straw, and pain-relieving red raspberry leaf. This tea is traditionally used to nurture your third-trimester self and to prepare you for labor. Also, this tea is perfect for relieving leg cramps and other body cramps that are not-so-fun anyway.
2. Organic Raspberry tea
Raspberry tea is helpful in dealing with menstrual pain and abdominal cramps around delivery time. It also makes the labor easier and ensures less pain. For that very significant reason, you are choosing a perfect tea for your pregnant friend.
3. Labor Preparation tea
Pink stork labor prep tea is perfect for preparing a body for labor and delivery.
Well, if your pregnant wife is having a hard time sleeping around her second or third trimester, this is exactly what she needs. Having proper good quality sleep and rest during pregnancy is equally essential. This sleep tea by pink stork won't disappoint you.
This Earthmama Organics 5-piece, cruelty-free, travel-size set is 100% recyclable and perfect for her second and third-trimester essentials checklist.
The belly butter is just perfect for moisturizing body areas that help in reducing stretch marks.
A highly recommended belly oil that gloriously moisturizes expanding bellies, hips, breasts, and thighs. It also helps comfort skin and stretch marks while encouraging skin's natural elasticity.
In addition to belly oils, orange and ginger lip balm with a twist of mint makes it a perfect essential for a new mama's hospital bag.
Ginger and lime super-special deodorant formulation with no artificial fragrance, parabens, or harmful chemicals.
A Little Something For Mama-To-Be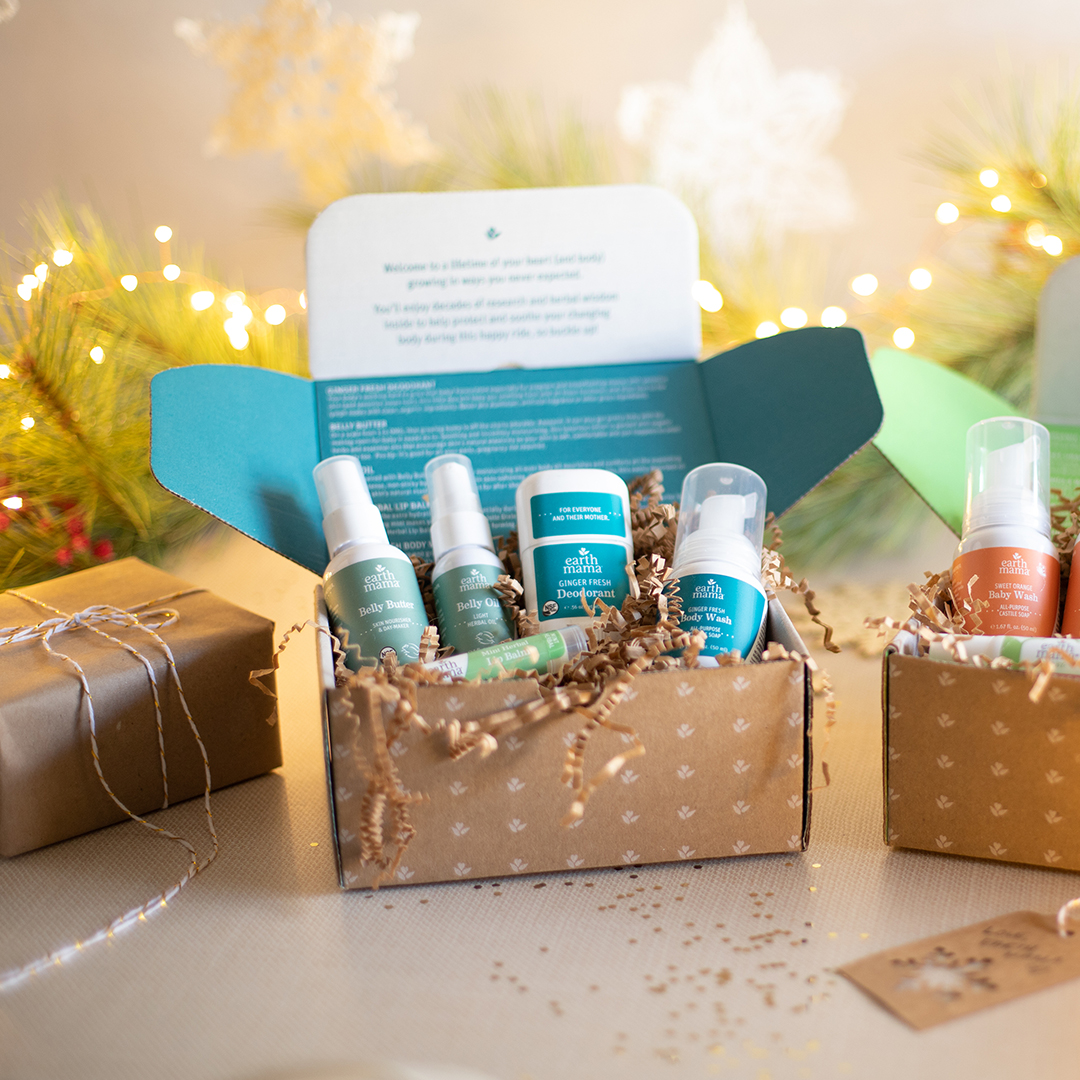 5. A pregnancy wedge pillow for a growing belly
As soon as the belly starts growing around the second and third trimester, this wedge pillow is a blessing in disguise.
Your pregnant wife is going to love you forever, especially if she is carrying twins and is in her final trimester.
Buy now wedge pillow for a pregnant friend
6. A birth ball set with no-slip socks
Choosing a birth ball is a perfect gift for an expectant mom. It is just super practical to prepare a pregnant body for natural labor and a lot of moms swear by using birth balls.
This 65cm birth ball set is beneficial for moms in their final trimester and actually helps to start preparing for labor.
7. Bath sets that are perfect for pampering new moms-to-be
This pregnancy gift box is sure to put a smile on her face. Celebrating pregnancy or congratulating a new mom with this gift bath set is a wonderful way to show your love and support in this new and exciting chapter of her life.
This beauty bundle includes body butter and bath salts, which are safe to use during pregnancy and beyond. It's hands down the best gift for a beauty-conscious mama.
Check out the Badass mama bath set now.
8. Element mom Mega moisturizing kit
Choosing a gift for high-maintenance moms-to-be who tend to have almost everything gets kind of tricky. Why not get something that is loved by many pregnant moms and your gift will be highly appreciated too.
Check out this Element Mom Mega Moisturizing Kit from Amazon.
Check out the list of postpartum gifts ideas for new mom gift basket
9. Bump Dust prenatal protein powder
Bump Dust is a prenatal protein powder or the sister protein powder of Milk Dust. This formula is a perfect nourishing herb blend for pregnant mamas while keeping the same amazing taste and texture.
This can be hands down the best thing for your pregnant friend, or the dad-to-be can gift it to his expectant wife as well.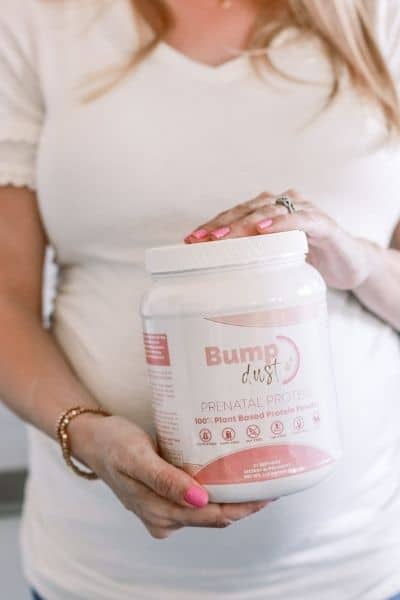 Get your fitness-loving mama-to-be friend the Prenatal Bump Dust Protein Powder.
10. A comfy robe and hospital bag essentials
Kindred bravely Hospital-go-bag bundle comes with a comfy robe, hospital gown, and some other finely curated items that are a perfect fit for your hospital bag.
Check out maternity outfits and other pregnancy essentials if you want to gift her more outfits.
Check out some more Gift Ideas for Expectant Mom's Gift Baskets
11. Cozy Slipper set for mama-to-be
Some women tend to have an elevated shoe size due to pregnancy hormones. Try to go one or half size up if you are choosing a slipper set for your bestie – only if you are not sure about the size. That way she can walk comfy and enjoy her new slipper set.
Get a slipper for mom-to-be friend
Gift-giving is one way to express your love and support for the mom-to-be in your family or friends' circle. Choosing a practical and purposeful gift for a pregnant woman in your life is a nice gesture to make her feel special. Pick anything from the list above, keeping her interest in consideration, and you won't be disappointed.