Pregnancy is the most exciting time for expectant moms to flaunt that cute little baby bump in appealing outfits, and ease maternity discomforts. Getting the right maternity clothing essentials and other comfort-related accessories for every trimester is very important.
Not all women want to spend like crazy on maternity clothes, so ideally, moms-to-be wish to have stuff that is comfy, trendy, and, most importantly not too expensive. Other essentials you may find useful as you move on in your pregnancy.
Every expectant mom needs maternity clothing no matter if it is just bump-only pregnancy, along with other essentials for her entire pregnancy. Moreover, many of your basic maternity outfits are good for the post-delivery period.
Spending money wisely on the set of basic maternity outfits is equally essential. However, you should not go overboard with something that is not useful.
This post may contain affiliate links. Please see our disclaimer for more information.
Maternity clothing and other Essentials for expectant moms
Get in the know of essentials you need during pregnancy, other than your favorite snacks.
Maternity Clothing
Once you find out about the pregnancy, soon after your first trimester, your baby bump starts showing up. Flaunting your cute baby bump with lovely outfits is the most enjoyable part of being pregnant. Your friends and family compliment your pregnancy glow and you may find yourself on cloud nine.
Choosing the right outfit is very important. For me, comfy clothes take up priority.
Basic maternity shirts
During pregnancy, you need comfy basic maternity shirts that you can wear all day long. Style up with an elegant-looking cardigan or wear it under a coat during winter. These basic color maternity shirts are a staple, and you can wear them even after delivery.
Check out some basic maternity shirts now.
Maternity Basic and Slogan Shirts
You can't go wrong wearing comfy T-shirts and especially if you like slogan shirts, pregnancy shirts matching for both mom and dad look so cute.
Check out some amazing slogan shirts for moms.
Don't forget to get dad-to-be a fun slogan T-shirt.
Maternity Bras or Nursing Bras
As you progress in your pregnancy, it becomes a discomfort to wear a bra all the time – day and night. Ditch your wired push-up bras and switch to wireless ones. During pregnancy, breast size increase rapidly and for that, you need to go a size up for extra comfort. Needless to say, wearing wireless bras is the best way to stay comfy during pregnancy and post-delivery.
Check out some amazing maternity bras.
You may also need Bra Extenders to increase breathing room.
When you start nursing your baby, a well-supported bra is equally essential. Because wearing a good support bra helps to prevent your breasts from sagging as you progress in your breastfeeding journey.
Do not slack on buying yourself a perfect fit nursing bra that can benefit you in the long run.
Check out the best-selling Nursing bra.
Maternity Tanks
Some pregnant women want to stay in their tanks while at home all day long. Maternity tanks come in different shapes and styles, you can choose according to your everyday style.
Check these moms' favorite nursing and maternity tanks for everyday wear.
Maternity Undies
Wearing undies is an inevitable part of being pregnant. Sometimes it's a milky discharge or anything else. I do not advise you to wear anything tight. Staying comfy in your clothing, especially, around your abdominal area helps significantly with gas and bloating issues.
Check out these sexy under-the-bump maternity undies that you will love.
Tights or leggings

for a Pregnant belly
Wearing casual maternity lounge pants during pregnancy is going to make your life easier. Experts advise not to wear tight clothes while you are pregnant.
You must have a pair of maternity leggings to stay comfortable while you are on the go, traveling, or running errands.
Maternity Dresses
Having a couple of cute maternity dresses for formal or semi-formal gatherings is another pregnancy must-have.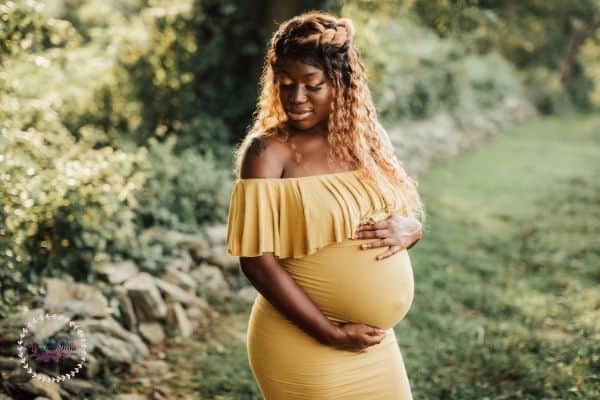 However, if you are planning to have a maternity photoshoot, this royal blue dress looks amazing in pictures.
Stylish Maternity cover-ups
Talking about a few cover-up options, maternity cardigans are by far the best. Other than cardigans, adding Kimono to your maternity wardrobe is a fashionable option. During winter you can wear long sweaters or jackets as a cover-up.
Get maternity Kimono now.
Maternity shorts
Compression Socks
Swollen feet and restless legs are the most uncomfortable part of being pregnant. You need compression socks to help with blood circulation.
For nighttime leg cramps, here is what you need to do.
Belly Butter
As you move along your pregnancy, your skin gets stretchy due to drastically increasing belly size. Keeping your belly super moisturized is essential to prevent stretch marks from happening.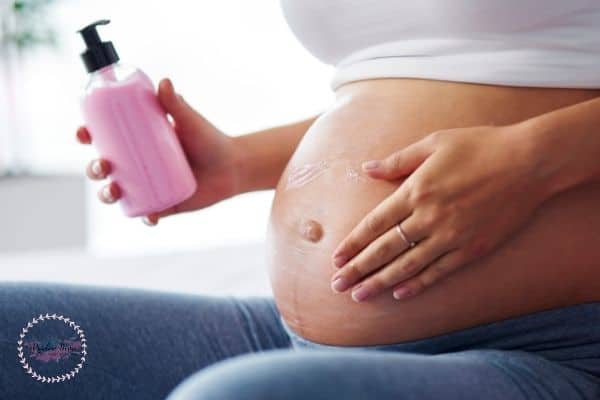 Apply belly butter generously on the belly till the end of the third trimester, you will not see any stretch marks after delivery.
Try Earth Mama's Organic Belly butter to prevent stretch marks.
12 Things you must do during pregnancy to prepare for the baby.
Stomach Settling drops
Morning sickness or Nausea is a nightmare for moms who have it during pregnancy. Essentially, you have to have something ready that works, when nausea strike. These stomach Settling drops help significantly with those early pregnancy hormones.
Besides getting the stomach drops, read about 13 different ways to fight pregnancy nausea.
Pregnancy Pillow
The U-shaped pregnancy pillow helps provide support to the belly, neck, knees. back and hips. Getting this pillow especially for the third trimester gives you comfort while you sleep, or rest.
Donut Cushion
Not every expectant mom needs the donut cushion. Sometimes the tail bone or hip area hurts during pregnancy due to the baby's position. getting the donut cushion may help for sitting and resting painlessly.
Pregnancy Belly Band
Well, the belly band is something you need after delivery for tummy control most certainly. However, for some women, the belly pressure gets too intense, as you progress in pregnancy, and for that reason, expectant moms need to wear a belly band for adequate support.
Check out pregnancy belly band.
Read more
How to ease not-so-common pregnancy discomforts.
17 Pregnancy announcement ideas your family will love.
12 Ways How to trigger labor naturally.
Are you planning to breastfeed? Well, I hate to say that breastfeeding is not as easy as it may seem. Getting a breastfeeding class beforehand can help overwhelmed moms who are struggling with their breastfeeding journey.
Do not delay learning about breastfeeding in your online class by Stacey at Milkology. Stacey is a certified lactation educator. Get the breastfeeding class now and learn at your own schedule before you deliver the baby.
Prenatal Vitamins
Most importantly, when you see your pregnancy test as positive, immediately start taking your prenatal vitamins along with folic acid, as it helps with the baby's brain development.
If you are anemic, you must take prenatal vitamins with iron.
13 pregnancy mistakes you do not know you're making.
12 Things parents must do before baby arrives.
What are the postpartum essentials you need after delivery.
Postpartum Diet for breastfeeding moms.
Comment and let me know what have been your favorite outfits for maternity.