When you head out to the hospital for delivery, you should know you will be in the hands of responsible health care professionals for making sure both you and the baby are in good condition. The team at the hospital consists of the obstetricians, midwives, doctors, nurses, and lactation specialists.
The moment your baby is born, doctors or midwives encourage moms to have skin-to-skin bonding with a baby. In the case of vaginal delivery, moms can immediately enjoy bonding with the baby right after she is born. However, in C-section delivery, dad may get the opportunity to enjoy skin-to-skin contact with a baby.
This post may contain affiliate links. Please read our disclaimer for more information.
What happens to the baby immediately after birth
Every baby that arrives in this world need some procedures immediately after birth.
Curious to know what happens to the baby after birth? Things you should know about post-birth procedures for the baby.
1. Apgar Evaluation
This is a necessary evaluation procedure done after birth. The purpose is to see if there are any medical concerns or not. Doctors measure five signs of the baby's condition
Heart rate
Breathing
Reflexes
Activity and muscles tone
Skin color
Apgar evaluation score varies from 0 to 10. Babies who score 7 or more are considered healthy. Low Apgar score does not mean any necessary medical concerns.
Researchers say that in more than 98% of babies, quite often the Apgar score reaches 7 within 5 minutes of baby's life as it is checked twice in the first 5 minutes of baby's life after birth.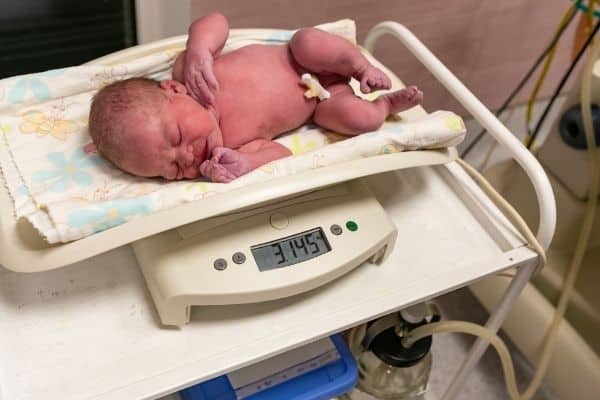 2. Vitamin K injection
Babies are born with vitamin K deficiency as it does not reach the placenta during pregnancy. Thus, doctors make sure that babies get vitamin K injection right after birth to make sure no bleeding in the brain or intestines could occur. Right after the birth baby is given vitamin K injection to help with blood to clot.
3. Antibiotic eye ointment
Your baby will be applied Erythromycin an eye antibiotic ointment to her eyes so that it does not cause an infection that could occur during delivery. Infections could occur due to sexually transmitted diseases, gonorrhea, and chlamydia.
If you are concerned, babies can see through the ointment and it is not irritating for babies.
4. Oxygen saturation testing
This procedure is done to check for lower levels of oxygen in the baby's bloodstream that might identify any significant yet rare heart defects. This is a needleless procedure involves placing a band-aid-like sensor on the baby's right hand and right foot.
4. Baby Foot is printed
Your baby's tiny foot is printed for you to take home.
Haven't decided your baby's name yet? You can pick a unique name for your baby girl here.
Choose a unique name for your son.
5. Identification Bands on wrists and legs 
Your baby will also be wearing an identification band on with your name as a mother.
6. Skin-to-skin
Research has shown that an hour after birth, when your baby is very awake and alert and during that time and it is highly recommended when mother and baby have to be more on skin to skin. 
7. Regulating the baby's body temperature
Baby's lose body heat fairly quickly, thus it is highly advisable to practice more and more skin to skin to regulate the baby's body temperature after birth. For that reason, hats are essentials for newborns for the first several weeks as they tend to lose body heat through the head -as the head is the largest organ of the body for newborns.
Check out cute hats for baby girls.
8. Latching or Breastfeeding right after birth
As soon as your baby is done with all those requirements after birth, mothers are advised to start breastfeeding their babies right away, as this will help with the flow of milk supply for moms.
Breastfeeding has numerous benefits along with it helps the uterus to come back to its original size within 6 weeks. Breastfeeding is tough for the first several weeks after that it becomes the most convenient and healthy way to nourish your baby.
40+ Breastfeeding basics for new moms.
Lactation consultants can help new moms with breastfeeding journey. Take an online breastfeeding class at your own pace by Stacey. She is a Certified Lactation educator at Milkology.
Also, You may want to take breastfeeding classes at the hospital.but at that time, you are so tired and exhausted, you may not even feel like struggling after those hard sleepless labor hours.
Check out the breastfeeding class now.
9. Bonding with your baby
Right after birth, It is very normal to feel overjoyed to see your little bundle of happiness. Some mothers cannot feel that way which is normal too. Do not stress about bonding if you are not in that state of mind, because most of the time it is the effect of medicines as well.
However, dads would be happy to perform skin to skin if mom is having a surgical delivery.
I had two C-section deliveries. At the time my first one was born I was in labor pains for three days, tired and exhausted, yet I just was super excited about bonding with my little guy. On the other hand, while with my second delivery, it took a while for me to feel normal again I was having extreme shoulder pain and my blood pressure dropped significantly. I just could not talk. And I could not hold her for a long time.
That being said, convey your concerns immediately if you do not feel okay about anything. You can bond skin-to-skin the moment you start feeling better and want to connect. 
10. Nursing, latching, and feeding after childbirth
If you are a first-time mom, and you THINK that you KNOW how to breastfeed, do not stay in this misconception.
There is a big difference between knowing something and actually doing it.
Some babies do not know how to latch. They will learn slowly and gradually. However, some babies are great at latching. They know suckle very well since birth.
I would highly recommend first-time moms consult a lactation specialist. Many hospitals in the US offer super helpful lactation classes. Like I said, at that time, you are so exhausted to even try. The lactation consultants will visit you every day during your hospital stay and are there to help. Seek help, consult if you are struggling with breastfeeding. 
Doctors would not allow you to go home if your baby is not having enough wet and dirty diapers within 24 to 48 hours. This means your baby is not having enough to eat although babies do not need a lot. For the first couple of days, a few drops of colostrum should be fine as long as you are seeing wet diapers.
Breastmilk takes a few days to establish a sufficient milk supply for the baby. I highly recommend taking a breastfeeding class online while you are still at home and you could learn new things.
Check out Breastfeeding class by Certified Lactation Educator.
11. Newborn Sleep
You might have heard from a lot of people that newborns love to sleep. Yes, but they do not know the difference between day and night just yet. It takes a while for newborns to follow a good sleep schedule even after sleeping 20 hours a day. New moms get sleep-deprived because getting straight 3 hour sleep is like a dream.
Try to educate yourself about baby sleep problems before the baby arrives.
Get this sleep ebook for you, it is about understanding the baby's sleep dos and dont's so you can follow a better, doable schedule for your baby. Eventually, it could get you some 5 hours of sleep at night.
Check out this Sleep eBook Now – a must-have for every parent.
Read More
22 facts about newborns, every new mom should know.
40+ newborn hacks for new moms
Get to know what happens during the hospital stay with mom and the baby.