Baby baths could sometimes get tricky for new parents, especially when babies show different moods at different times. Some babies seem to enjoy staying in the water, while some may not like it at all. Bathing may become an overwhelming experience for new parents. However, there are plenty of things available to destress bathing and make it a safe and joyful experience for both babies and parents.
Well, a newborn baby gets their first bath in the hospital by a nurse. She will give a quick bath without making the umbilical cord wet, wash the baby's head, and do a quick cleanup of their whole body. Nurses at the hospital are experts with babies.
However, it may become stressful for first-time parents to bathe a fragile baby for the first couple of times. It is important to know how to calm a newborn during a bath.
but hang in there; things do get better with time.
It is essential to keep the baby's temperature stable by performing skin-to-skin interactions with their mom after a bath. Nurses at the hospital would not bathe the baby until the baby's body temperature is already stable.
This post may contain affiliate links. Please read our disclaimer for more information.
Baby Bathing tips for new parents
These bathing tips are a must to follow by every new parent who feels overwhelmed with a fear of bathing a newborn.
1. You don't need to bath your newborn every day
Babies are generally clean; they don't really need a bath every day. Also, newborns tend to lose their natural body moisture called Vernix Caseosa. It is a greasy deposit covering the baby's body at the time of birth and while in the womb. Therefore, bathing babies too often may eventually lose their natural body moisture too soon.
2. Do not wet Newborn's umbilical cord while bathing
Try to keep the umbilical cord dry while you are bathing the baby. Or you can do a sponge bath until the cord comes off.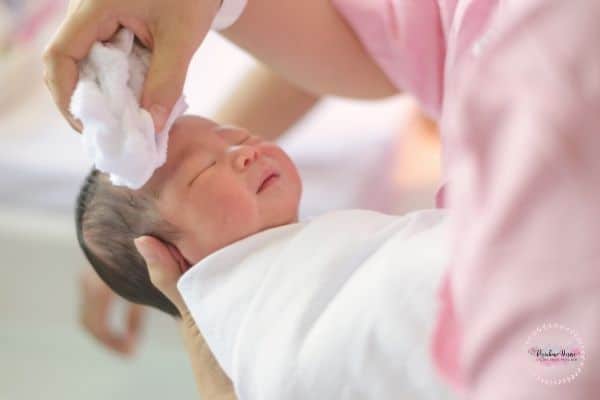 3. Avoid bathing if Newborn boys are circumcised for a few days
If you had your baby boy circumcised, do not bathe for a few days until his penis is healed.
4. Massage newborns before Bathing
Babies love massage. Well, who doesn't?
Massaging babies before bedtime or bathtime is significantly going to improve their overall health. When babies start gaining some weight, their skin gets softer and more plump as they grow.
Before you start, grab a couple of muslin sheets or towels to prevent your bedcovers or changing sheets from getting messy.
Use Earth Mama organics baby oil for massage.
5. Keep your baby diaper free before bathing for a while
After gently massaging your baby, keep her diaper-free so that she can enjoy more free play for 15 to 30 minutes.
Massage helps babies relax; they sleep a lot better after a bath. You can massage the baby at night before bedtime and bathe her in the morning.
6. Have everything ready before you start bathing baby
Before you start, have baby bath essentials ready.
Dry and clean bathtub – Bathtub or cushion bath seating of your choice
You need a sturdy bathtub. I recommend using a Fischer-Price bathtub. It is a great option until your baby turns at least a year. My daughter used it till she turned one, whereas my son used it for about 18 months.
A skip hop Rinser is by far the best. You have to pour in little by little, and this little guy does a great job.
Have a Pail of water ready before the bath if you do not have access to a bathtub to manage the water supply. You need to fill the pail within your arm's reach so you can bathe your baby without any hassle.
Besides that, make sure you also have these things ready before the bath: towel, accessories, diapers, diaper cream, baby comb, baby lotion, baby socks, baby onesies, baby blanket, baby hat.
Related: Baby Bathing essentials you need when you have a small bathroom space.
7. Use baby lotion or oil after a bath
You need a very gentle and fragrance-free shampoo and body wash. It is a good idea to use fragrance-free products for a few months. Your baby might get triggered by fragrant products if they have eczema.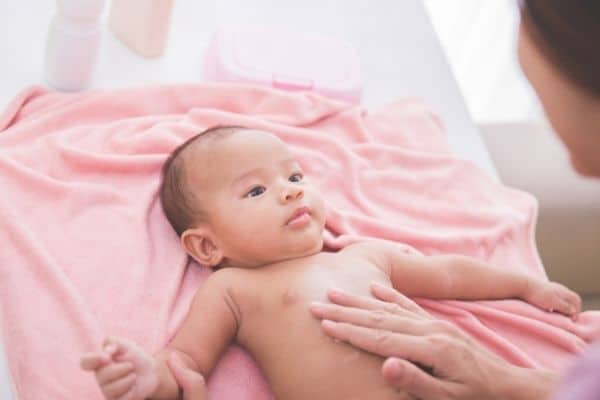 Doctors usually do not recommend using any lotion for your newborn, as their skin has natural moisture. But if you notice any signs of dry skin, you can try to apply a good, mild, and fragrance-free body lotion (only if your pediatrician advises) and see if it helps.
Also, watch for any signs of reactions or allergies. If you do, immediately bring them to your pediatrician's attention.
Organic calming lavender Body lotion
8. Use a Soft baby Comb after bath to prevent the cradle cap from developing
Combing newborns' cute hair every time after a bath prevents cradle cap significantly. Gently comb your baby's scalp thoroughly. If you notice thick, crusty flakes in your baby's scalp, here is the trick to get rid of cradle caps in infants.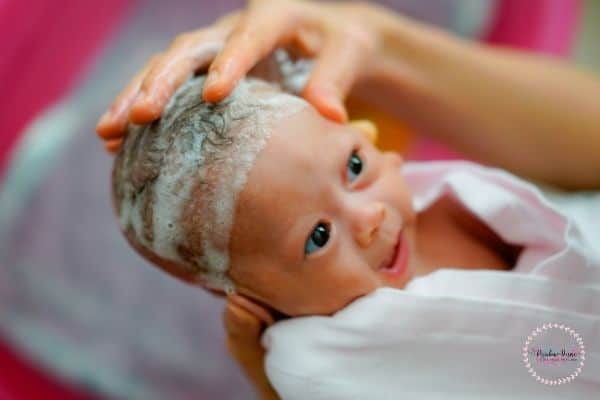 9. Dry your baby properly after a bath
With the help of a towel, make sure you dry your baby thoroughly in the armpit, legs fold, arm folds, and neck folds.
You need clean clothes, diapers, socks, mittens, etc.
Related: Essential clothing and accessories you need for the baby
10. Choose the best time to bathe your baby
It is your personal preference to choose the method and time for your baby's bath. Some parents follow a bedtime bath routine, so the baby tends to sleep faster and more comfortably. At the same time, some may follow the morning bath time routine to have a fresh start to the day.
Your baby will adjust with any method and time you choose, as long as you follow it as a routine. Bedtime baths did not work for me; thus, I always bathed my kids in the morning after breakfast. It helped them with a soothing, comfortable nap.
11. Keep baby elevated no matter what bathing tub you choose
Always make sure your baby is elevated in a bathtub and well supported on a sling. Be with your baby at all times.
12. Stay with your baby at all times
Do not leave your baby unattended, not even for a second. A phone call or a doorbell can wait. If you really have to answer either of them, wrap your baby in a towel and take them with you.
13. make sure the tub or sling is dry when you lay down baby on it
This one is extremely important to note. Keep water temperature into consideration. It should be warm at room temperature, not too hot, or not too cold. Using hot water may dry out the baby's soft skin.
Besides the right temperature, make sure the surfaces are dry for whatever gear you use, either baby bath sling, or baby bathing seat.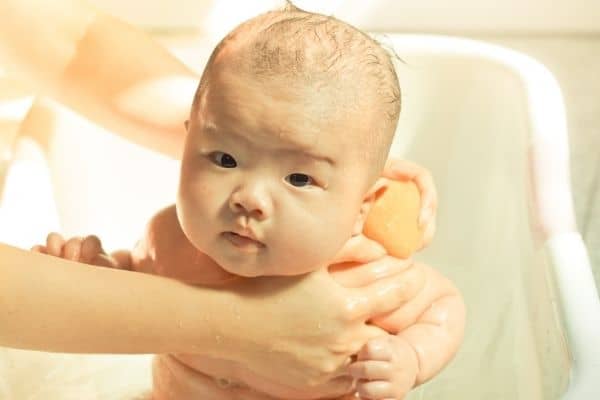 14. Washing the hidden areas
Sometimes, babies who take bottle-feed may end up having milk drops tripping to their necks. This may cause milk deposits in the baby's neck. Make sure you wash those cute little skin folds around the neck, and thighs, etc.
Use Organic Body wash for your baby's gentle skin
15. Make your bath time shorter
Not all newborns enjoy bath time. Some babies tend to enjoy the water more than others. With that said, be mindful of the time you spend bathing your baby. Try to make it quicker for newborns, as their body temperature needs to be maintained.
16. Start from the legs
Typically, we start bathing from head to toes, but it is a little different for newborns. Start pouring water from a rinser on the baby's legs by ensuring that the baby is comfortable with the water temperature. Slowly work it up all the way to the head. Be extra vigilant when you pour water on the baby's head; that's the most tricky part. Apply soap and make sure it doesn't get into the eyes. To be on the safer side, use no-tears body wash.
While washing the baby's back, use your arm for extra support and cushion while you rest the baby's legs on the sling (in a kneeling position).
17. Don't stress and we all learn baby bathing
Baby bathing is the most overwhelming part of a newborn's routine for new parents. While we need so much expertise to hold a fragile newborn, it takes so much more. We all start from somewhere, and it will get better with time once you get the hang of motherhood. One day, you will be an expert in baby bathing.
Read more
Newborn care hacks for new moms.
How to prevent baby diaper blowouts.