Newborns are fragile yet strong enough to make it through the mom's cozy uterine cafe to this world. Babies need a lot of care and attention during their newborn stage. However, these baby care tips make it easy for new moms who are feeling overwhelmed with this new baby phase.
These simple and easy-to-follow baby care tips will be helpful for the first couple of years for first-time parents.
If you are expecting a baby anytime soon, save this for later, since it has helpful tips about baby sleep, diapering, feeding, and clothing, etc, a new mom needs to know about for the baby's first year after birth.
This post may contain affiliate links. Please read our disclaimer for more information.
Newborn care tips for new moms and dads
Before I forget, I need to start with diapering tips.
Baby Diapering Tips
Diapering is an unavoidable part of parenthood. You cannot go diaper-less with kids until they are 2 to 3 years old. On average, parents change 3000 diapers during their first year alone, 8 to 12 diapers a day.
You can always try to change an over-soaked wet diaper only while your baby is asleep without waking her up.
2. Do not change a dirty diaper while your baby is asleep unless the baby wakes up by herself.
3. While changing a wet diaper only, do not use cold or warm wipes in case of a wet diaper only while the baby is still asleep. The touch of the wet wipe is most likely going to wake your baby up.
4. Use a cell phone light or use a night light while changing a diaper.
Note: Diaper change in the middle of the night can only be possible if the baby is sleeping in her bassinet, toddler bed, or co-sleeping. With high rails crib, it may not be convenient for moms or dads to change a diaper.
5. For babies who tend to toss and turn a lot while sleeping may end up having diaper leaks without getting fully soaked. You can use mattress pads or disposable changing pads on the baby's crib to deal with such situations.
6. If your baby is a heavy wetter due to water or liquids intake, I highly recommend having your baby(toddler) wear PJs or night trouser that are somewhat loose around the diaper area.
7. Tight clothes around the diaper area do not allow the diaper to reach its full potential of absorbing liquids. For heavy wetters, make sure you change diaper more frequently because, once it is oversoaked, there is a high chance of leaking.
Related: How to prevent diaper leaks at night.
8. When your well-fed baby cries at night it could be due to following reasons mainly:
She is cold.
She is hot.
She has gas.
She just pee-ed or needs to pee.
Find out what are the other reasons your baby is waking up too much at night.
9. First of all, decide where you need to change the diaper and then keep all diapering essentials in your arm's reach – most likely closer to a changing station with a changing pad.
10. This one is for dads: when changing a diaper, make sure you have a picture side on the front and tabs side on the back.
11. The diaper should not be on top of the umbilical cord – use diapers specially designed for newborns by making them curved around the umbilical cord area.
12. Expect more diaper blowouts when your newborn lays down position or in a sitting position; poop or pee has to go somewhere in and out of the diaper. The best tips to prevent diaper blowouts are to size up, change frequently, and delay diaper change for babies. However, you may want to wait for another 10 minutes to get everything clear out from inside for infants.
Learn more tips on how to prevent baby and toddler diaper blowouts.
Baby Diapering guide for new parents need to know.
Baby Feeding tips
The baby needs to eat as soon as she is born. Latching a baby immediately after birth is the best and recommended way to start your new journey of motherhood.
Read about basic breastfeeding tips for new moms.
13. If your baby is not sleeping well even after a full nursing session, she may need top feed in order to feel full.
14. Once you establish a milk supply, you can exclusively breastfeed. However, the starting weeks are rough and it takes a while for babies to get hang of the breastfeeding.
15. Dehydration in newborn babies is a serious thing. If your baby is hungry and not having enough wet diapers, think about other ways to fulfill nutritional requirements along with breastfeeding – the more you nurse, the faster will be the milk supply.
16. There could be a number of reasons for delayed supply or just hormones are playing big time and you do not feel the energy to nurse, take your time and supplement if you feel the need.
Related: 14 ways to increase milk supply overnight for breastfeeding moms.
Want to know about using organic formula? My Organic Company has UK-approved 100% organic formula you can try for supplementing.
17. Nursing every two hours help significantly to establish good milk supply.
18. If your baby seems to have a reflux issue and tends to throw up what she eats, that means she needs gradual feeding, after every feed, she needs to be in an upright position.
19. Wear the baby as it is the best way to keep the baby upright while staying hands-free to get done with other chores. Reflux issues get better as the baby grows.
This baby Wrap you wear for everyday use.
20. When feeding through a bottle, you have to make sure, there are no soap residues in bottles, and do not shake the bottle too much that makes it bubbly. This will prevent from having gas issues.
Read more How to relieve gas issues in babies.
21. Either you are feeding formula or pumped breastmilk through a feeding bottle, position bottle up to fill in the entire nipple to avoid air going inside.
22. For colic babies, the best thing is to feed more often and early to avoid gas triggers.
Get some more tips on how to soothe colic or a fussy baby.
23. Breastfeeding babies and formula-fed babies may show signs of an allergy too to something you are eating. It could be in the form of lactose intolerance, or bumps on the body may appear due to an allergic reaction to something mom is eating. They may grow out of these allergies later in life.
24. Postpartum hair fall is normal within 3 to 4 months after the baby is born. As soon as you start noticing the postpartum hair fall, maybe it's time to increase the baby's feed or start introducing solids.
25. No matter when you start semi-solids with your baby, the best thing is when the baby gets the hang of eating solids, ENCOURAGE SELF FEED. No earlier than 7 to 8 months depends on how your baby reaching her milestones.
How to start baby semi-solids. Quick and easy ways you want to know.
26. Spitting up is a common problem in newborn care. Babies tend to throw up after a full nursing session, and it may seem like everything is out of the stomach, however, in reality, it is not. Learn more here about why do babies spit up and how much is considered normal.
Baby sleep tips
27. For newborns, wake up a sleeping baby to feed every 2 hours during the day and stretch night sleep to 3 to 4 hours depending on how well-fed the baby is during the day.
28. Always try to swaddle for the first couple of months and see if that option works to get you and baby some sleep at night.
29. Do not wake up your baby from sleep to feed at night once the baby starts sleeping for longer stretches at night, particularly after a few weeks after birth. This will eventually help the baby get the hang of nighttime sleep.
30. Do not just have your baby laying down all the time. Adjust the baby's head and keep an eye on the head shape especially in the first three to 4 months after birth.
Learn more about how to identify flat spots on a baby's head.
31. Babies who are laying down most times of the day, tend to develop flat spots. Keep flipping sides when putting baby to sleep.
32. Babies are born with a soft head, and those who are vaginally delivered may get their head elongated due to pressures passing through the birth canal. Babies should lay on their back for the most part during the day. However, you still have to incorporate tummy time with a baby to avoid flat head syndrome.
33. Do not create day and night confusion from day 1. Keep nights quiet and dark and days louder and brighter. This will help babies get on a night schedule faster.
Related: 15 not-so-common baby sleep problems you should know about.
34. If your newborn baby wakes up in the middle of the night hungry and wide awake, try not to talk or light up your room. Feed on demand and put baby down. Eventually baby is asleep. If you have to hold your baby for a burp, keep it quiet and dark. In order to set a sleep schedule for your baby, you need to avoid mistakes from day one.
35. Using a sound machine is a must for new moms. Either you are co-sleeping or room sharing or you have a separate room for kids, keeping a sound machine is a must. Besides other newborn needs like hunger, wet diaper, or being cold at night, your baby will be able to sleep better without waking up to unnecessary sounds.
Things get better as long as you and your baby can sleep well through the night. I highly recommend using a sound machine.
If you are curious, I have been using this one for about 2 years. The rain sound is the best out of all and effective. It is affordable, portable, and goes everywhere with us – even work in different countries as well.
Read more about the reasons why the baby is not sleeping through the night.
Baby Clothing tips
36. DO NOT BUY TOO many newborn clothes. For minimalist moms, just 4 to 5 outfits should be fine. However, 3 months' size may go up to 3 weeks to 3 months.
37. Normally newborn mittens are too big for those tiny hands, the best you can do get a newborn outfit with folding sleeves cuffs to save babyface from scratches.
38. No too many newborn shoes for at least 3 to 4 months. Once the baby starts sitting up or crawling, I would prefer having shoes.
Newborn baby clothes and shoes are so tempting that you hardly resist. Trust me, babies grow up super fast and if you are a savvy mom, do not fall for it. You can use that money on bigger shoes.
39. Onesies shoulder flaps are meant to prevent baby's hair from blowouts.
40. Avoid using tight trousers or pants for baby as it may cause gas or prevent it from releasing out of the body.
Related: Newborn essential clothing and accessories
41. While going out, dressing up your baby weather appropriate. Your baby may need just one extra layer than you are wearing. Either use a light blanket in summers or a car seat cover. During winters you need a warm car seat cover if you are staying outdoor for a while. Otherwise, a baby blanket would do just fine.
42. Always use the hat for the first couple of months irrespective of the weather. Newborns tend to lose body heat from their heads faster as the head is the largest part of the newborn body. Keeping body temperature normal is necessary.
43. Keeping newborn protected while you go out should be your top priority. Using canopy strollers or blankets to cover babies outside is essential from UAV and UAB rays of the sun.
44. Sunscreen is a must even for babies if you are staying longer outside.
Related: Tips for going out with newborns.
Baby Skincare Tips
45. Baby acne is a common skin condition in newborns, the best thing is to leave that alone. It is going to go away in a few days. Keep skin clean, and do not rub. However, you can still apply breastmilk as a lot of moms have been using it as a home remedy.
46. White bumps called "milia" appear on the baby's nose and generally leave soon.
47. Erythema Toxicum is a splotchy, bumpy rash that appears shortly after birth and can be expected to leave in a week or so.
48. Heat rash is due to sweating which may result in small pink pimples on baby skin. Keep your baby cool and clean and make sure you clean baby's neck fold and dry them thoroughly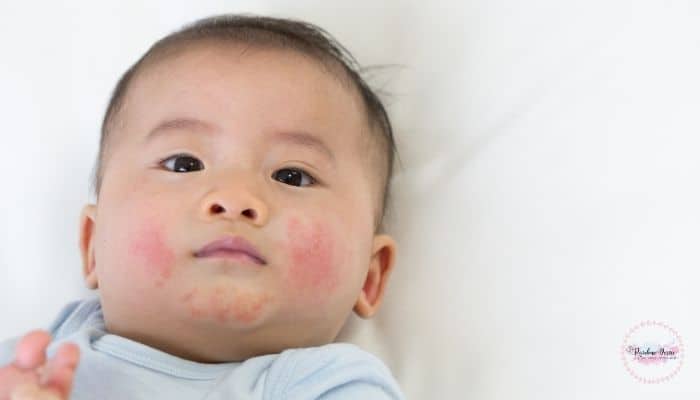 49. Eczema is a skin condition usually triggers with fragrant products like detergents, body wash, etc. In case you see patches near the fold, elbows, arms, etc, talk to your doctor to get it evaluated.
50. Babies are vulnerable to get jaundice. Although mild jaundice goes away on its own in a few days still the best thing is to have your baby sit or lay down beside the window where you and baby can enjoy indirect sunlight.
Indirect sunlight is a quick remedy for treating jaundice. However, if you notice the persistent condition of skin getting more yellow, eyes, tongue, etc. you need to call the doctor right away.
51. Thrush is a mouth condition when a yeast infection travels to the baby's mouth. This yeast will form white skin patches inside the baby's mouth. You need to call your doctor when you notice any signs of thrush.
52. Diaper rash is skin irritation and the best remedy for severe diaper rash is using mustard oil mixed with water. In addition to that, Earth Mama Organics diaper balm works best for diaper rash.
Related: how to treat diaper rash in babies
53. Baby's skin is soaked in water for good 9 months and once they are out, it most likely gets dry, cracked, and peeling. Massage baby with Earth Mama's Calendula oil to prevent skin from getting over-dry.
Head handling Tips
54. Soft Spot handling: Parents need to be gentle when touching the fontanelles on everyday handling. A sunken soft spot is an indication of dehydration. Newborn Baby sleeping for longer stretches during the day or may seem lazy is also an indication of dehydration.
55. Cradle cap is the thick layer of skin developed on the baby's scalp. The solution to dealing with cradle cap is to massage the baby's scalp with oil and then scrape off gently with soft bristles comb.
Read more on how to get rid of cradle cap fast.
56. Your newborn may be born with a head full of hair or no hair, however, there is a possibility of hair thinning out significantly in the next few weeks and then the real hair coming back.
57. Baby's vision develops with a time of 3 to 5 years. Newborns can see fairly hazy to 8 to 12 inches and then within 3 months, they can not only see you also they are able to follow objects.
58. Newborn or natal teeth: In rare cases, newborns are born with too early teeth. If you notice something like this, you may have to get them removed.
59. A baby's nasal passage doesn't develop and open up the way It is supposed to be. However, they are obligated to breathe through their narrow little nose for about 3 to 6 months. This makes newborn breathing noisy due to dryness and stuffiness.
60. Sucking blisters: Babies may develop blisters inside their mouth due to frequent sucking. Sucking blisters will eventually go on their own.
61. Tongue-tie in babies: Tongues are connected with a little tissue frenulum with the floor of our mouth. We are all born with frenulum but for newborns, this is extended to the tip of the newborn's tongue.
This condition is harmless and generally requires no treatment. However, for some, it makes latching on breasts difficult that may lead to a small procedure to fix it.
62. Newborns do not shed a tear while they cry for the first couple of months. However, premature babies reportedly produce enough tears to coat and lubricate their eyes. Tears newborns make are not enough to roll down for the first few months.
63. Baby's umbilical cord needs to stay dry to come off as early as 2 weeks and as late as 5 weeks (my experience too). Do not wet the cord while bathing. Sponge bath should work for the first few weeks as babies do not need frequent baths
64. Do not ever shake a baby even out of sheer joy as it could be fatal.
65. When you hold a newborn, always adjust the baby's head with the support of your hand as the newborn baby's head is not stable enough until the baby is a few months old.
Related: Everything you need to know about the baby's head, skin, and face.
Baby soothing tips
66. For the first several months of a baby's life, you should omit the possibility of spoiling. Newborns cry as that's the only way they know how to communicate and once you hear your baby crying, it is highly advisable to promptly respond to their needs so that would send her a message that you are there to tend to her needs.
67. Moms get stressed out when babies are crying. You have to keep calm, take a deep breath and if needed take a break. If you are not ready mentally, emotionally or physically, take help from anyone available during that time, husband, or friend.
68. Put baby down for a little while safe and secure and compose yourself, as long as you are around, it doesn't hurt the baby to cry for some time.
Related: how to soothe and calm your fussy baby.
69. There are times when your head is spinning due to sleep deprivation or you may face other health concerns, Hold your newborn baby when you know you are in the best of your mental and physical state.
Moms need their fair share of sleep. Get more tips on how to manage sleep deprivation for new moms.
70. If the baby does not seem interested in eating or go a few hours without showing any sign of appetite, it is always a good practice to call your pediatrician.
More tips on when to call your doctor for medical evaluation.
Motherhood tips for new moms to make it easy.
New mom's naive mistakes with newborns.
First-time parent's mistakes with babies.