What new mothers should be eating after giving birth? A wholesome blend of easy recipes that are delicious and the best postpartum meals for recovery.
Whether you deliver via C-section or vaginally, eating healthy is essential at this point for faster recovery after having a baby. Including healing foods in your postpartum diet is something you should consider after having a baby. Because it is vital for a new mom to nourish herself and her new baby with the right nutrition.
Clearly, choosing the right postnatal diet goes a long way for a quick postpartum recovery, and ensures long term healthy lifestyle.
Although your diet is not like a patient's diet after giving birth. You can eat or drink whatever right after having a baby but you really have to be mindful of your choice of food, especially while you are breastfeeding. Within several weeks (particularly 6 weeks after birth) you can resume your normal diet once your newborn baby is adjusted to your menu through breastmilk.
What you should be eating in your 4 to 6 weeks of postpartum?
Here are some of the easy and quick-to-make postpartum meal ideas that can be prepared ahead while you are still pregnant. Some of the recipes are so quick and easy that your whole family can enjoy getting the right nutrition and absolutely customizable to your palate.
This post may contain affiliate links. Please read our disclaimer for more information.
Postpartum meal ideas with quick recipes
Some of the Indian recipes are quite healthy for postpartum recovery so you can make them fast either in an instant pot or using a regular pot. The ingredients that are used are new moms' healing and taste absolutely delicious.
Talking about postpartum, make sure you add some of the key foods in the postnatal diet for overall internal and external recovery.
Diet changes for postpartum meals to make them more nourished
Prepare most of your food in Organic ghee or unsalted butter as it is considered to be the healthiest alternative to cooking oils.
Do not consume foods that make you bloated for at least the first six weeks.
Add food to your diet that makes your bowel movement easy and stress-free. One of the significant side effects of taking medications during childbirth is constipation. Eating fiber-rich food and taking lots of liquid is extremely important at this point to deal with slow metabolism issues.
Avoid spicy food for at least 3 to 4 weeks after giving birth, especially after C-section.
Eating a protein-rich diet for post-baby healing is an essential building block of muscles, cartilage, bones, and skin that may have gone through a lot throughout pregnancy and childbirth. In addition to that, eating a protein-rich diet is great for internal healing after C-section.
Including iron-rich food in your diet to make up for the blood loss in C-section delivery. Not only this, iron-rich food helps women with low hemoglobin levels who are considered anemic during pregnancy or after childbirth.
Here is what you need to know about post-C-section care and recovery.
1. Chicken Pulao rice
Chicken Pulao rice is easy to make and it's not only for moms, but the whole family can enjoy it even kids love the flavor full chicken.
I use basmati rice to make this pulao recipe, which turns out delicious. You can use whatever rice you prefer, or you have available at home.
For two cups of rice washed and soaked, you need
One thinly sliced medium-size onion
1 tsp ginger chopped or paste
1tsp garlic chopped or paste
Chicken legs are cut into pieces. (You can use any type of chicken, boneless or bone-in).
2 tsp cumin seeds
salt to taste
black pepper
cinnamon stick
water as needed
Fry onion in a flat bottom pot (large enough to cook rice), add ginger and garlic, now add chicken, and thoroughly fry with spices. Salt, and black pepper, you can add a pinch of cayenne pepper if you want. Add cumin seeds and cinnamon sticks. Yogurt is optional. You can follow a detailed recipe here with more ingredients.
Once the chicken has released all water and dried up. Add water as required for the rice and chicken to cook. Let it boil until the chicken gets tender. At this point add rice and make sure you stir it well once. Cover the pot and let the rice get cooked and rise.
Gently mix everything and see if the rice is cooked.
Enjoy with any type of fritters or yogurt sauce.
Can I make chicken stock ahead of time?
You can prepare chicken stock ahead of time and freeze it in tight containers that can contain liquid. Thaw your chicken stock in a pot, get your rice washed and soak – on a day, you have to make it. Your meal is ready in minutes.
For more options, you can add chickpeas, green peas, small-cut potatoes, carrots, etc for making veggie rice (vegan choices).
2. Chicken or veggie soup Recipe
Instead of chicken, you can use shrimp as well. For vegetarian choices, instead of making chicken broth, make vegetable broth and use tofu or mushrooms for texture – simply add vegan ingredients of your choice to enjoy delicious and comforting soup at home.
This is my best recipe for chicken corn soup. Replace it with veggie stock and add vegan ingredients as you like.
3. Mutton Bone broth
1 lb bone-in-mutton or lamb meat
one small onion, 5 to 6 garlic cloves
1 to 1 and half-inch of ginger
Cumin seeds
Salt to taste
Black pepper
3 cups of water
Pressure cook in an instant for about 15 minutes.
Let the meat get tender as per your taste. And enjoy this soothing recipe. You can add more veggies for more taste and texture. Like carrots, cabbage, squash, pumpkin, etc.
That is the best postpartum recipe that helps exponentially with the milk flow for breastfeeding moms.
No matter what taste palate you have, this bone broth recipe is simple, delicious, and easy to cook for anyone.
You can prepare this in advance and freeze it. After delivery, you can ask someone to warm it up for you or get it done yourself. Outsource cooking if you can. However, if that's not possible, these meal recipes freeze up quite well.
This mutton bone-broth can be used for rice, just like we discussed in chicken pulao rice. Rice cooked in mutton stock is richer in texture and taste. I highly recommend it.
Even if you have to make bone broth the same day, it's not that hard, just a dump-and-go meal that is ready in 30 minutes. You don't have to stand and stir to make that happen. Even your partner can follow the instructions.
Instead of using mutton, if you are not a lamb or mutton fan, you can use organic chicken as it is more nutritious and healthy.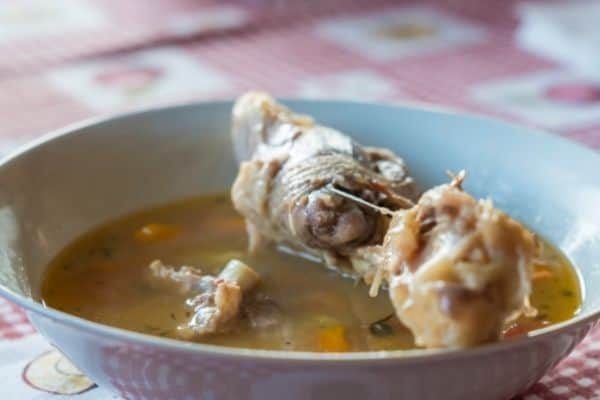 How you can use the mutton bone broth
You can make tons of recipes with bone broth.
Mutton stock can be used in making lentils or grams
Mutton or chicken stock can be added to pasta.
Add rice and veggies to make mutton pulao rice.
You can also make oatmeal in bone broth as well.
4. Chicken leg quarters air-fry recipe
For a protein-rich diet, marinate chicken leg quarters with your favorite spices. Let it sit and cook in an air fry or skillet as per your preference. Serve with white rice and steamed broccoli.
5. Minced Chicken and beef recipe
one lb Ground chicken, mutton, beef
1 tsp ginger
1tsp garlic
chopped onion
1 medium-sized chopped tomato _ if you don't have tomatoes, you can add 2 to 3 tbsp of plain yogurt (unsweetened).
Chopped jalapeno peppers are optional, but they enhance the overall flavor.
Salt and black pepper to taste
Cumin seeds and other spices
Saute chopped onions in oil, and add ginger and garlic paste.
Now add your chicken or beef (meat of any choice). Add tomatoes or yogurt and let everything cook until all water is dried up. Add salt, and pepper, cumin seeds – you can use black pepper, cayenne pepper, paprika, or crushed red peppers as per your taste preference.
Garnish with cilantro and jalapeno peppers.
Enjoy with whole wheat bread, butter-toasted parmesan bread, or Indian naan bread; top it up with cheese.
Nevertheless, you can also use it as a tortilla taco filling or pizza topping.
Grab an uncooked cheese pizza from a local grocery store. Top it with minced chicken and beef and some more veggies and extra cheese, bake and enjoy delicious homemade meat lover pizza.
This minced meat recipe freezes quite well. Just make this ahead of time. Save it in a ziplock bag. Thaw and warm it up in the microwave or in a pan. Use it the way you prefer. add veggies to enjoy with bread or rice. Make lasagna or meaty pasta with your favorite sauce.
What Veggies can you add in minced meat
Add your favorite veggies to the minced meat. You can use frozen make-a-head mined meat for the recipe. Add your favorite veggies on one particular day, and the dinner is ready for the whole family.
Instead of fresh vegetables, you can use frozen veggies to prepare healthy instant meals for yourself and the whole family.
6. Beef Chili with tortilla chips or bread
The beef chili is the perfect and delicious meal for new moms. It is good for healing and a perfect combination to satisfy the cravings. . Moreover, you can make this recipe with all the necessary ingredients available in your kitchen.
Things you need for beef chili
1 tbsp. olive or avocado oil
1 onion, chopped
3-4 garlic cloves, minced
one lb. minced beef
One can of diced tomatoes
One can red kidney beans
cumin seeds or cumin seed powder
¼ cup chili powder
2 cups chicken stock or beef stock
Salt to taste
How to make beef chili
Take an instant pot, add olive oil and onion or let it sauté for a minute Add ginger and garlic. Cook until translucent. Do not make it dark brown.
Now add beef to a saute mode until beef changes color.
Add tomatoes, kidney beans, black beans, chili powder, salt, and oregano. Mix all ingredients well for a minute or two.
Add chicken broth and let it boil. Cover the pot and put it on pressure cook mode. Cook 10 to 15 minutes on the pressure until everything combines well.
However, reduce the flame on a regular pot and allow it to cook over low flame for 20 to 25 minutes when the mixture starts to boil. Keep it stirring until cooked.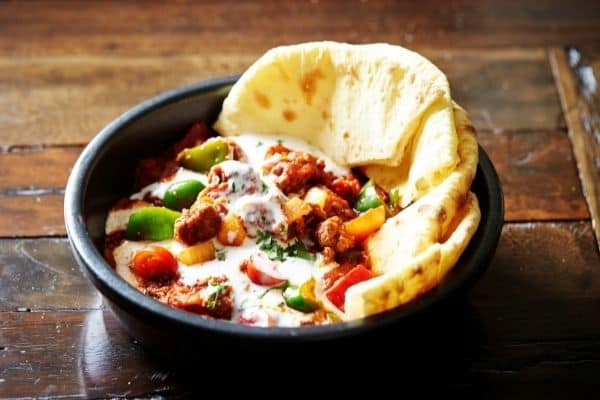 When your beef chili is ready, enjoy it with flour or corn tortillas. I like flour tortillas better. Top it with some lettuce and sour cream. Add chipotle sauce for extra flavor if you prefer hot.
Keep in mind that when you are eating postpartum, cooking food with a lot of spices is not good for internal healing. Salt and black pepper, along with cumin seeds, make the best flavor and help moms heal faster, making moms feel lighter, less bloated, and more comfortable.
Breakfast ideas for postpartum moms
Boiled eggs are an essential part of the postpartum diet as they are rich in protein and help establish milk flow for breastfeeding moms.
Eat two boiled eggs daily for breakfast, sprinkled with salt and black pepper to taste.
7. Best Egg salad recipe
This egg salad recipe is great for making egg sandwiches, or top it on your favorite toasted bread. For this recipe, you need:
Hard-Boiled eggs you can use as many eggs depending on how many people you are making it for.
Generous amount of mayo
Salt and black pepper
Cheese slices (not too salty)
In this recipe, you can add chopped carrots, bell peppers, and thinly sliced cabbage.
Coarsely Mash boiled eggs with the help of a fork. Mix everything until well combined. Adjust the spice level.
A hint of hot sauce can bring that kick, but it is optional.
Apply a preferred egg salad mixture to a slice of white or whole wheat bread. Cover it with another slice. Enjoy a cold sandwich. The cold egg sandwiches refrigerate quite well for a couple of days.
Not only as a cold sandwich, but you can also enjoy that with warm toasted bread too.
8. Avocado Toast With Eggs
Use mashed ripe avocado with a perfect amount of salt and pepper. Top it with your favorite style of cooked egg, and enjoy.
9. Other Quick breakfast ideas
Full Fry egg with cheese and veggies like Spinach and mushrooms
French toasts
Brocolli and cheese eggs muffin
Stock up your fridge with premade breakfast options
Garlic bread
Cheese toasts
Cheese sticks
Pancakes and waffles with preferred fruits and whipped cream
Oatmeal with fruits, yogurt, and dates
Brocolli and cheese muffin
Sweet treats for postpartum
Generally, we eat too many chocolates as our sweet treats. Or snacks containing chocolates. Well, I will not take your chances of eating chocolates during postpartum. However, I would not advise going overboard with chocolates. As it may cause gas issues or too much spit up in babies. Avoiding chocolates for at least 3 to 4 weeks is ideal.
To satisfy our sweet tooth, eating healthy sweet treats is essential. Since pregnancy, eating dates is your best bet. Dates are sweet, energizing, and delicious and make a perfect night snack with a glass of milk.
Protein bars – too many peanuts may trigger allergic reactions through breast milk. So be wise and moderate in your choices of foods.
Check out some healthy postpartum snacks for nursing moms.
10. Semolina Halwa Or Semolina Pudding is a nutritious postpartum meal
Semolina (Rava ) is known to be very nutritious for breastfeeding moms. You can consume semolina in the form of halwa. Here is the recipe for semolina pudding for babies. Follow the same recipe. Add your favorite nuts and enjoy with your coffee or tea.
You can find a lot of recipes on Youtube.
11. Dry semolina snack with nuts aka Panjiri
A quick healthy postpartum snack you can prepare ahead of time.
Is it safe to eat panjiri after C-section?
Panjiri is a healthy, nutritious diet containing dry nuts, semolina, roasted lentil, etc. for moms who just delivered, and it is considered safe. Panjiri is a filling snack for breastfeeding moms who may feel hungry all the time. However, drinking lots of water is advisable to keep your postpartum diet flowing and not cause constipation.
Things you need for making panjiri are:
Semolina
Roasted almonds
Lightly Roasted fennel seeds
Organic ghee
Organic sugar or brown sugar
Raisins
Cardamom powder or crushed cardamom
Desiccated coconut
Dry dates
Roasted Poppy seeds (optional)
Gently fry semolina in 1 tbsp of desi ghee until getting golden brown. (you can use oil, but desi ghee or organic refined butter is a healthier alternative for moms who just gave birth)
Add roasted and coarsely chopped almonds, desiccated coconut, raisins, fennel seeds, crushed cardamom powder, dry dates, cashews, and walnuts are optional as they have an over-empowering flavor.
In the end, add organic sugar or brown sugar as per your preference – make sure semolina is not too hot when you mix sugar in the mixture.
Make sure no water is added to the mixture, and sugar should not release water. Mix everything well and see if you need something extra as per your taste. I prefer adding extra almonds to the snack to make it more crunchy and delicious.
Just an extra tip, get everything fresh, especially the dry fruits should not have any old smell or aroma. That's gonna be a bummer for putting in all that effort.
Keep in an airtight jar and enjoy 3 to 4 tbsp daily with tea or coffee. This can last for months as long as everything is fresh and kept clean.
To make it more delish, evenly roast mong beans on a low flame, and blend or crush in powder form. Sift mong bean powder in a pan. Gently fry mung bean powder in organic ghee on a low flame.
Now add all the prepared semolina with nuts to the mixture and safe in an air-tight container. Your Panjiri is ready.
Panjiri is known to be the most healthy snack for breastfeeding moms. It's nutritious, healthy, and addictive. Panjiri is an Indian name for mong daal and semolina mix snack for moms who just delivered the baby and need nutrients rich pack every day. Especially for moms who give birth during the winter season. They should have it every day with a preferred beverage, tea, or coffee.
Mung beans are rich in protein, magnesium, and potassium and lower cholesterol levels.
Here is the video on preparing desi ghee at home with unsalted butter.
12. Another protein-packed Jaggery sweet treat – A healthy postpartum snack
One piece of Jaggery (sugarcane aka Gur). Jaggery is one form of brown sugar and is considered healthier for breastfeeding moms. Melt jaggery with a tbsp of organic ghee. Once melted, giving a toffee-like texture, add your favorite dry fruits or nuts in there. Such as sliced coconuts, dry dates, almonds, pistachios, raisins, etc. mix everything well. You can enjoy it as a warm, soft snack or you can cool it on parchment paper. Cool it until it becomes brittle.
Jaggery is known to have too many health benefits, like it improves the immune system, anemia, digestion, and much more, making it perfect for new moms' recovery. Thus, it is considered a healthy postpartum diet as a sweet snack but only if consumed in moderation.
Eating bread in healthy form for postpartum meals.
Although you can consume any bread you prefer. But in various traditions eating a certain type of bread plays a vital role in a new mom's overall health and wellness. When I believed my firstborn, my mom used to make bread for me with carrom seeds (aka Ajwain seeds) and add a little bit of organic ghee.
Carom seeds are anti-inflammatory, easy on digestion, and have too many other health benefits; they are perfect for a new mom who delivered vaginally or via C-section.
Eating carom seeds helps moms with bloating and prevents breastfed babies from becoming gassy.
Making the right choice of bread as per your taste and preference for postpartum eating is healthy after the baby and in the long term.
Lemongrass tea for Postpartum weight loss
When breastfeeding, you need 500 extra calories daily to nourish the baby. However, new moms still eat more as they often feel hungry. Eat watchfully and enjoy this herbal tea every night to control your weight.
Lemongrass herbal tea for weight loss
More Tips for postpartum easy meal and nutrition
When the baby is here, it is not easy for a new mom to cook for the whole family and herself from scratch. To meet the dense nutrition requirement for a new mom's recovery after her baby, some tips can be helpful.
Prepare make-ahead meals before the baby comes.
Batch cook meals that you are preparing while you are pregnant and energetic.
Make frozen snacks for the family for instant use.
Keep easy snacks for lactation or busy moms who don't get time to eat
Consider a local meal delivery service that can be a go-to place when it's hard to cook.
Try to drink water at room temperature – Postpartum water
Avoid drinking cold water or cold beverages immediately after giving birth. Warm beverages will significantly help with menstrual cramps.
Prepare Fennel seeds and cardamom water for a whole day and drink that. It's refreshing, extremely good for digestion and bloating, and helps with flatulence.
Boil a tbsp of fennel seeds and a couple of cardamom pods in a pot of boiling water. Let it simmer for about 5 to 10 minutes. Strain and pour in a water gallon. Gradually drink this throughout the day. Refrigerate if you have to.
Key tip: you can prepare baby formula in fennel seeds instead of regular water for babies with serious gas issues. This is the best remedy for dealing with baby gas issues.
Avoid processed food, and try to eat healthily. But this does not mean you stay in the kitchen all day to prepare meals instead of focusing on the baby.
Carom seeds Flatbread for Postpartum Recovery
Eating carom(ajwain) seeds flatbread (roti) for new moms who just delivered is a healthier and more nutritious way to prevent gas and bloating.
You can make these carom seeds flatbread ahead of time and freeze them. Knead the dough using whole-grain flour (atta). I use a Kitchenaid mixer for kneading the dough.
What is the best proportion to knead the dough for flatbread (roti or paratha)in the Kitchenaid mixer?
Depending on the number of cups of flour you take for kneading and the number of family members(you making Rotis for), you need one cup less water and a tablespoon of vegetable oil.
Water should be one cup less than the number of cups of flour. For instance, 4 cups of flour (heaped), and 3 cups of water (leveled). Gradually add water to the mixer, especially the last cup of water. Do not mix at high speed. First, stir everything on the stir setting, oil, water, and flour together for a minute; then, you can run the mixer at level 2 or 4 for about 5 to 7 minutes until everything is well combined.
How to make carom seeds flatbread (ajwain rotis) for new moms who just gave birth.
Add a pinch of carom seeds and a tsp of organic ghee, and mix the dough before preparing and rolling out the bread. Make a ball or roll it out as a paratha. Use a warm pan for cooking the roti, and enjoy eating it with meat, curry, gravy, or broth. You can even have it with coffee, tea or milk in the morning or for lunch or dinner.
Since carom seeds have plenty of health benefits, resolving the gas issues for nursing moms and their breastfeeding babies is the most important.
You can check out this video on how to make flatbread.
How to freeze flatbread for postpartum freezer meals?
Roll out the flatbreads and do not cook them fully; just half-cook the bread. Make sure you add organic ghee to each one while rolling out the dough. That will help the flatbread to stay soft and delicious.
Cook for a minute or two on a flat pan on both sides. Remove it before the bread gets fully cooked.
Now let each flatbread cool down. Use wax paper to separate each and put them in layers with one flatbread on top of the wax paper. Now freeze them in a ziplock bag.
Once the baby is here, ask someone or your partner to help warm it up on a pan (to ensure it is fully cooked)for you, or you can do it yourself. Healthy eating is essential for faster postpartum recovery.
More related posts:
Healthy postpartum Snack ideas – Grab-and-go snacks for busy moms.
Foods that help moms boost milk supply
Effective ways to increase breastmilk production overnight