C-section or Cesarean delivery is a surgical procedure to deliver one or more babies. C section is different than a vaginal delivery. It is performed in case if a mother or a baby is at risk as if there is twin pregnancy or more, a breech baby, high blood pressure, or problems with the placenta or umbilical cord.
I have had two C sections 19 months apart, to be exact. Despite having a surgical delivery, I stayed at the hospital for two nights only for both of my deliveries. All I wanted was to go home and rest.
Since, C-section delivery needs a lot of post-care to recover faster internally and externally, both.
I was able to recover super quick after my C-section deliveries as my nurses at the hospital gave helpful instructions before I was allowed to go home.
This post may contain affiliate links. Please read my disclaimer for more information.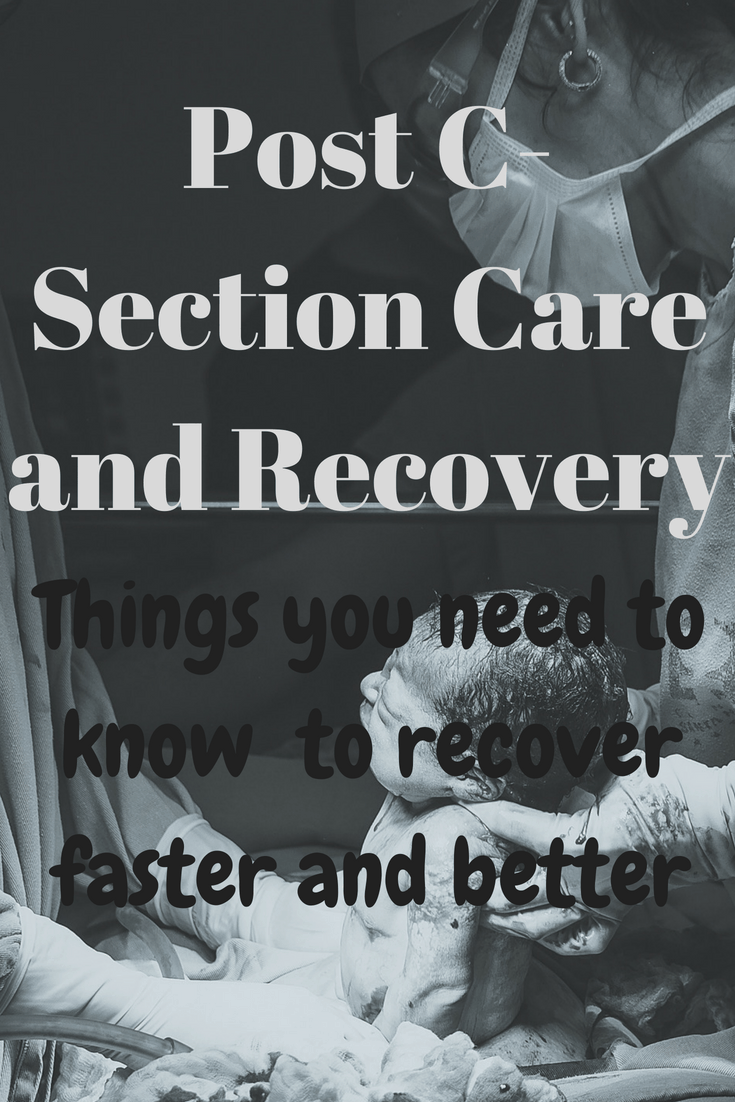 Post-C-section Recovery tips to heal faster and better for new moms
1. Sleep and rest
In my experience, I could hardly sleep in the hospital at both of my deliveries. You really have to sleep whenever you can. Once you have a baby it is not easy to fall asleep without worries.
Life has changed already now.
You have to feel healthy, well-rested in order to take care of your baby. Sleep whenever you can because once you have a new addition to your family, you tend to get visitors out of love to see your little one. Eventually, you get more tired and exhausted due to sleep deprivation and guests all day.
However, if you are not physically or emotionally ready to take guests, you may want to delay visits for a few weeks. It all depends on how you feel in your postpartum period.
Some women need more sleep to function properly. At the end of the day, you are the one who is going to take care of the baby besides all that daytime help (if you are lucky enough to have). So you have to take care of yourself first.
Once you deliver, you need to know what to expect to happen with you and your baby.
Typically, you can get done with post-delivery procedures with you and your baby in a couple of days and for that reason, you do not have to be at the hospital for too long – only if you do not have any other medical concerns. In my opinion, if your doctor says okay to go home, you should.
Sleep deprivation is real, you might want to read how new moms could deal with sleep deprivation while staying sane.
Tips for new moms for easy motherhood journey.
2. Scar Tissue Care
Once my baby was out, they stapled me. Voila!!! That's it …. No medicine to apply. Once my catheter was out I could take shower the next day which was much needed. Also, in just about three days the staples were removed.
The scar heals on its own, you don't have to apply anything unless it is prescribed by a surgeon. This does not mean that you are not vulnerable to any kind of infection. You really have to watch out for any signs of blood oozing out, infection or swelling.
You may have your partner keep a close eye on your stitches. If you see anything concerning, seek professional advice right away.
3. Pain Medication
Painkillers, like Percocet, ibuprofen, or acetaminophen will be prescribed. Although medicines are to be taken 6 to 8 hours depending on your pain level also you can skip it if you do not feel a need for it.
4. Walk
Make sure your legs are not hurting too much because you might end up having a clot so to deal with that they have very soothing leg pads that ensure blood circulation.
Once your catheter is out you have to go to the bathroom by yourself and you have to actually start walking. Walking is really essential to healing fast. Don't overdo it.
Sometimes legs start hurting as a consequence of an epidural or spinal you get for delivery. If your legs keep hurting once you get home, you can get compression socks to ensure your legs are not giving you a hard time along with new mom struggles.
5. No Heavy Lifting
Do not pick anything heavier than the baby. If you have a toddler, do not hold her out of emotions for at least 2 weeks. Please DO NOT PICK older kids up for at least two weeks.
Your body from inside takes a while to heal. But heavy lifting and not resting may cause an "umbilical hernia" and you might end up again in the hospital for another surgery. In adults, too much abdominal pressure could cause an umbilical hernia, in case you have multiple surgeries back to back.
6. Wearing Belly belt
Hospitals provide you with a belly belt after a C-section. It is highly recommended to wear belly wrap, it will not only help you with a lot of support around your abdominal area but also it will help you get in shape by shrinking your abdominal muscles quickly.
7. Avoid stairs
Avoid going up and down the stairs for at least two weeks. If you really have to depend on your house configuration, room, bathroom, and kitchen location, then be careful to do it once or twice only if you think you are ready also your body is ready to handle this.
8. Breastfeeding
After delivery, it takes about 3 to 5 days to have a milk supply right away. For both of my deliveries, it took a couple of days to get the right amount of supply. This made my babies lose more than 10% of their birth weight, so I had to supplement to meet their eating requirements as per the pediatrician's advice. Always consult your doctor.
If you are a first-time mom and are planning to breastfeed, it is always a good idea to have a lactation consultant help you how to latch your baby. It seems really easy, but some babies are hard to latch. Hospitals offer a lactation class at the hospital for new moms. Those are really helpful.
I highly recommend Milkology breastfeeding class by Stacey. She is a Certified Lactation Educator.
Take Online Breastfeeding class.
For c-section moms, placing a pillow in your lap to elevate the baby for nursing; that way, you don't have to bend for your baby. Instead, bring the baby closer to a reasonable height and position to nurse.
41 breastfeeding tip for first-time moms
Food that helps increase milk supply for breastfeeding moms.
How to deal with breastfeeding discomforts for the first few weeks during postpartum.
9. Bleeding
Watch out for any excessive bleeding after delivery. It should decrease with time/days. Bleeding heavier than a previous day tells you are overdoing it, and your body needs rest.
You might want to know what other health issues could occur during postpartum.
10. Dealing with Constipation
You are definitely going to need some stool softeners. They give you these in hospital, but you have to keep having them for about 10 days unless you get a regular bowel movement. At my first delivery, I had to take it for more than a month. But the second time, it was just about three weeks.
You might be prescribed a Stool softener if you need it before you go home.
However, drinking rose water would help you a lot with constipation.
11. What to eat and what not
It is always advised to have a soft whole-grain kind of food post-delivery. This will help in milk supply, and your bowel movement would be less painful if you have a vaginal delivery.
Wait, did anyone tell you that when you have a c section delivery, you won't be able to feel your abdominal area for about six months at least?
Surprising right?
Well yes, the reason why your nerves get slashed so it will take more time to get all those sensations back.
Coming back to food – drink a lot of meat broth or veggies broth (if you are vegetarian).
Boil eggs, oatmeal, salt, and black pepper spiced minced meat, bone broth. Take as much soft food as you can. It would help you heal better, and your intestines would love it.
Well if you can't have all those things, eat whatever you feel like eating.
It is always better to have room temperature water and hot drinks. Here is a detailed post about what moms should eat during postpartum.
Taking care of yourself is as important as taking care of your baby at this point. Please do not take it lightly. It may take more time to recover/heal internally and externally than in vaginal delivery. A healthy mom can take care of her family in a better way.
If you are planning to have a C-section or you are ready to schedule a C-section, here is what you need for your hospital stay if you are there alone without any family member.
Find out what moms need at home during postpartum to have a better recovery after a C-section.
Food that helps increase breastmilk supply for breastfeeding moms.
12. Have your favorite people around
Finally, having your favorite family and friends around plays a vital role in speedy recovery – both physically and emotionally. During this time, refrain from adding toxic people to your visitor's list.
Avoid anything that is going to burden you in any way. However, taking a good amount of rest is the number one thing, and if you want to skip the idea of having visitors altogether, even that is totally fine.
When it is highly advised to stay home and practice social distancing to keep you and your family safe, arrange a video call or conference call with your friends and family since it is very much likely they are at home and free to talk.
When you are busy with a baby, you need people to have an adult talk. In other words, you need a response from the other side, a conversation.
Wish you a very happy, joyful ride of motherhood.